Making Special Occasions Memorable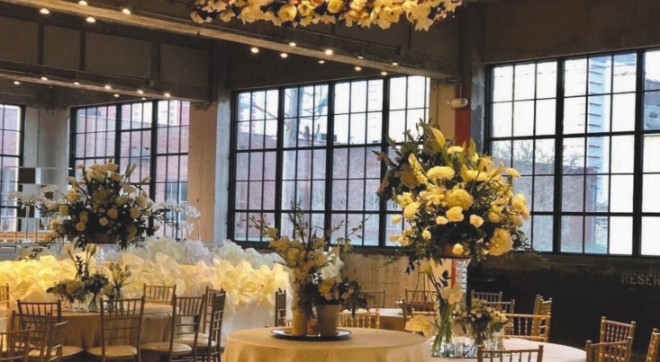 Tents and outdoor venues a top choice; specialty seating areas, signature cocktails and cakes make the bride's list of must haves
The past two years have seen a lot of changes in the world of weddings. Micro-weddings and scaled-down receptions were a necessity.
What feels like a normal wedding season is gaining steam, and individuality and comfort are the goals. "Each bride has their own concept. Lately, we've seen where each bride wants to make their wedding different from the next," said The Colony House owner Kyle Loyd. "We approach design for each bride by creating a unique vision that makes their wedding timeless."
East Ridge Country Club event coordinator Debbie Barras agrees that a one-of-a-kind event is the goal of each bride.
Flower Power owner Heather Zahn says some are still hesitant about large weddings, but weddings are coming back. And while every bride has a different style and vision, flowers are still featured heavily.
Outdoor weddings have become huge. They initially became the go-to out of necessity, but Loyd says people really liked these outdoor events. Couples enjoy the freedom and flexibility of transforming an outdoor space into their vision.
Barras agrees. She says everything moved outdoors because of the pandemic, but people like being outdoors and the ability to create whatever experience they desire. "That started a trend out of necessity, and people enjoyed it. Whether
with a tent or not, I think people like being outside," said Barras. "With the string lighting, it's so pretty. Some people don't even have tents. It's about being out."
Loyd says meadow aisles are gaining popularity. Meadow aisles are dramatic floral arrangements running down the sides of the aisle. This is typically not an option for indoor weddings in venues like churches.
Zahn also says the bohemian, or "boho," look is still trending in flower design. Boho is natural and free-flowing.
"It leans more towards a lot of different types of greenery," said Zahn. "It's really airy and looks like it was picked fresh from a garden or a field instead of being more structured."
According to Zahn, peonies are always in demand. Their fluffy blooms come in an array of hues ranging from white and cream to various shades of red and pink. Brides also like orchids. "A lot of brides ask for peonies," she said. "Orchids are also popular, but peonies tend to be requested eight out of 10 times."
Some types of peonies are seasonal. Zahn says if peonies are not available or the price point is too high, they help brides choose flowers that produce a similar aesthetic. For example, "Garden roses, once they open to full bloom, can mimic the same look and style of a peony, and they're more readily available," said Zahn.

Frequently requested colors at Flower Power include blushes, pinks, peaches and burgundy.
Loyd says Colony House sees three main floral trends. The first is traditional. This features solid whites and touches of green – bells of Ireland, true white roses, peonies, garden roses and snapdragons. Next is the bride that likes blushes. The final grouping is the pop of color. Those are deeper tones, whether it's dark or corals.
"It's a very seasonal color palette, but those are the three kinds of color grouping that are really followed," said Loyd. "It's very rare to have someone deviate from these. Sometimes blues and whites are requested, but that's very rare."
Couples are focusing on the guest experience with their receptions. Large tents, dance floors, comfortable seating and gorgeous florals set the stage for an event to remember. Loyd says that couples focus on the band, the dance floor and the bride's cake. Creating the perfect moment is vital.
Loyd and Barras agree that soft seating, like comfy sofas and chairs with console tables around the dance floor, invites guests to linger.
Cocktail hours are also popular. "This allows guests to stand and have a moment of just kind of gathering, talking and drinking while everybody's waiting for the bride and groom to arrive after pictures are finished," said Loyd.
Highboys and bar-style tables surrounding the sides allow people to gather and watch the action on the dance floor. "The band and dance floor and the bride's cake are the two integral focal points," said Loyd. "The cake has become a work of art and speaks for itself." The Colony House works closely with local cakery Social Bites for many of its wedding cakes.
Cakes are as varied as the brides. They may be tall or short, simple or ornate, classic wedding cake flavor or multiple flavors. The cake is another area where the imagination can create magic.
East Ridge is getting more requests for seated dinners with the long tables set in a U-shape rather than the typical round tables. Food stations also remain a reception staple. A variety of foods features at several stations.

Loyd says a favorite food station of his is the grilled cheese station.

According to Barras, another trend gaining popularity is specialty drinks. Typically, the bride and the groom each pick their favorite drink for the guests. "Everybody is doing that now. His and hers," said Barras.
No matter what style, colors or personalized detail each couple includes in their big day, it's all about creating memorable moments that include the guests in the experience.