MEXICALI FOOD SERVED UP LOCALLY, WITH A KICK
Where:
Baja Beach Tacos
What:
Pacific Rim Fish Taco:
Grilled yellow-fin tuna, lettuce, jack cheese, cilantro, mandarin slices and creamy-lime cilantro dressing on a white corn tortilla. Baja Shrimp Quesadilla: Grilled, wild-caught Texas brown shrimp, grilled red bell pepper, onion & jack cheese served with rice and a side of guacamole, pico de gallo and sour cream.
Nachos El Serio: Grilled, aged and marinated skirt-steak with black or refried beans, jack and cheddar cheese, jalapenos, a side of guacamole, pico de gallo and sour cream. Baja Beach Gilled Steak Taco: Grilled, aged and marinated skirt-steak with a choice of toppings. I added traditional toppings lettuce, cheese and tomatoes, but this taco is anything but traditional. Chipotle Queso Blanco: A white cheese blended with a touch of our salsa and smoky chipotle peppers. It's so tasty, I could eat it with a spoon.
Baja Nanas: Bananas flambéed with Bacardi 151, banana liqueur, brown sugar and cinnamon over vanilla ice cream. Baja Lime Pie: Fresh key lime juice, sweetened with condensed milk and topped with fresh whipped cream and lime.
Next: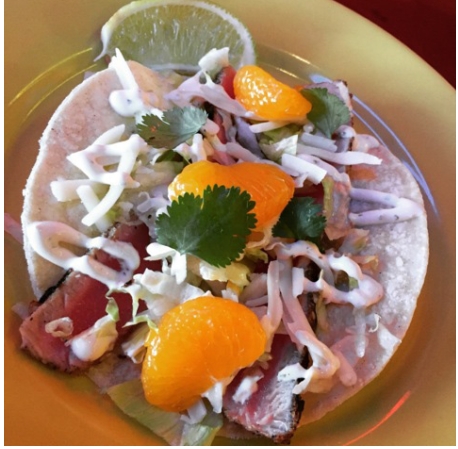 One of the six, tasty-looking burritos (marinated steak, grilled chicken breast, grilled yellow-fin tuna fixed two different ways, shrimp or veggie).
Vida Loca Queso: A bowl of Chipotle Queso Blanco topped with spicy ground beef and pico de gallo.
The only dessert I didn't try this trip: Rock Slide – Vanilla ice cream laced with chunks of Heath Bar and Kahlua, drizzled with Ghirardelli chocolate and caramel sauce.
Popular:
The tacos followed closely by the margaritas. I tried the Prickly Pear margarita.
There are more than a dozen margarita choices, all of which are hand-crafted, made with 100 percent freshly squeezed lime juice, organic agave nectar and select specialty salt for the rim. Delicious!
Vibe:
Fun, exciting atmosphere that's great for a casual dinner out or the perfect place to take your parents for their 35th wedding anniversary, like I did.
Cost:
Individual tacos start at $2.59. Entrees and salads start at $12.99. One of their best offerings: Seven lunch specials Monday-Friday that are $9.49 each and come with chips and salsa.
Fun Fact:
Everything is fresh. Nothing is frozen. They specialize in wholesome, highquality food prepared without MSG, lard or artificial ingredients. And you can tell, everything we ate was superb.
Bonus Fun Fact:
Opening soon in Shreveport in Pierremont Shopping Center on E. 70th Street.
Address: 2333 Airline Drive• Bossier City, Louisiana

318-752-3244 • Web site: donjuanz.com

Sunday - Thursday 11 am-9 pm • Friday and Saturday 11 am - 10 pm