Stone Forks Restaurant (former Brocato's)
This new restaurant is an instant classic. On a scale of 1-10, it's a 20.
What:
Stone Forks Grits. Served with shrimp. If you like grits, you'll love these grits. Trust me.
Red Beans and Rice. Slow-cooked red beans, seasoned with smokehouse sausage and Cajun spices. Some of the most flavorful red beans and rice I've tasted.
Tenderloin Filet Mignon. Served with whipped potatoes, sugar snap peas, Stone Forks cream corn, ripe tomatoes and spring onions. The steak was so flavorful and so tender you could cut it with your fork. I repeat, you could cut the steak with your fork. Cajun Mud for dessert. Don't ask questions, just order it when you go.
You'll find several nostalgic nods to Shreveport dining institution Brocato's Restaurant on the menu, which was previously in this same location.
Next:
It is a toss-up: the Cajun Chicken Lasagna looks like it would be super-cheesy (in a good way) and spectacular, but the one-pound Angus beef Stone Forks burger sounds like a tasty winner, too. Only one solution: Go to happy hour and try something different each time.
Popular: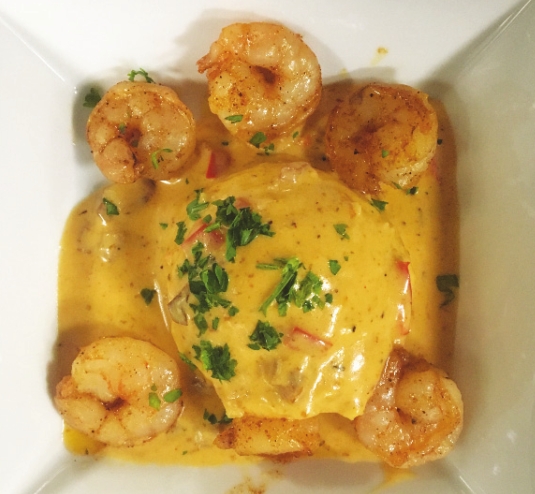 Hands down, the tenderloin filet mignon. Did I mention you can cut the steak with your fork?
Popular Drink:
Chocolate martini, made with a secret ingredient. The perfect end to a perfect meal.
Best Value:
Stone Forks Special Just For Two: An entire four-course experience that includes a seafood medley appetizer, two Stone Forks salads, two 6-ounce tenderloin filet mignons, served with whipped potatoes, sugar snap peas, their soon-to-be famous Stone Forks cream corn, ripe tomatoes and spring onions plus two desserts, all for only $99. That actually might be the best value in town.
Vibe:
The perfect neighborhood restaurant.
The main dining room features intimate booth seating with custom tables, while the legendary Windsor Room Lounge offers a classic comfortable place for happy hour, date night spot or a nightcap any night of the week. Don't be surprised if you find me here at least once a week.
Fun Fact:
Plans for expansion include opening up a previously walled off banquet room to host larger parties for special occasions and in the spring next year adding a patio outside the Windsor Room Lounge.
Cost:
Salads & Soups start at $6 Sides start at $6, Entrées start at $14 Steaks start at $16 – Mark Crawford
189 East Kings Highway • Shreveport 318-562-6009 Web site: stoneforks.com 11 a.m.-9 p.m. Sunday 11 a.m.-11 p.m. Monday - Saturday