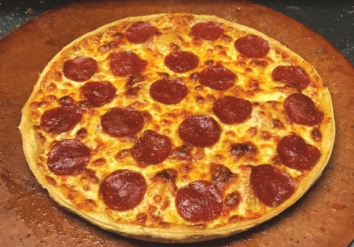 Neighborhood pizzeria is much more than just pizza
Where: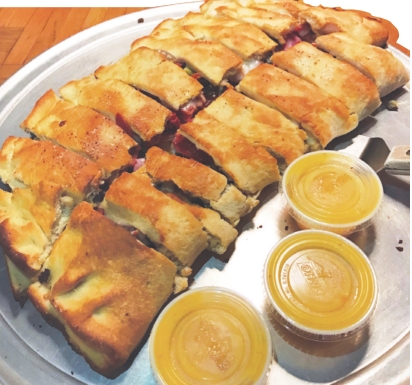 What we tried:
Breadsticks with Cheese – crispy, buttery breadsticks, completely covered in cheese, served with marinara dipping sauce. I could very easily make a large order of these my meal. Smitty's Stuffaletta – It's a unique meal that starts with cheddar, mozzarella, pepperoni, Canadian bacon and their secret olive mix, folded into New York-style crust, brushed with butter and topped with garlic seasoning. If you like a good muffaletta, you'll love Smitty's version.
Smitty's Meat Lover's Pizza – pepperoni, beef, pork sausage, Italian sausage, Canadian bacon and breakfast bacon with a splash of cheddar on top. You had me at breakfast bacon ... actually, you had me at pepperoni.
Pizza Logs – Picture a classic eggroll that's stuffed with mozzarella cheese and pepperoni and then baked to crunchy perfection. One of the most unique items on the menu. Hot Wings – Lots of places have hot wings. The difference with Smitty's: They are jumbo-sized. Italian breaded, barbecue or hot-n-spicy, you can't go wrong with an order of any of those flavors or an order of all those flavors.
Popular:
There's a tie, and for good reason: the Cheese Sticks and Smitty's Special Pizza, which is a thin pizza crust topped with cheese, pepperoni, beef, sausage, mushrooms, black and green olives, green peppers, onions, jalapeños and anchovies.
Next Visit:
Smitty's Mighty Meatball Pizza: Classic thin crust topped with Smitty's special meatballs, mozarella, green peppers and onions.
Vibe:
This place is your classic neighborhood pizza joint. As soon as you walk through the door, the wait staff makes you feel like you've been coming there for years, even if it's your first visit.
Fun Fact:
Smitty's Pizza was previously a Pizza Inn franchise. The owners today still use the same recipes as Pizza Inn, so the same style pizzas are still being served more than 40 years later. Smitty's also offers a lunch buffet Monday through Friday from 11 a.m. to 1:30 p.m.
Cost:
Lunch buffet $7.99 Appetizers start at $1.99 Salad bar starts at $3.99 Original thin-crust pizzas start at $5.99
Specials:
Smitty's offers a different special Monday through Thursday: M & M Mondays – Bucket of five Miller Lite or Michelob beers for $8. Two for Two Tuesdays –Two beers for the price of one. Wing Wednesdays – Buy 12 wings, get six free. Thirsty Thursdays – Save $2 off your second pitcher of beer and $3 off your third pitcher.
– Mark Crawford
food forum
9375 Mansfi eld Road, Shreveport, LA 71118 687.3030 Sunday: 11 a.m. to 9 p.m. Monday-Saturday: 11 a.m. to 10 p.m.