At Home On Copper Lily Lane
A mixture of old and new furnishings and accessories, and a homeowner's decorating savvy make for a welcoming feminine retreat in Shreveport's Provenance neighborhood.
Charis Kirk and her daughter moved into the new build on Copper Lily Lane early this year. Amanda Haynie, an interior designer and owner of Milling Around, helped Kirk with window treatments and accessories and says Kirk had everything unpacked and placed in record time.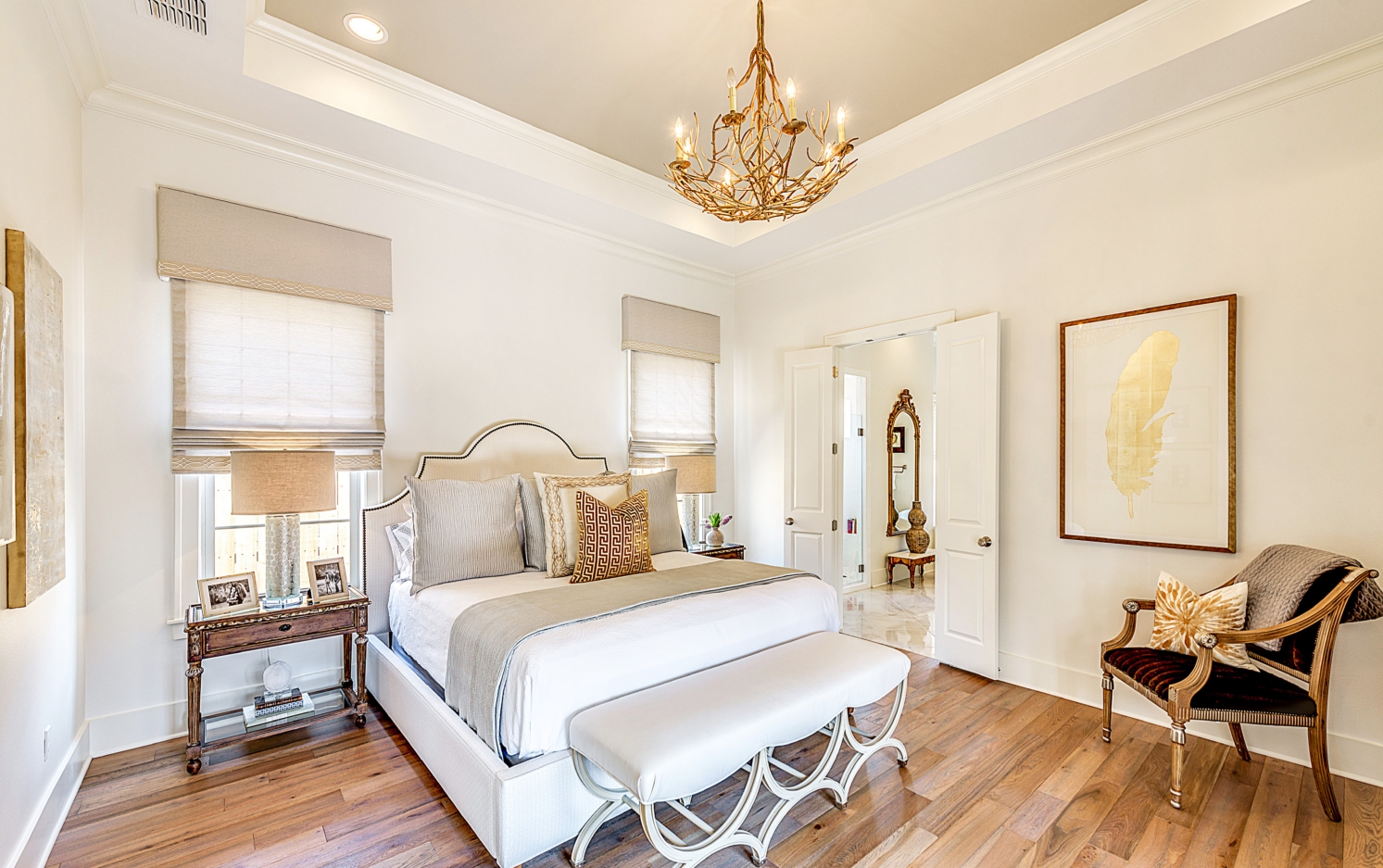 "Charis really has a gift; she can visualize pretty well," said Haynie. "She is a very organized person and loves clean, simple lines."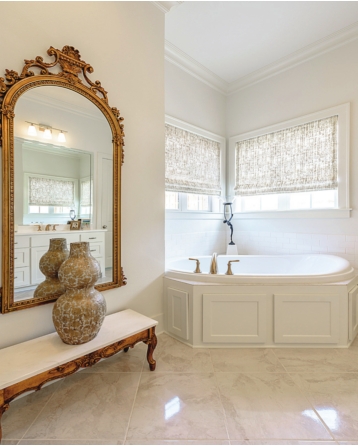 The white stucco home, located near the park, was a custom build by Vintage Construction Group. Kirk says its "Florida feel" drew her to it. "It's different from some of their homes, and I really gravitated toward it," she said. Light fixtures, additional hardwood flooring and ceiling colors were added to personalize the space.
Kirk's love of design was learned at an early age at her mother's side. She says her mother enjoyed decorating and finding pieces with potential. Kirk's childhood memories include looking for design treasures in flea markets and afternoon trips to Natchitoches antique stores together.
"My love of antiques and mixing old and new things comes from her," said Kirk. "If I weren't in my current field, I'd probably want to do this for a living because I Iove to do it."
Newly purchased items were mixed with older pieces and antiques in the home. The works of several local artists, including Ellen Blanchard, Ashley Palmer and Lauren Ross, are featured throughout.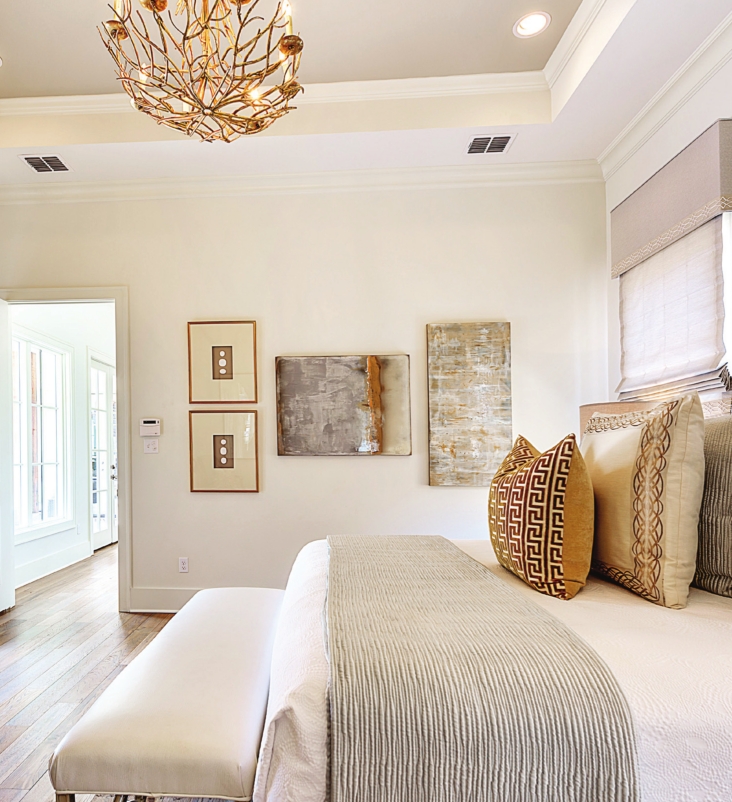 The open floor plan is a little less than 3,000 square feet and has two stories. The first floor includes a formal living room, dining room, large kitchen, powder room/ half bath and master bedroom with an en suite bathroom. Two more bedrooms are located upstairs, along with a bathroom and a den.
Haynie calls the dining room the "wow room" of the home. It has vaulted ceilings with wood beams. The light fixture, from House of Carpets, was moved from Kirk's previous dwelling. A breakfront from Medina Interiors sits along a wall, while Ellen Blanchard art adds beauty to the eating space. Luscious velvet drapes, designed by Haynie and crafted at Milling Around, hang from a gold accented rod. "We had so much white and simple textures that I really wanted to bring a little more luxuriousness to the windows, but still stay very neutral if she ever wanted to change out pillows or add pops of color," she said.
When she was young, Kirk's mother was a concert pianist. In the formal living room, a piano that belonged to her is near a window. Some of the accessories and antiques also belonged to Kirk's mother, including some Staffordshire dog figurines. One of the breakfronts in the room is an English antique, while one located on the other side of the room came from Medina. The light came from Chateau en Mae, and the coffee table was purchased at Briggs & Company HOME. House of Carpets cut the room's rug; the couch came from Haverty's Furniture. Art by Ashley Palmer and some pieces from Nader's Gallery, including a nude, adorn the room.
The soothing bedroom has a gray ceiling and a light fixture from House of Carpets. The bed came from Medina; the bedding custom-made by Milling Around. Cordless Roman shades by Milling Around hang from the windows and soften the walls. Cornices were added to make the windows appear longer. An antique English breakfront that belonged to Kirk's mother can be found beneath a television. Another family heirloom can be seen in the en suite bathroom – a 70-plus-year-old mirror that belonged to Kirk's grandmother.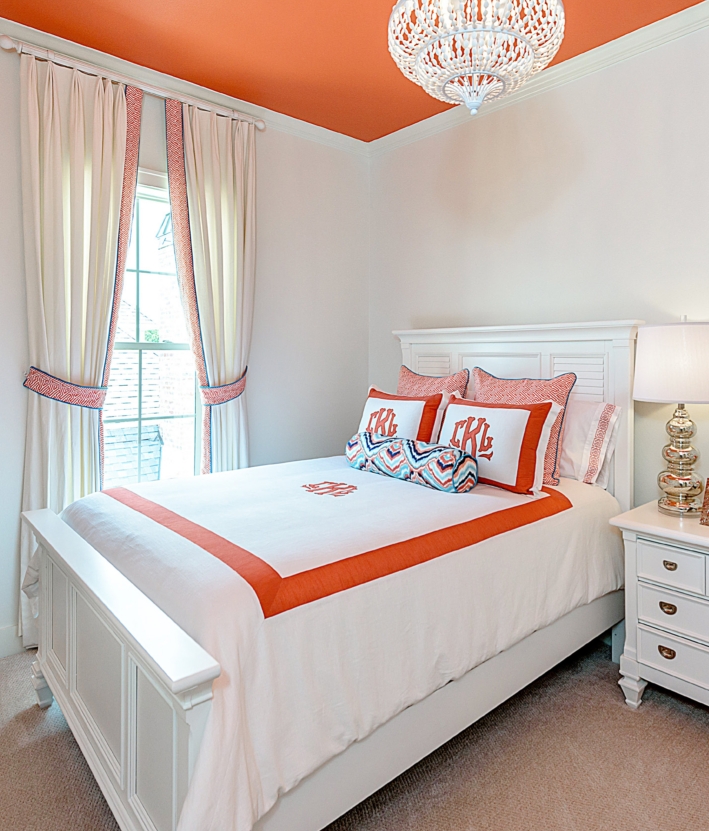 Haynie says Kirk has a good eye for design, and they share similar tastes. "She needs somebody – like I do when I'm doing my own house – to help her put it all together," she said.
Haynie also helped design a timeless bedroom that would grow with Kirk's daughter. The room was based on a photo of a college dorm room Kirk saw on Facebook. The finished product features a coral ceiling and a light fixture from River Cities Lighting in Bossier City. Milling Around made the white and coral monogram appliquéd bedding, along with matching white panel drapes with a coral geometric braid and turquoise cording. Kirk says the upstairs serves as a master area for her daughter with a small den/playroom. A guest bedroom is also located on the second floor.
"(Kirk's) daughter's room is fun because we can add pops of color and still keep it very neutral," said Haynie. The den/ playroom was also decorated with a coral and turquoise palette.
Outside, Kirk added seating to the back patio to have more space to entertain and included a napping spot for the family dog. Lagniappe Lawnscapes installed a cozy patio fire pit.