Service is for the family as well as the patient
If you had the chance to extend the life of your terminally ill loved one by one month, would you? That's the question that drives Aime Hospice Care. The company strives to deliver a circle of care that provides comfort to patients and their families. Studies have shown that hospice patients live longer than non-hospice patients.
"When you get to receive comfort and when you are not in pain, then it helps prolong life," says Brian Underwood, director of sales at Aime Hospice Care. "You are now at ease. It allows patients to relax and enjoy the time they have left. I don't know anybody that wouldn't look back and say, 'I wouldn't want one more month with my mom or dad.'"
Aime Hospice Care has operating offices in Shreveport, Minden, West Monroe and Alexandria. They provide care for hospice patients wherever they may call home, including a private residence or an extended care facility, such as a nursing home.
Recently, the company has opened a 16-bed inpatient unit at their Shreveport location. The facility features a quiet room, small library, dining room, chapel, playroom and common room. Families are able to utilize the facility when they are visiting their loved ones in hospice.
"Hospice is just as much for the family as it is for the patient," Underwood said. "We're able to let family be family again because now, instead of all of the very tiresome processes – all the personal care they have to do – now they can hold their mother's hand again."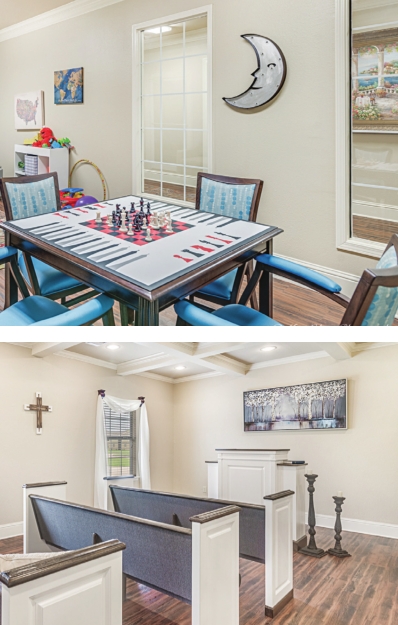 After the closure of Grace Home in Shreveport, Aime Hospice Care became the only hospice offering inpatient care in the area. They opened their doors right around the time Grace Home's closure was announced. Underwood believes the inpatient unit will be a great asset to those who need it. They also offer bereavement services and spiritual counseling to their patients.
"When there is a crisis or something that cannot be controlled at home, those patients can come here."
Underwood has been in the home care and hospice business for about 14 years. He saw how tasking it was for his mother when she had to take care of both his grandmothers without the help of hospice care.
"I had several family members that have experienced the benefit of hospice. I've had loved ones that have needed hospice in the past."
To him, choosing to work in hospice care was an easy decision.
"It's one of the most rewarding things that I know you can pursue," Underwood said. "To me, there are two important times in life: birth and death. We plan for birth. We paint the room pink or blue – we're ready. But for death, unfortunately, we wait, and we don't want to prepare for it. That's what this place is for."
Underwood leads a team to help educate the community on the benefits of hospice care. Aime Hospice also accepts volunteers. For those that may be apprehensive about being bedside with patients, other tasks like answering the phone are available.
"When you talk to patients and families that you've helped – really, it's so rewarding," Underwood said.
Aime Hospice Care services are covered by Medicare, Medicaid or private insurance. Their goal is to deliver compassionate care to those they serve by providing comfort and support. Underwood says that doctors and nurses at hospitals are conditioned to continue to treat, but hospice nurses are geared to comfort patients and their families.
"Unfortunately, sometimes at the end of life, patients wind up going to the hospital, and they don't want to go to a hospital setting."
He says there comes a time when you can no longer cure, and hospice nurses are equipped to make sure their patients and their families are comforted.
"Hospice nurses are the most special people out there. They are geared to comfort."
In the future, Aime Hospice Care will be opening an in-patient unit at their Minden location. The unit will be very similar to the unit at their Shreveport location. Underwood says it is a huge investment in end-of-life care.
–Jessica Carr