Shreveport woman makes movie magic as key set costumer
Thirty-six days in New Orleans, 11 days across the Louisiana/Mississippi border close to Natchez, Miss., and 23 days at various locations in New Mexico including Albuquerque, Abiquiú and Chama – this is where Donna Chance-Hall's last gig as a key set costumer for the movie "Logan" took her.
The work days were long, and sometimes the weather conditions were brutal, but with 25 years of working in the film industry under her belt, it was something that Chance-Hall was used to. In her career, she has worked as a costumer, a costume supervisor and a key set costumer among other film positions. For her, the most fulfilling position is working as the key set costumer.
"The reason I liked that one the best is because I got to work with the actors on set making sure they looked the way they're supposed to look from scene-to-scene and maintaining their look on set."
This job requires Chance-Hall to have an eye for detail. While working on set, she keeps a continuity book handy, so she can look at every scene and every character and make sure their look was consistent with the costumer designer's vision for the movie.
"It was a good fit for me because I'm very detail-oriented, and I'm very diplomatic with the actors … even though I've done costume design at one point, for me personally, I just didn't have the desire to continue doing that."
Although Chance-Hall did work as a costume designer for several made-for-TV movies, she says ultimately it was up to the director to decide what the final look for the actors would be.
Released in 2017, "Logan" stars Hugh Jackman as the X-Men character Logan/ Wolverine. The film was a large Hollywood production and required Chance-Hall to work 16- to 18-hour days. Her job was to purchase and maintain Jackman's costumes for the film. She had to have multiples of the same outfit for Jackman and for his stuntman.
"I always had back-up shirts with me in case he sweated through them or he spilled something on them … then his stunt guys would have the same, so we would purchase these things in bulk. The Internet has really changed the costume industry because we don't have to go into physical stores anymore."
She also had to keep in mind what would happen to the costumes in the script. She had to plan for action scenes with bullet holes, claw marks, etc. There were even times when fake blood was involved. Jackman always joked with Chance-Hall because he knew she was not a fan.
"There were scenes where he would have bullet wounds, and we had to pour the blood on him. It was not my favorite thing to do. Even the fake blood bothers me for some reason."
In all of her years working in the film industry, there were always challenges.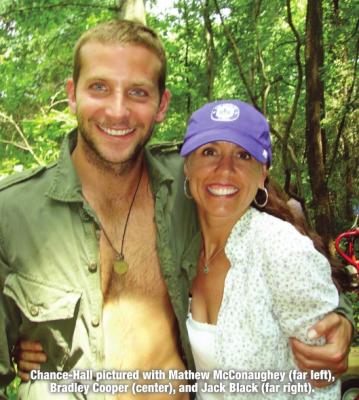 "It is hard work and long hours," Chance- Hall said. "Even if you have an exciting moment on set, like if you meet an actor you really like and shake their hand, it'll last for a few minutes, then you're, like, OK, back to work. It definitely is a job that is like no other. You'll work 18 to 20 hours a day, sometimes three months up to six months. At the end you move on to a new one."
Costuming wasn't something she studied in college, but the film industry was a part of her family. Chance-Hall's uncle was a pioneer in the Louisiana film industry and had a film studio in New Orleans. While attending college at the University of Southwestern Louisiana at Lafayette, she would go home to New Orleans during the summer. Her uncle offered her a job working on the films at his studio so she could save money for college. It was there that she was trained by the costume supervisor at his studio.
She then worked in New York City doing marketing for almost three years, until the film industry called her back. Chance-Hall's sister was expecting her first baby, so she wanted to move back to New Orleans so she could be close to her niece. Since she already had experience in the costume department, she would often get the first calls to work on a movie.
"There were more jobs than I could even take. I was glad to be home and be around my family and my niece."
In her 25-year career in the film industry, Chance-Hall has worked on three Academy Award-winning films – "Ray," "Monster's Ball" and "The Curious Case of Benjamin Button." She has worked with movie stars such as Dustin Hoffman, Gene Hackman, Halle Berry, Helen Mirren, Brad Pitt, Jamie Foxx, Jack Black, Matthew McConaughey, among hundreds of others. After filming was over for "Logan," Hall began looking to start a new chapter of her career. Standing on her feet for 16-plus hours each day really took a toll on her health.
"I really struggled with health issues with my feet. I was having trouble walking. I know it was from the wear and tear of years of doing this."
Since college, photography as always been a hobby for Chance-Hall. She decided to start her own photography business (www.donnachancehall.com).
"It's a passion that I have. I love creating these moments for people that they'll always have to look back on because I captured something on film. For me, that's what gives me joy. I love the look on their faces when they see the pictures."
Every now and then, Chance-Hall takes a trip to the movie theater. It is there that she remembers why she stuck with the film industry for so long.
"I love seeing what is possible and what they can create in a movie that you'd never imagine they could do. That part of the movie magic is still amazing to me after all these years."
– Jessica Carr