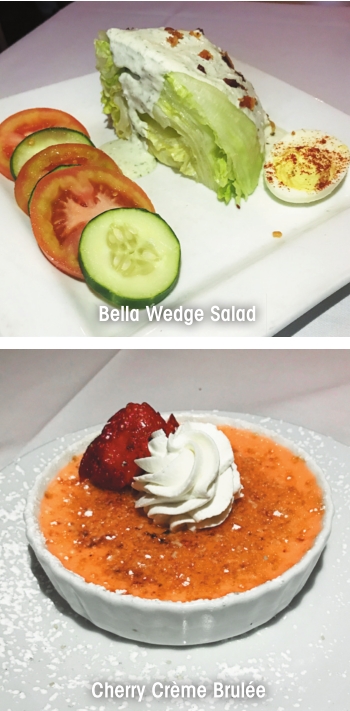 Line Avenue landmark continues to reinvent the fine dining experience without all the stuffiness

What we tried:
Homemade Meatballs: Topped with fresh mozzarella and marinara with basil crostini. Great appetizer for two people to split.
Bella Wedge: Iceberg lettuce served with tomato, cucumber, deviled egg and topped with bacon. Choice of bleu cheese or Green Goddess dressing. Get the Green Goddess. You'll be glad you did.
Roasted Chicken Breast: Prosciutto and goat cheese stuffed, served with mushroom risotto and grilled vegetables. Very flavorful chicken and the best risotto I've ever had.

Certified Angus Filet Mignon: Grilled, served with béarnaise, mashed potatoes and shaved asparagus. We chose to try the scalloped potatoes, and they did not disappoint.

Maraschino Cherry Crème Brulée: I repeat: They serve cherry crème brulée. Best dessert on the menu and one of the best desserts in Shreveport.
Popular:
Duck confit spring rolls, Thai fried calamari, parmigiana truffle fries and filet mignon burger at lunch
Next Visit:

Grilled Chicken & Bacon Caesar Salad Sandwich: Served on a fresh croissant, with crisp bacon, Swiss cheese, tomato, pickle and onion. I love a good Caesar salad, and I bet I'd love a good Caesar salad sandwich.
Cheeseburger sliders: These are available from the small plates menu during happy hour. Happy hour is Monday through Friday, 2-6 p.m.
Vibe: Upscale but not pretentious, with a warm, cozy atmosphere.
Cost: Salads start at $7.
Appetizers start at $5. Entrées start at $26. Sides start at $6.
Fun Fact: Thursday night is steak night.
There are four steaks from which to choose, and each comes with a salad and a side, all starting at $29!
– Mark Crawford
6307 Line Avenue Shreveport 318.865.6307
Monday-Thursday 11 a.m. to 10 p.m. Friday 11 a.m. to 11 p.m.
bellafresca.com
Saturday 5 to 11 p.m.
food forum