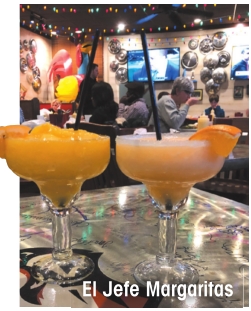 This place is so much more than fajitas
What we tried:
El Jefe Margarita: We wanted to shake up the normal margarita, so we tried the peach and mango flavors, which were great. They also have strawberry and raspberry, served frozen or on the rocks.
Queso Especial: What makes it Especial? This delicious cheesy goodness is topped with ground taco beef and pico de gallo. I could totally make this my meal each time.

Guacamole Especial: What makes it Especial? They prepare it by hand table-side, made to order. One of the few places in town offering this kind of table-side service.
Shrimp Diablo: Like the name would lead you to believe, the shrimp are served spicy on top of a bed of rice and sautéed vegetables.

Fajitas De Filet Mignon: Yes, you read that correctly. Filet tenderloin tips grilled and served with zucchini, mushrooms, tomatoes, onions, peppers and house-made tortillas.
There's a side of roasted jalapeno ranch sauce that is superb. Best fajitas I've had in town.

Brownie Skillet Sundae: A triple chocolate and pecan brownie on a sizzling skillet with Mexican Brandy butter sauce, topped with ice cream. If you're like me, you know life is short, so be sure to add whipped cream to the top of this, too.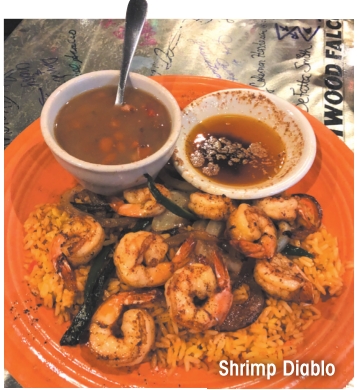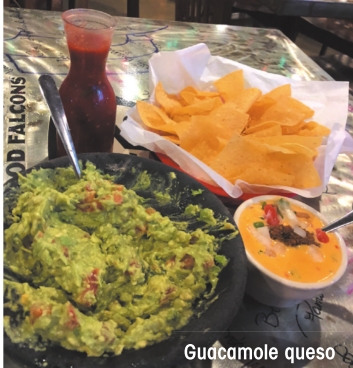 Popular:
Enchiladas De Camarones: Two Grande cheese enchiladas, topped with verde sauce and spicy shrimp, served on sautéed onions and bell peppers. Sirloin Salad: Tender pieces of sirloin beef, cheddar, tomatoes and avacado slices on salad greens.
Next Visit:
Feiz Nachos: Spicy beef, chili con carne, refried beans, tomatoes, green onions, Monterrey Jack cheese, cheddar cheese, sour cream, jalapenos and guacamole. How could this not be spectacular?
Vibe:
Exciting and upbeat atmosphere with plenty of TVs to watch your favorite sporting event, with a great patio, too. Also, a great spot for lunch with more than 10 daily lunch specials.
Fun Fact:
They don't play around with Taco Tuesday here. Every Tuesday, you can get $2 tacos, Tecate and tequila. Look for me here every Tuesday night.
Happy hour is daily, too!
From 3 to 7 p.m., get 2-for-1 El Jefe margaritas, well drinks, wine and draft beer. Perfect spot for Sunday Funday.
Cost:
Lunch specials start at $6.99 Appetizers start at $3.99 Salads start at $5.99 Entrees start at $8.49 Desserts start at $4.99
food forum
2050 Old Minden Road Bossier City, LA 71111 318.741.3114
Sunday – Thursday 11 a.m. – 10 p.m. Friday – Saturday 11 a.m. – 11 p.m.