Where everybody knows your name
Where: The Market Restaurant What We Tried:
Spinach & Artichoke Dip and Spinach Sausage Queso: I love chips and dip. I have been known to make a meal from just chips and dip. Had we not been served smaller, sample sizes of these dips, it's very possible these would've been my meal.
Grilled Caesar Salad: I love a good Caesar salad. This is a great Caesar salad. First, the lettuce is grilled! It's then topped with imported Prosciutto ham, their homemade Caesar dressing, buttery croutons and grated parmesan cheese. This is my new favorite Caesar salad.
Filet: Six-ounce aged Angus beef, grilled to order with green peppercorn demi-glaze. If you've read my column before, you know that I love good béarnaise with my steak. No béarnaise needed here! I had my steak served with a twice-baked potato and a vegetable medley.
Quail with Andouille Ragu: Semiboneless quail in a savory Andouille sauce, served over rosemary polenta with roasted cauliflower, carrots and broccoli. Usually when I order quail, it's served over grits. Their entrée being served with polenta is a nice upgrade from the norm.
Coconut cake: Fluffy cake, tasty icing, crunchy coconut. This will be my birthday cake next year.

Blueberry cake: It's similar to the coconut cake but with blueberries instead, which have been added inside and on top. You can't go wrong with either slice.

Chocolate Peanut Butter Molten Cake: Words don't do this dessert justice, but picture the most delicious fudge brownie, with smooth peanut butter baked inside, topped with homemade whipped cream and chocolate sauce. I've really not had anything else like it.
Popular:
Crawfish. When it's in season, I'm told there no better place to find crawfish than here.
Next Visit: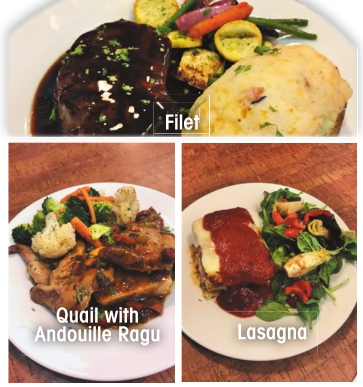 The lasagna: It's one of those items that doesn't pop up often, but when it does next time, you can bet I'll be there.
Happy Hour:
5 to 7 p.m. 25% off all appetizers $5 house wines $1 off well cocktails $12 bucket of domestic beers themarketnorrisferry.com
Vibe:
There are two different dining room options: an upscale dining room with a quaint elegance, perfect for any special occasion, and a casual side where you're sure to bump into someone you know.
Cost:
Salads start at $8.25. Appetizers start at $6.95. Entrees start at $10.95. Desserts start at $6.25.
Fun Fact:
This place has been here 15 years, and the menu changes every week! There's a casual dining menu that stays the same, but the main dining menu changes each week and only features items with the freshest ingredients. Check their website and Facebook page for the current menu. They do catering for any size event, too.
– Mark Crawford
The Market 10539 Norris Ferry Road Shreveport 318.797.4375
Tuesday-Thursday 4:30 p.m. to 9 p.m. Friday & Saturday 4:30 p.m. to 10 p.m.
food forum