More Than Just Glitzy Gowns
Miss Louisiana USA, Lauren Vizza shines light on local community and preps for national competition
As a Louisiana Tech student double majoring in political science and history, Lauren Vizza had a vision for what she wanted to do. However, all of that changed when she was bitten by the pageant bug. Her first pageant was competing for the Miss Tech crown. She didn't win the competition, but it did light a fire in her to continue her pageant career.
Through the Miss America pageant system, Vizza won Miss Louisiana in 2012. She says pageants have made a huge, positive impact on her life.
"It's about encouraging women of all ages to tap into their confidence and what they are passionate about and to use those skills to make their dreams come true."
Last year, she found herself in the winner's circle again. This time she was crowned Miss Louisiana 2018 in the Miss USA pageant system. Serving as Miss Louisiana has helped her dedicate time to what she loves most – giving back to the community.
"The crown gives you this megaphone because they see you with a crown and they want to know what you're all about, so you are able to promote a variety of things," Vizza said. "I love saying yes to community service projects, especially if it brings a little bit of attention to a cause that's important. I love being able to do that."
The 28-year-old Shreveport native is in her second year of being a morning anchor at KTAL Channel 6. Although she has to wake up at 1:50 a.m. to get ready for work, she still loves her job.
"It's really cool to be able to come back to your hometown and focus on the community things that are happening around you."
This year it was announced that the Miss USA and Miss Teen USA competitions would take place right here in Shreveport. On Monday, May 21, the Miss USA pageant will air live from George's Pond at the Hirsch Coliseum. Vizza will be among the contestants.
"With the pageant being here in Shreveport- Bossier, I want to be able to be a visual face for people to know what this is about."
As an avid supporter of the local community, Vizza was over the moon to find out the competition would take place in her hometown.
"It was the best thing I could have ever imagined," she said. "It never even occurred to me that it could take place here in Shreveport. One of the main reasons I do pageants is to shine a light on local community projects and the things that make my area great. To know that I didn't just have to bring those things with me somewhere else – I can show Shreveport-Bossier in the best possible light, and that is the absolute best thing that I could've ever imagined."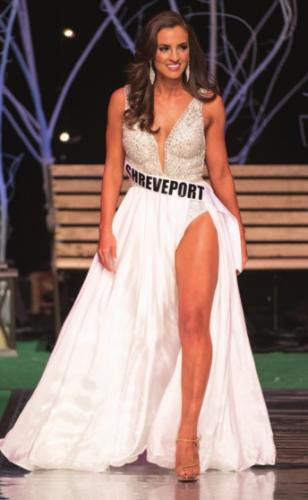 On Monday, May 14, at 12 p.m. a Mardi Gras parade will be held with the contestants of both competitions in downtown Shreveport. Vizza loves being able to showcase where she lives.
"We have so many amazing local chefs. I like to say I eat my way around town. We have great attractions like the Aquarium. It's so fun to say we have an aquarium on our river."
While most people would be nervous about competing on a live televised competition in front of millions of viewers, Vizza says she prefers to take a stress-free approach.
"You have to just prepare the best you can leading up to it. I have a phenomenal team that helps me put things together. It's just going and knowing that your job is to be the best you can be."
As a former athlete, Vizza admits she has a competitive nature. But it isn't about competing against the other contestants.
"I'm competitive with myself. I'm not competing against the other girls. I'm competing with them. If I look at the stage and know that I did everything to the best of my ability, then I'll be fine no matter what happens."
It's more than just pretty makeup and glitzy gowns. These are women of all different backgrounds, ages and careers trying to make their lives something better – but more than that, they're making their world and community into something awesome."
In the age of the #MeToo movement, Vizza says she feels a responsibility to shed light on important issues and to empower young women that are watching.
"Whatever it is you are dealing with – whatever you've gone through, first of all, we believe you. Secondly, you're your own microphone. We can all share our stories now. You don't have to get a million retweets to be powerful. You can share it with one person, and it changes the way you feel. You are powerful enough. When you share your story, people around you should be on your side."
All in all, pageants have been a way for Vizza to push herself to always look for ways to improve.
"It's amazing to know that you can always be better. I'm a former athlete, so it's like getting ready for a game. I want to be the best. How can I get there? You're working on being a great version of you."
You can watch Vizza compete in the Miss USA competition on May 21 at 7 p.m. If you can't make it to see the contest at George's Pond at Hirsch Memorial Coliseum, then you can tune in to Fox, where the show will air live.
– Jessica Carr