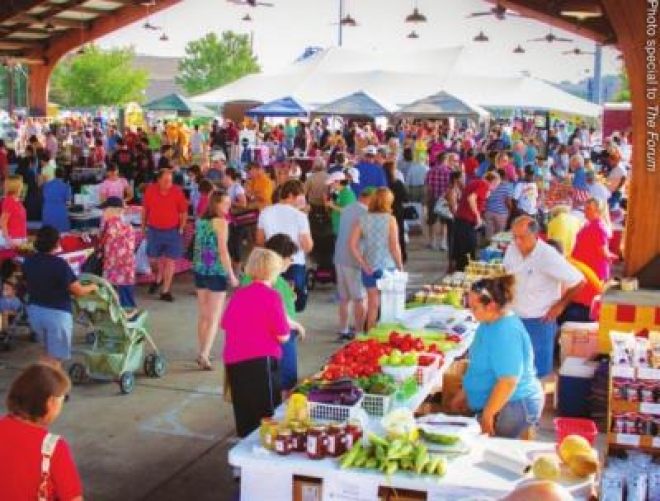 More make it easier to shop local
Summer in Shreveport-Bossier means the return of area farmers' markets. Just a few years ago, there were very few local farmers' markets, with the massive Shreveport Farmers' Market leading the way as small community markets sprang up in places like Benton, Vivian and Haughton. Recently, the number of markets has continued to grow – with the notable addition of the Bossier City Farmers' Market, which is open every Saturday, April through November – and the numerous markets have carved out niches for themselves.
Shreveport Farmers' Market has a history dating back 100 years, though the modern incarnation of the market launched in 1986. The summer 2018 session of Shreveport Farmers' Market will be held each Saturday, 7 a.m. to noon, now through Aug. 18, at Festival Plaza in downtown Shreveport. The Shreveport market sets itself apart with a curated community of local and regional producers and growers, including locally raised meats and dairy products as well as a wide variety of fruits and vegetables from Northwest Louisiana, East Texas and Southern Arkansas.
The Market Café area – where customers can grab a hot breakfast or lunch from local vendors – has grown in size and popularity in recent years, and has helped to launch such popular local eateries as Ki Mexico, Ono's Traditional Hawaiian Cuisine and El Cabo Verde.
"The Market Café started off with beignets one year, and it showed us that people want ready-to-eat food out here," said Noma Fowler-Sandlin, manager of Shreveport Farmers' Market. "Now, every year, we get all kinds of applications from people selling wonderful food that you can't get anywhere else in Shreveport."
One of the new Market Café vendors for 2018 is St. Laurent, a pop-up vendor that specializes in brunch dishes like avocado toast, North African-inspired shakshuka, eggs benedict and more. St. Laurent is the passion project of home cook and nurse practitioner Caleb Harkins. Harkins was inspired by travels with his wife, Taylor, to serve shakshuka at the market.
"My wife and I book vacations based on where we want to eat," Harkins said. "We've been spending a lot of time in Montreal and New Orleans, and we kept seeing shakshuka on menus in those cities, so I wanted to bring it home to Shreveport."
A full list of vendors and Market Café food options, as well as other information on the Shreveport Farmers' Market, can be found at www.shreveportfarmersmarket.com.
The Bossier City Farmers' Market is held each Saturday, 9 a.m.-1 p.m., April through November, on the south side of Pierre Bossier Mall. Bossier City Farmers' Market has fresh fruits and produce as well as a larger component of local makers and arts and crafts vendors than many markets in the region. Other elements – such as clowns, inflatable play areas and even the occasional water slide – give the Bossier market the feel of a familyfriendly festival. Another distinguishing feature of the Bossier City market is their policy on pets; Bossier City Farmers' Market welcomes pets on leashes and even hosts an annual day celebrating pets. This year's Dog Days of Summer event at the market will be held on Saturday, July 7, and will include a cooling tent for pets, plenty of water and a special section of pet-oriented market vendors.
Another popular market that is currently under way is the Benton Farmers' Market. The Benton market takes place Sunday afternoons, 12-4 p.m., May 20 through July 15. Though the Benton market is smaller in scale than the Shreveport or Bossier City markets, it is wellattended and offers access to some of the same high-quality local meat and produce vendors, like Mahaffey Farms and Crawford Farms.
In 2018, the Benton market has opened vendor applications to include arts and crafts vendors for the first time. The Benton market also frequently offers face painting, inflatable bounce houses and kid-friendly live music in order to make the event more of a family outing.
"We have lots of families that bring kids with them to the market, so we've developed some children's events," said Ellen Cathcart, market manager. "We know that families are wanting, more and more every day, to get into healthy eating and healthy lifestyles."
Other markets that have recently emerged include the Provenance Farmers' Market, which is held on Thursday evenings in June in South Shreveport's Provenance community, as well as the Neighborhood Food and Crafters' Market in Haughton. The Haughton market is unique in that it offers heirloom varieties of vegetables – "oldtimey" varieties that are often cultivated by local families. At the Haughton market, every vendor is the grower.
As farmers' markets continue to proliferate throughout Caddo and Bossier parishes, it is easier than ever before to support local growers, farmers, cooks and artisans. Whether you prefer a market that emphasizes locally raised meats, a market that is kid- or pet-friendly, or a market that is small and easy to get in and out of, there's a market to suit every taste in Shreveport-Bossier.
For more information on farmers' markets in Caddo and Bossier parishes, explore the "Farmers' Markets" category at www.sbfunguide.com.
– Chris Jay