Cruising on the Cross Lake Queen
Set sail on local waterway
Cross Lake has a new attraction. After nearly 20 years, Capt. Dale Shaver has returned to offer paddle-wheeler boat tours of the lake. For many residents of our Sportsman's Paradise who do not own boats, the Cross Lake Queen offers a great opportunity for the public to cruise the lake with friends and family, leisurely enjoying the sailboats, beautiful architecture and wildlife along the shoreline.
Measuring 63 feet long and 14 feet wide, the double-decker paddle-wheeler has room to seat 60 passengers comfortably. Rather than the typical immovable bench seats for tour boats, wrought-iron patio tables and chairs offer relaxed seating with room to move around. Capt. Dale assures that the boat has to pass state inspections, including one for lean-ability, so it is safe when all the passengers move to one side trying to capture that magical picture as the boat passes under the Cross Lake Bridge.
Right now, you can book afternoon and evening cruises online at www. CrossLakeQueen.net. These cruises generally last one and a half hours. Guests are welcome to bring picnics and non-alcoholic beverages to enjoy during their ride. Although the bottom deck is covered and the top deck has a canopy, during the summer I would encourage bringing cold drinks, sunglasses and sunscreen.
Often, the tours will feature a musician moving among the decks to entertain the guests. Recently, PoBoy McCoy, Chris Webb, the One Man Louisiana Band, played a lively blend of classics and jazz on his accordion.
Capt. Dale's assistant, Amy, can also help make reservations for parties and special events. Birthday celebrations, luncheons, evening dinner cruises, company outings or Sunday morning services, there are numerous fun reasons, as if we need one, to schedule a cruise for your friends, family or coworkers. If you would like to serve alcoholic beverages during your event, you can apply for a $100 permit from the state.
Also, keep an eye out on their website for special tour packages, like the recent fireworks tour during the Cross Lake Floatilla. They held regular tours during the day then hosted a special two-hour cruise that night during the Floatilla's closing fireworks display.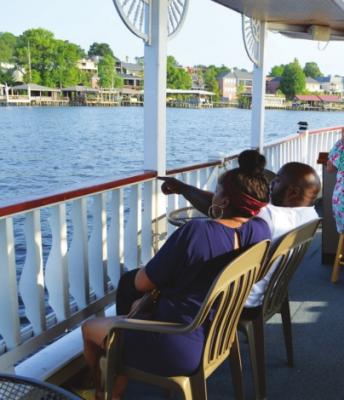 In the mid-1990s, Capt. Dale Shaver operated sold-out tours from the piers at Smith's Cross Lake Inn and former La Valencia restaurant near Ford Park, before a prominent restauranteur persuaded him to join a successful operation in Indianapolis. Most recently, cruising the Cherry Creek Reservoir in Colorado, Capt. Dale was lured back to Shreveport by our warm climate, proximity to an Air Force base and population of 300,000 residents.
Capt. Dale tells us his first boat was a Fridgidaire. He and his friends lived on the river as kids, fishing and hunting. "The Kalamazoo river had a dump along its bank that had appliances and cars. We took the door off the refrigerator, took the compressor out, grabbed a board for a paddle, and took off down the river." He laughed, "I loved the water, even participated in the junior high swim team."
At 18, Dale said that, quite unbelievably, he received his dream sheet pick and spent time in Madrid, Spain, serving the Air Force during the Vietnam War. Later, he worked over 14 years with the Canadian National Railroad in Michigan. This retirement plan of piloting paddle-wheeler cruises is a return to his childhood passion.
When they transport the boat down the interstate, as it was to Shreveport, the wheelhouse on the top deck has hinges so it, and the smokestacks fold down toward the first deck. For those interested in mechanics, twin BMW 5cyl diesel engines with Mercury outboard drives keep it moving smoothly along the water.
The Cross Lake Queen leaves dock from Melvin's Landing, a marina located at 1550 Cross Lake Blvd. in Shreveport. During his first month touring, Capt. Dale has advertised a limited number of cruises, while the paddlewheeler docks at a temporary berth. Once he is able to move the Cross Lake Queen to its permanent dock in more open water directly in front of the marina, he looks forward to hosting a ribbon-cutting ceremony to celebrate.
Something about riding on the water always seems magical. Leaning against the wooden railing of a paddle-wheeler as you watch the captain spinning the large, wooden wheel to turn the boat adds even more mystique.
– Lynn Laird