Walking Through the East Bank District
A feast of sights, sounds, fun and food everywhere you look
The East Bank District in downtown Bossier is just what we have been waiting for. Hats off to this enclave of art and local businesses, both those who have anchored this area for decades and the new local ventures working together with the city to develop this fun, walkable food and entertainment district.
As an investment in the district, the city narrowed the highway to add sidewalks and bike paths, built an entertainment plaza with public restrooms, and added plentiful free parking, creating a family-friendly atmosphere around the original establishments. Weekends in this newly designated Louisiana Cultural District will often find the plaza bustling with activities like quarterly art markets, Mardi Gras golf cart parades and scavenger hunts. September brings a friendly sidewalk competition with Chalk is Cheap, and the Zombie Walk gets some pep in its step this October with a Thriller Dance-Off. It is a great place to bring the family to fly kites, ride bikes and just hang out between events.
Where would you like to start? On the east end, enjoy the first local craft beer in the district, Flying Heart Brewing & Pub, served with big German pretzels and custom craft pizzas on NY-style thin crusts. Starting out as a funky, cool brewery housed in a remodeled fire station, they have since added a roomy inside dining/event area and outdoor patios where you can often join a game of cornhole or giant Jenga and hear live music.
Across the street, the L'Italiano Restaurant has been serving fine Italian dishes at its location since 1984. For years, it has been a tradition to enjoy a dish of Fruitti di Mare, the fruit of the sea, filled with shrimp, clams, mussels and squid before attending a play or art gallery opening across the street.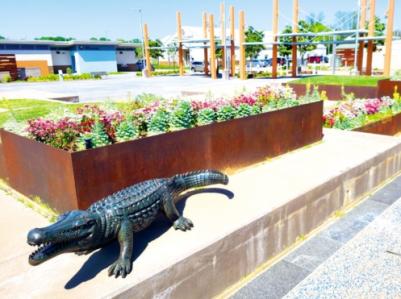 The East Bank Gallery & Theatre features two art galleries, a theater and Artist One Stop. In addition, they have a shop with a variety of original art and books by local authors for purchase. The Bossier Art Council manages the theater, gallery and East Bank District events. Supporting opportunities for performing and visual artists of all ages since 1980, in recent years they have expanded their commitment to the community, creating celebrated festivals that bring together arts education and the latest technology.
The Antique Shoppes at 1100 Barksdale is a multi-vendor space filled with vintage, refurbished, upcycled and antique collections for shoppers. Next, while Louisiana Home Center at 525 Barksdale specializes in home goods for building and remodeling, you will find unique gifts and décor.
Ready for action? Visit Bayou Axe, Louisiana's first dedicated World Axe Throwing League indoor axe-throwing venue. Learn how to throw an axe properly, then channel your inner lumberjack. You can also sign up for archery lessons at the nearby Hoot & Holler Archery.
SB Rides schedules regular glow-in-the-dark and daytime bike riding tours. Bring your bike or contact them to sign up and ride one of theirs. It is fun to make new friends as you slow roll through the East Bank District.
Now that we have worked up an appetite, let's find a table at Beaujax Crafthouse or the Frozen Pirogue; dining rooms and covered open-air seating available. Beaujax's crawfish were properly steeped in flavor with a dusting of seasoning (the server will happily offer gloves), and the Seafood Mac and Cheese was a hit.
Another option, select a table in the relaxed atmosphere of Hurricane Alley, an outdoor courtyard with a live music venue, and order from both. Either way, appreciate the great food and drink served by cheerful, attentive staff. Search Hurricane Alley Live online for their latest schedule of free and ticketed outdoor concerts.
Have you noticed a theme in the East Bank District? Great Food - Fun - Live Music - Walkable. Meandering through the district, ask your server at any location about their participation as the first open container entertainment district in North Louisiana. There is still more to come! El Patio is now serving tasty Mexican fare and soon opening are Red River Brewing Company, Streetcar Snoballs and Sugar Sheaux Bakery.
Create your own progressive dinner by walking from one restaurant to another for an appetizer, entree and dessert. Gather everyone's favorites for a picnic in the plaza. Talking with the director, Robin Jones, East Bank District is an excellent place for the modern family to hang out or gather with friends and socialize.