Chefs Allison Gras and Brad Jones bring Southern-inspired dining and hospitality to Line Avenue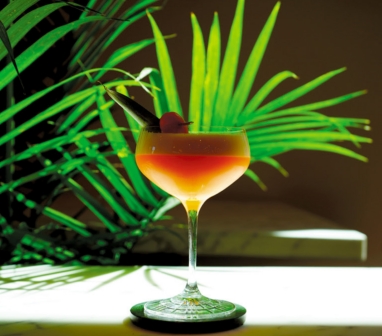 When reservations for went live on Sept. 28, well before the anticipated Nov. 3 opening date, over 600 reservations were taken in two hours. Taking advantage of the unanticipated two-year slow down to introduce themselves and their cooking style through catering and private chef dinners has undoubtedly worked in favor of Chef Allison Gras and Chef Brad Jones. As Allison cheerfully mentions, "Everything happens for a reason." When the pandemic delayed plans for The Revenir's construction in downtown Shreveport, they took the opportunity to build relationships throughout the community.
The Revenir, meaning "to return," encompasses their concept of returning a fine dining business to downtown, Shreveport native Allison's return home to be with family, and their hope that customers will return often. Work toward a French fine dining restaurant and Every Man a King Distillery in the historic Arlington Hotel is still in progress.
In the meantime, they continue to grow their repertoire by opening this Southern-inspired farm-to-table restaurant on Line Avenue.
Cypress by the Revenir connects their original concept to this new restaurant with a symbol that reflects southern inspiration and Louisiana. Allison and Brad met in culinary school, gaining experience working in all levels of the industry, a fun story that merits its own article. The couple are parents to 3-year-old Harper. In addition to Allison returning home, the cypress tree symbolizes the belief that she, Brad Jones and their partners, Dr. Lindsey Pennington and Dr. Andrew Larson, with their two children, have continued investing and "putting down roots" in Shreveport.
Speaking of roots, the chefs were asked to describe their favorite comfort food and whether it reflects in the menu. Allison's face lit up when she said collard greens. She and her mom, who passed away four years ago, always made collard greens together. Learning from a cook in her workplace, her mom made it a family staple. Making the pork stock and smoking bacon in-house will become a staple at the restaurant. Brad's answer was an enthusiastic "biscuits." The restaurant will have its own bread service featuring, as Allison describes, "housemade buttermilk pepper," happily making the hand-shaped "big cathead biscuits." Brad adds, "It is my happy place, and it is something that Harper likes to put on her apron and help with. We will serve them here with seasonal jams and butters."
Their menu features Southern ingredients and flavors with the chef's personal twists. An example would be the vindaloo-style tapas dish inspired by classic Nashville Hot Chicken. They coat the tamarind-brined chicken in a vindaloo lacquer, pouring the spice blend over as the chicken comes out of the fire. In Nashville style, house-made pickles and remoulade raita accompany their hot chicken.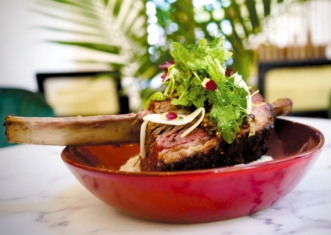 Brad, a certified sommelier, looks forward to introducing their curated collection of wines not usually available in the typical steakhouse. He also works with industry leaders Death & Company to help design their bar program and cocktail menu.
Breaking through in New York City, the company earned several titles, setting the industry standard. Death & Co.'s book is touted as the definitive guide to the contemporary craft cocktail movement, garnering nominations for James Baird Award for Best New Spirits book and the ICAP award for global design.
While primarily serving tapas-style dishes, they will offer some lunch and dinner entrees. Brad described tapas as a more gracious way for guests to share plates or try a variety of food." If you are going out to eat, you are going out for the experience, not just to dine."
Tapas is perfect for ordering six small plates, a bottle of wine and spending three hours enjoying themselves.
They have lifted the ceiling for the restaurant's interior, offering wonderful soft light from newly exposed upper windows and custom lighting.
Chef Allison said they want people to relax and stay a while, so the variety of tables each has very comfortable seating. The open table concept offers nearly everyone a view of the chefs, dinner and a show -- the total experience.
Many special touches throughout the restaurant include a dedicated Private Chef's Table dining room that seats up to 12.
Here, in a nod to the original concept and upcoming fine dining downtown, they used wood reclaimed from the Arlington Hotel to create a unique wine display for the room. Keeping with the name, both the Chef's Table and the restaurant bar were handmade from cypress over 400 years old and sourced from Lake Ouachita.
To help make take-home orders a great experience, too, they have designed a separate entrance with a dedicated host to handle orders online or over the phone and bring them to your car. This entrance will also have a graband-go cooler and bouquets by Scratch House Flower Farm ready to brighten someone's day.
Together, Allison, Brad and their partners are tending to the finest details to provide a seamless experience for their clients. In addition to great food and drink, they understand the value of every employee from the front of the house to the back and the importance of their skill for success. This sense of family and camaraderie working in unison to provide a fun yet relaxing atmosphere will surely beckon guests to return.