Just What the Doc Ordered
Sandwich shop has fresh offerings
Each issue, 318 Forum's always-hungry reporter visits a different restaurant and tells you about the experience.
When it comes to food, I believe two things.
You can't beat a good pork chop, and you can't beat a good sandwich.
On a recent Tuesday, I wasn't in the mood for a pork chop, but I was in the mood for a sandwich.
A sandwich not from a chain eatery but from a local place. And that's when Doc's Sandwich Shop & Deli (4019 Fern Avenue, Suite 300) came to mind. I mean, if you can't get a good sandwich from a "sandwich shop," where can you get a good sandwich?
Having never been to Doc's (which should not be confused with having never been to the doc), I invited a friend to join me on what would be a first-time visit for both of us. We arrived at noon, and parking was at a premium. A few businesses share the parking lot, but I was hopeful a lot of cars meant Doc's was busy, which meant they serve a good sandwich.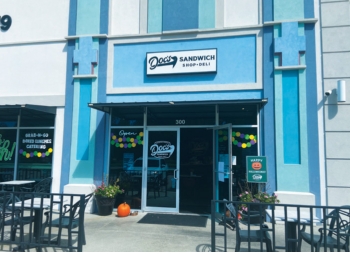 Walking in, I first noticed the restaurant's cleanliness and colorfulness. The second thing I noticed was how busy the restaurant was. There were approximately 40 available seats inside (tables and counter) and additional seating outside. Most of them were taken. Inside, recorded music played, a nice variety that wasn't too loud and allowed people to have easily heard conversations.
Doc's menu is on a long, lighted board on the wall facing you as you enter. You have nine sandwiches from which to choose, priced between $12-$15. You can also "Build Your Own Sandwich" for $10.
There's Avocado Toast, which I assume could serve as an appetizer. Doc's also offers a Caesar and Garden Salad. And there's a Kids' Menu with four options.
By the way, Doc's has a very nice website, which allows you to place your order ahead of time.
When it was our turn at the counter, we were greeted by a cheerful lady who seemed very excited to take our order. I went with The Veggie Naan ($12). It was described as fresh grilled naan bread, spinach, cucumber slices, avocado, Campari tomatoes, red onion and whipped cream cheese.
My friend ordered The Doc's French Dip ($15). It featured French bread, sliced roast beef, provolone, caramelized onions and horseradish sauce and was panini-pressed with garlic and thyme au jus.
Each sandwich came with our choice of chips and a drink. Doc's offers a variety of chips and brands, from Deep River to Zapp's, to Lay's, to Sun Chips. I chose Deep River Salt & Cracked Pepper. They were really good – much better than your average potato chips. I didn't notice which chips my friend decided, but he said they were OK – nothing special.
An early highlight of our meal was when we went to the self-serve drink station. I almost always get water and prefer to have it with lemon. Usually, at these stations, if anything, there are packets of lemon juice. To my pleasant surprise, there was a tray of cut lemon slices available to squeeze and put in my water.
My friend marveled at the ice. I called it crushed. He called it pellet ice, "like they have at Sonic." He loved it and would later say the ice was his favorite part of the meal.
Having waited patiently at our table for some 30 minutes and seeing others arriving after us being served, I began to get impatient. When a server walked by, I asked about our order. She explained that they had to cook more onions for my friend's sandwich. We thought that was an interesting explanation since my friend specifically ordered his sandwich without onions.
Not more than two minutes later, the server brought my sandwich and said my friend's sandwich would be ready soon. A couple of minutes later, it arrived. Both were served as ordered. One look and I could tell mine was fresh, from the bread to the goodies inside. It was cut in diagonal halves, wasn't messy and had a good, clean taste.
My friend said his sandwich was good, also.
He said the toasted bread tasted fresh, not hard. He said the roast beef was hot and tender, and the provolone was melted. I could see smoke coming from the sandwich when he raised it to take a bite.
As for dessert, Doc's offers one choice – cookies ($2.50 each). But they have several kinds of cookies, all made next door at Lowder Baking Company. I went with a sugar cookie with red crystals. It was tasty and fresh. My friend chose a white pecan cookie and was happy with his choice.
We paid at the register when giving our order.
Not including tax and tip, our meal cost $34.75. If you are a frequent reader of these reviews, you know I think everything is expensive. This seemed like a lot for two sandwiches, two cookies and a drink ($2.75). But in the world in which we live, maybe not.
Doc's also has a cooler stocked with everything from take-&-bake mini-cinnamon rolls to chicken pot pie to monkey bread. There were also bottled drinks, including Sprite, sparkling grapefruit and sparkling pomegranate.
When we left, my friend and I discussed how many forks I should give Doc's Sandwich Shop & Deli.
We decided on three forks. My friend made a good point. Doc's is a really nice neighborhood eatery. Someone who lives in the area or finds themselves close by can enjoy a good sandwich in a nice atmosphere. But it's doubtful either of us would go out of our way to visit.