Jumbo shrimp cocktail.
Satisfactory food, great atmosphere
Each edition, 318 Forum's always-hungry reporter visits a different restaurant and tells you about the experience.
It was lunchtime, and we didn't have much time.
My friend and I were in Bossier City on a recent Tuesday, so we decided to visit (501 Barksdale Boulevard) in the East Bank District.
I had been there once – maybe twice – but it was at least two years ago. My friend had been there maybe a time or two more. But neither of us has the best memory, so we treated this trip as if it were our first.
If you go to BeauxJax, be prepared to park and walk. A little after noon, street parking near the restaurant was full. We parked in a concrete surface lot behind and a couple of streets over from BeauxJax. The walk wasn't bad, even in 90-degree heat.
You never get a second chance to make a first impression, and BeauxJax made a good first impression. We walked in the door at 12:15, and before it was 12:16, we had been greeted and seated. That, despite only two available tables in an almost-full restaurant, counting bar seating. There is covered patio seating, of which several people took advantage. However, as I mentioned, it was 90 degrees.
Within another minute, our server – Ozzy – was standing at our table, introducing himself and asking for our drink order.
Looking around, we couldn't help but like BeauxJax's atmosphere. My friend said it reminded her of New Orleans, and I agree. She said the red brick-exposed walls were the building's original walls. We looked up and saw wooden ceiling beams and exposed air condition ductwork.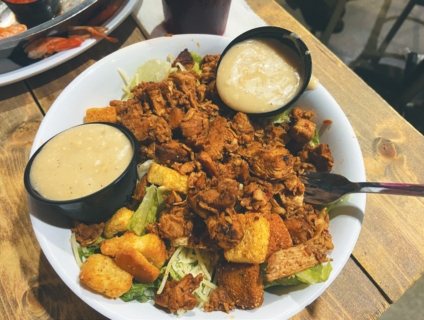 Bourbon chicken Caesar salad.
There were seven televisions throughout the restaurant, with most of them over the bar. It looked like no matter where you sit, you would have a view of a game or whatever was on (in this case, U.S. Open tennis.)
The crowd was a mix of businesspeople, workers and medical staff/students. The noise wasn't so loud that my friend and I couldn't converse.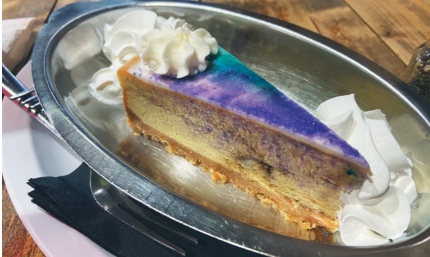 King cake cheesecake.
Seven minutes after we sat down, Ozzy returned to take our order. BeauxJax's menu isn't overwhelming, but the focus is on shareables (think appetizers), salads and po-boys. Because I am also thinking of you, the reader, I insisted we start one of those shareables – the Jumbo Shrimp Cocktail ($10.99). The menu said the appetizer would consist of eight jumbo shrimp with cocktail sauce. I was surprised when it arrived, as I have always seen a shrimp cocktail served in some type of glass. However, this shrimp cocktail came in a non-glass serving bowl. The shrimp were seasoned and very tasty. However, BeauxJax's use of the word "jumbo" was a bit of a stretch.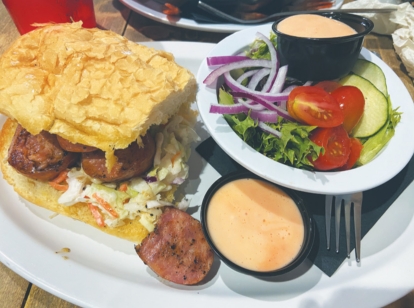 Half po-boy and salad.
For my entrée, I chose the Half Po-boy & Salad ($11.99). I went with the gator andouille and a mixed green salad. (I could have chosen a traditional Caesar salad.) The menu described the po-boy as made up of gator sausage, slaw and house sauce. It had been a while since I had a po-boy, mostly because I don't eat much bread. You know, when you order a po-boy, there will be a lot more bread than what's on the inside. This po-boy wasn't any different. The bread – Gambino's French Bread – looked to have a little melted butter. It was good – not too tough, not too soft. My only complaint with the po-boy is that the eight pieces of gator sausage were not hot. While they weren't cold, they weren't warm, either.
I would say they were room temperature.
The sausage needed to be hot because they were on top of the slaw– which was cold. I didn't need the only two things inside the bread to be cold.
Now, let me tell you about the house sauce. It was delicious! Ozzy said it's a mix of pepper jelly and cole slaw. It had a bit of a kick, and I found myself taking pieces of sausage that had fallen out of the po-boy and dipping them in the sauce.
The salad was fine – nothing special. It was a nice portion of lettuce, tomato, cucumbers and sliced onions. I ordered the house dressing, which turned out to be the house sauce! It was so good, I was happy to have it twice.
My friend chose the Bourbon Chicken Caesar Salad ($13.99). It had lots of chicken, romaine lettuce, parmesan cheese, croutons and Caesar dressing. It was big enough that she couldn't eat it all, leaving much of the lettuce and none of the chicken. My friend said the chicken had good flavor and a bit of a kick, although I took a bite and found the chicken to be a bit dry. She said the Caesar dressing – which can be too tangy in some places – was good and creamy.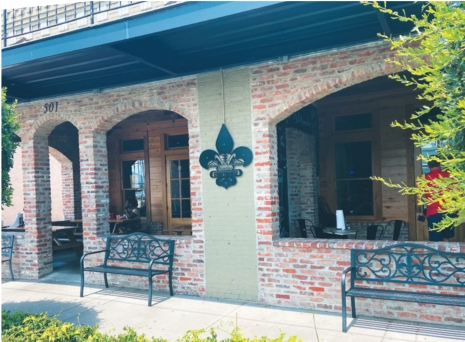 BeauxJax Crafthouse is in Bossier City's East Bank District.
For dessert, we had three choices:
Banana Foster Cheesecake, King Cake Cheesecake or Bread Pudding.
I don't like bananas, so we were down to two. Given the responsibility of selecting, I went with the King Cake Cheesecake ($7.49).
When served, it certainly looked the part.

The top layer resembled a dark, rich king cake. The bottom layer looked like cheesecake. The top had Mardi Gras-color icing and a small swirl of whipped cream in the shape of a nice design.
Unfortunately, my friend and I agreed we should have chosen something else. The King Cake Cheesecake wasn't bad – and it was good enough that we ate it all – it just didn't stand out. I thought it had a bit of a pumpkin spice taste, but it was otherwise bland. My friend said she tasted sea salt. We concluded that next time, we will make a different selection.
Yes, there will be a next time. More on that shortly.
Along with our check, Ozzy brought my friend an unsolicited Diet Coke in a to-go cup. That was a nice gesture, although, on the check, we were charged for two drinks when we only had one (I had water). I brought it to Ozzy's attention, and he quickly agreed that it was a mistake and would take care of it. When he returned with my credit card and receipt, there was only one drink ($3.49) listed.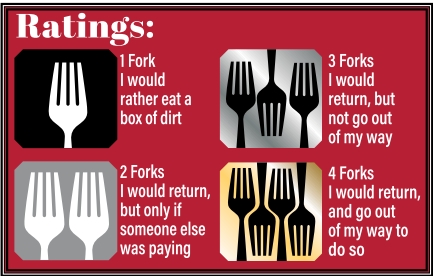 The total for our lunch, excluding tax and tip, was $49.38. One thing I really liked is that the original customer's copy of the receipt listed suggested tip amounts based on different percentages. Those percentages were based on the subtotal – not including tax. That's how I think it should be done, but it isn't always. My copy of the final receipt was itemized and included my tip.
We were up from our two-seat, high-top, wooden table at 1:17 – an hour and two minutes after we arrived. It was a very efficient dining experience – not a lot of wasted time. And when you don't have much time, that's what you want.
After a brief discussion, my friend and I decided we would return to BeauxJax Crafthouse and go out of our way to do so. However, we would order something different. My main reason for giving BeauxJax Four Forks is not so much for the food but for the really pleasing atmosphere and terrific service. To me, those count for a lot. So much so that BeauxJax will have a repeat customer.