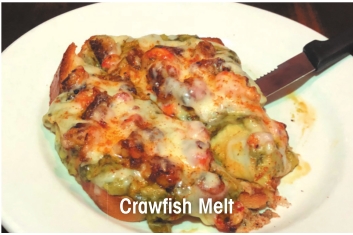 Line Avenue staple gets new owner and a new all-day Happy Hour
What we tried:
Tony's Eggnog Daiquiri: Now through the holiday season, you can get Tony's legendary eggnog daiquiri while you eat in the restaurant! Christmas has indeed come early.

Debris Bleu Cheese Chips: Pot roast, home fried chips, bleu cheese drizzle, topped with bleu cheese crumbles. My new favorite appetizer in town.

Crawfish Melt: Crawfish, creamed spinach, with melted mozzarella on Byronz bread. If you like crawfish, you'll love this.

Chicken & Parmesan Dumplings: When I saw this on the menu, I had to read it again. Where have you ever seen Parmesan dumplings? Baked chicken, fried cheesy Parmesan dumplings in a creamy velouté sauce. This is like no chicken and dumplings you've ever had.

Shrimp and Grits: You see this item on the menu in many restaurants, but this one is different. Creamy cheddar grits, topped with Creole shrimp, cheese crumbles and crispy fried jumbo shrimp.

Cookie Crumble Parfait: Vanilla ice cream and chocolate chip cookie crumbles, topped with chocolate and caramel sauces with whipped cream, served in a martini glass.

Heavenly Chocolate Supreme: Chocolate cake, topped with marshmallow, pecans, fudge with vanilla ice cream, cocoa powder, plus chocolate and caramel sauces. The ultimate dessert!
Popular:
Veggie & Turkey Burger and the Zydeco Sampler: What is the Zydeco Sampler, you ask? Shrimp and grits, crawfish etouffée and gumbo. Three classic New Orleans dishes in one stop.
Next Visit:
Beaucoup Burger: open faced with bleu cheese or three cheese drizzle (or when I'm ordering, both), topped with crumbles, spinach and tomato, served with frites.

Debris PoBoy: hot roast beef smothered in creole gravy, dressed with lettuce, tomato and mayonnaise on toasted Gambino French bread direct from New Orleans, with chips, frites or sweet frites. Sounds like PoBoy perfection.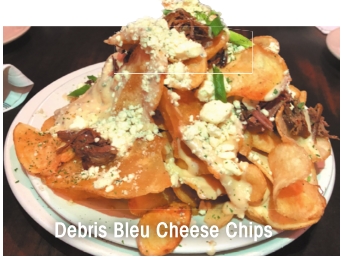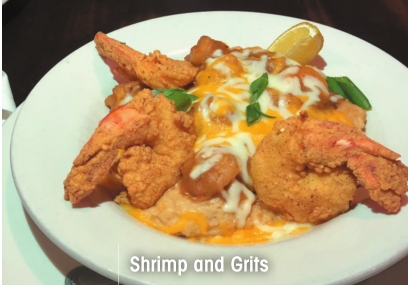 Vibe:
A casual yet slightly upscale atmosphere, with a newly remodeled intimate patio, perfect for outdoor dining. It's also a great spot to dine while watching your favorite sporting event, as TVs are located throughout the dining rooms.
Don't feel like getting out? Order of one of these great dishes and have delivered to you via Waitr or On The Go Delivery.
Cost:
Hors d'oeuvres start at $7.95 Salads start at $13.95 Entrees start at $13.95 Burgers/PoBoys/Sandwiches start at $9.45 Desserts start at $4.25
Fun Fact:
In mid-December, the restaurant is hosting a special Beer Pairing Dinner, featuring Great Raft beer and food by Blake Jackson of Whisk Dessert Bar and Drake Catering. Contact the restaurant for tickets. I'll be there for sure.
6104 Line Avenue Shreveport 318.219.4848 bistrobyronz.com
food forum
Sunday 10 a.m. to 8 p.m. Sunday Brunch 10 a.m. to 3 p.m. Monday – Saturday 11a.m. to 10 p.m.