Designer finds comfort in her new home
For a complete viewing of this home, click here.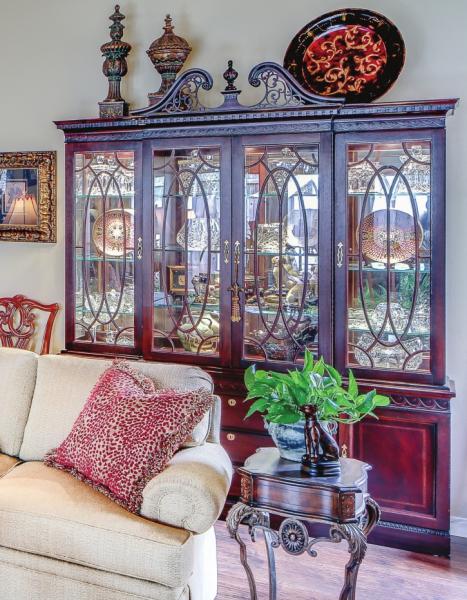 Nestled in Shreveport's Kings Crossing subdivision, a local designer, Linda Montgomery, has found a quiet solitude in the gated community for the past two years. The home has three-bedrooms and two-baths.
For 20 years, Montgomery owned and operated Montgomery Interiors but decided to try something new in 2010 when she closed her business. During her time owning Montgomery Interiors, she worked alongside fellow designer, Janet Meier, decorating numerous homes in the Shreveport-Bossier City area. In 2010, Meier opened Janet Meier Designs in the Southfield Shopping Center, and the two still work together on a daily basis.
Entering the foyer of Montgomery's 2,000-square-foot King's Crossing home, a wonderful array of warm neutral colors and rich touches of red and black welcomes family and friends.
Anchoring the entryway is a charming Chippendale chest of rich cognac wood. A graceful mirror sits above it, and beautiful wood floors flow throughout the living, dining and kitchen area. Sherwin-Williams' Row House Tan paint creates a neutral backsplash to beautiful décor.
Moving into the oversized living area, one is greeted with toast-colored chenille sofas. Paired with accent chairs, there is more than enough room to accommodate visiting guests.
Lining one wall is a beautiful breakfront with many of the homeowner's favorite treasures she has collected over her many years of design work.
Flanking the large mahogany anchor piece are two accent chairs upholstered in a black, tan and rich red fabric, which beautifully brings her color palette to that side of the room.
A focal point of the room is the fireplace with custom bookshelves built to add dimension to the room as well as to house the homeowner's television. Not a fan of televisions placed over the mantel, Montgomery loves showcasing beautiful art above the fireplace.

Adding to the beauty of this room are four French doors flooding the room with great light.
The doors open to reveal a lovely concrete patio filled with lush plants and a quiet outdoor living space. The grass in the backyard was removed and stamped concrete was installed to simplify lawn maintenance.
Montgomery has quite a green thumb, and said she "loves to create various beds of blooming and evergreen plantings and incorporates special pots, jars and iron works" in her flowerbeds.
She even has one special area that proudly displays some vintage iron lawn chairs that belonged to her parents.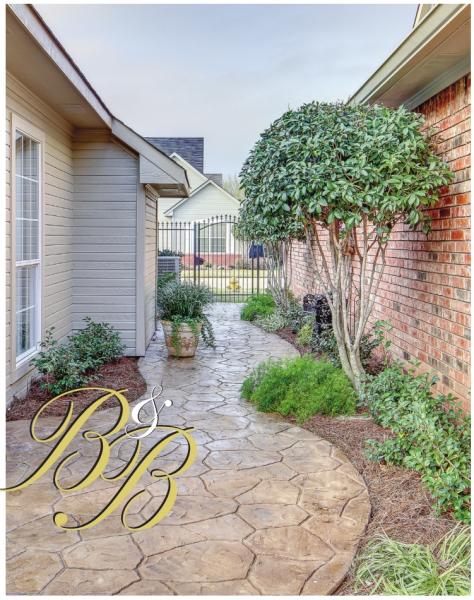 This landscaped view is also enjoyed from the formal dining room, located off the living room. With an elegantly crafted mahogany table, a dinner party of eight to 10 can sit with ease.
The formal dining room is illuminated by a beautiful bronze chandelier that Montgomery bought in Dallas. The delicate crystal drops just below the custom shaded candelabra lights set the perfect atmosphere for dinner.
Only a few steps away from the formal dining room is a bright and airy kitchen filled with off-white painted cabinets and a beaded board island, painted a few shades darker. The home's neutral theme was carried into the kitchen and accented with rich blacks and reds.
Kitchen countertops of warm-toned granite are balanced with a lighter stone backsplash. GE stainless steel appliances and bronze hardware are the perfect touch of modern.
The kitchen area is made complete with a cozy breakfast table sitting in front of a large shuttered window welcoming more light into the room.
Because Montgomery loves to entertain, she also had a wall built to support a custom-built, wall-length buffet topped with granite in her living room. The buffet connects the two spaces with a large pass-through opening.
Montgomery said, "This creates a very open and connected feeling from the kitchen to the living room."
A large carpeted master suite located close to the living room offers another view of the manicured flower beds through two triple windows.
In the master bedroom, a padded headboard adds a splash of rich garnet into the room. Tones of black, deep mossy greens and reds highlight the area and are a perfect juxtaposition to the blooming flowerbeds seen just on the other side of the large triple windows.
A separate sitting area adjoining the bedroom is a welcome spot to watch TV and relax. A dark wood desk is also found in the sitting area making it a convenient spot for computer work and correspondence.
Attached in master suite fashion, a tranquil master bath, also decorated in neutral tones, houses a garden tub, separate shower and double vanities. St. Cecilia granite tops the vanity with an oversized mirror hanging above.
The master bathroom's granite countertops and large tiled floor sparkle in the reflection of the large mirror atop the tone-on-tone wallpaper.
For an added touch, a TV is discreetly hung above the doorway for catching up on morning news while Montgomery readies herself for the day.
Two guest rooms located in the front of the home are carpeted and decorated tastefully in similar hues as the rest of the home. One room is dedicated to her granddaughter and decorated in soft blue hues. The second bedroom features subtle gold tones with touches of red.
Just down the hall, the guest bath features a mahogany wash stand with a black Brazilian granite top. The tone-ontone wallpaper and cream embroidered shower curtain hanging on a fluted wooden rod add softness to the room.
Montgomery said her home "is truly that: a home where I enjoy my neighbors and setting, and I can certainly see myself living here for many years to come."
She definitely has a beautiful home and talent for design.
Janet Meier Designs can be reached at 670-8122 and is housed in the Southfield Shopping Center located at 5735 Youree Drive.