Neighbors, Friends Assist in Design and Construction of Twelve Oaks Home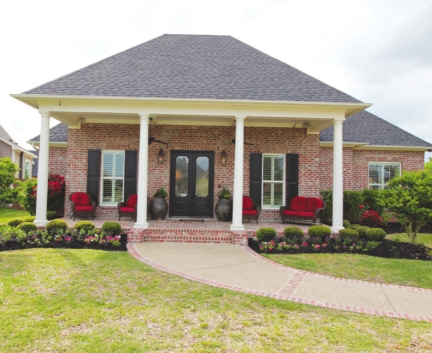 The Duvall family, owners of Pelican Tents & Events and Duvall's Amusement Rentals, chose Twelve Oaks to build a luxury home for their growing family. Moss and Michel Duvall live in Shreveport with their three children, Brynn, Tucker and Ellie.
Click here to see more photos.
Completed in November of 2012, Jenkins Construction and Custom Homes completed the almost 5,000-square-foot home featuring five bedrooms and three and a half baths.
Michel said the building process was a lot less stressful than he imagined. "Matt Jenkins, our builder, neighbor and good friend, was very patient with us and kept us on budget and on schedule. He even found just the right bathroom light fixtures when I couldn't find any I liked. As far as decorating, we had a lot of help from friends. Judy Lenert, a family friend, helped us pick out the paint colors and wood floors, and that set the stage for the rest of the decorating. I know what I like but need a little help putting it all together and making it work room by room, and Alison Mckenzie and her girls at Medina made that happen for us. From curtain to furniture to decorating bookshelves and nursery, they definitely made my life easier and I love everything they have done."
Twelve Oaks neighborhood is a masterplanned community located on 400 acres in Southeast Shreveport conveniently located near Highway 3132 and Interstate 49.
The Duvalls enjoy spending time outside with family and friends, so location was key. The home is situated in a semicircle drive that reduces through traffic but promotes neighborhood community. The gated community also has two swimming pools, three parks and various walking trails.
When approaching the house on the semicircle drive in the neighborhood, Michel said, "One thing I am really proud of is my front door. Driving around, I feel like all the doors either look the same or are triple my budget. I found a door I liked on Houzz, and Custom Built made it happen for a very reasonable price."
Entering the home, the open floor plan is breathtakingly beautiful and refreshing. Ready for a cozy childhood movie or a party of 20 friends and children for the annual 'Friendsgiving' celebration, the open floor plan is ready to host a large gathering with ease.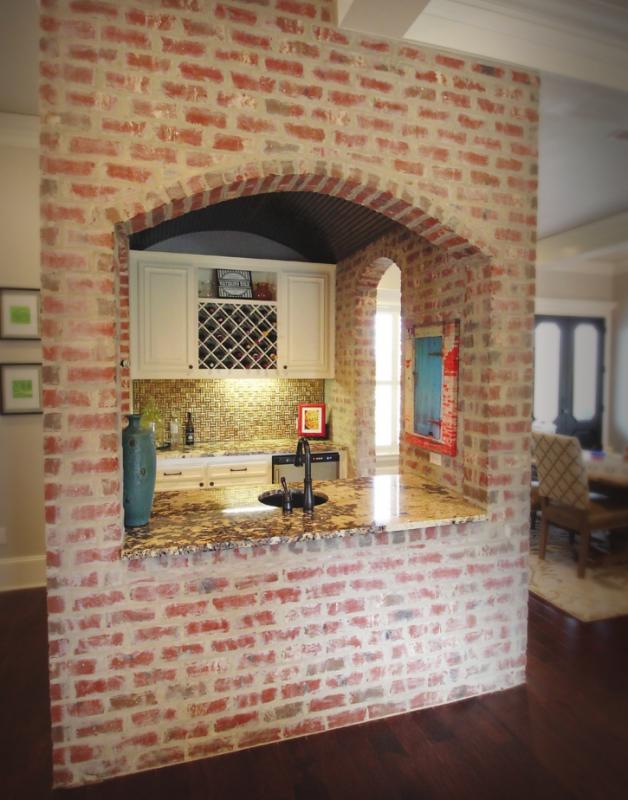 A large cypress mantle with a television mounted above it sits above a large, traditional wood burning fire place provided by Fireplace Specialites. Sonos surround sound, in-wall subwoofers, smart home wiring and security nanny cameras were installed by Sound Minds.
Built-in shelves and cabinetry on both sides of the brick fireplace proudly display family pictures and treasures. The space is lit by four large windows that overlook the back patio and adorned with custom window treatments from Medina.
Michel said, "We chose the roman shades for the windows looking out to the back porch so we still have that open feel but can pull the shades down when the sun is shining nice and bright in the afternoon."
Flowing throughout the open space, the hand-scraped wood floors are both elegant and built to withstand everyday life.
Off to the right, the living space opens up to a bright kitchen with varying shades of light granite on countertops and the custom built kitchen island. Three modern light pendants hang above the large kitchen island that houses a sink and dishwasher as well as many cabinets. Barrett Appliance provided GE Profile appliances throughout the house.
"I wanted something that fit us and our style," Michel said. "We were able to find them as well as all our our other light fixtures and fans at House of Lighting and Carpets."
Since the family enjoys hosting events and dinners, they made the island taller than a normal counter height to accommodate the family while cookie.
Four barstools at the island are the perfect place for the children to sit and discuss the day's events.
The cabinets and storage in the kitchen are absolutely dream-worthy and strategically designed to accommodate a growing family. Above the microwave, Dave Bushnell at Sound Minds designed a cabinet with a built-in television to bring modern luxuries into the kitchen area.
A breakfast area off of the kitchen is where the family is able to sit all together overlooking the front yard through an extra-large window.
Downstairs houses the master suite, nursery, office/another playroom and utility room.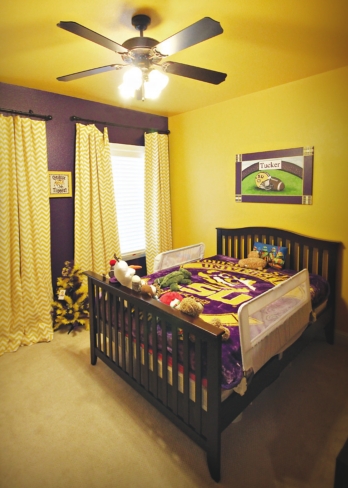 The master bedroom is a mix of modern and traditional with neutral tones and purple accents. Medina helped style this room with custom curtain rods and lamps to give the room an elegant flair.
"My favorite room to design was our master bathroom, especially the tile and shower," Michel said. "The tile looks like wood and runs straight into our shower. We even have a special drain so it's hidden in the floor. We made the shower a little deeper than usual so that we did not have to put a door on the shower. We also wanted it to feel more open so we put a cut out as well."
Ellie's downstairs nursery is decorated in gender neutral colors because the family wanted to wait to find out the baby's gender. Turquoise zebra curtains trimmed in navy and wicker animal heads are adorable in the small one's space. The crib skirt and accent pillow were both custom made.
When you come up the stairs, there is a landing area that opens up to the play room. The playroom is equipped with a mounted television, two chairs, an ottoman and a ton of toys. A large closet was built for the family to store the toys.
Tucker's room just got upgraded with a "big boy bed" and is painted with official LSU colors. Brynn's room is painted in a light purple she chose and has a bunk bed. Her room also features a secret room with salon type doors and special places for her princess dresses to hang.
Moving outside, the porch is a covered area that opens up from the main living room.
The outdoor seating area is decorated with a love seat, two swivel seats and a table just beyond the outdoor kitchen. A built-in Green Egg provided by Tubbs Hardware, refrigerator, sink and long counter are the ideal setup for entertaining.
An outdoor television is mounted in the corner of the patio area and connected to surround sound. The family enjoys tailgating for LSU football games, so it is fitting that the home's third car garage is transformed into a LSU zone.
"It was one of those things when you are designing and building a house to where you can pick whatever you want," Moss said. "I researched the true colors and found the manufacturer who carries the official license to sell LSU paint."
Mosquito Mist Systems provided the mosquito misting system on the front and back of the house so the family is able to enjoy our outside living areas free of mosquitos and bugs.
The yard and flowerbeds were landscaped by Alexa Boubelik Designs.
"For this growing family, we kept things simple with low maintenance shrubs such as Dwarf Yaupon Holly and boxwoods, and we brought in pops of color and southern tradition with knockout roses, Shi Shi Camellias, hydragneas and 'Lil Gem' magnolias," Alexa Boubelik said. "It is always important to think toward the future, so we planted crape myrtles and freestanding oaks in the yard to shade beautifully in the future. The family has space to add beautiful seasonal color areas at entrances to the house and entertaining areas."