Urban park planned to be a catalyst for further revitalization of once blighted downtown area
Urban park planned to be a catalyst for further revitalization of once blighted downtown area
Unusual… unreal… unbelievable… uncommon .
Almost any "un-" word you can think of will describe Caddo Common Greenspace & Urban Outdoor Venue, a new vision for downtown Shreveport t h a t will appeal to surrounding communities.
"We love 'un-' words," said Pam Atchison, executive director of Shreveport Regional Arts Council.
Atchison said cities on the move are known for their outdoor theaters and places for entertainment, and the dream is to have something going on constantly in an area of Shreveport that was once more of a nightmare than a dream.
"Caddo Common will be very uncommon," she said. "It will be an urban park that will help revitalize an area that is already on the grow by offering a venue for weddings, receptions, Shakespeare in the Park … a production for blankets on the ground," Atchison said. "Every Friday night, there may be a band playing while artists are selling their artwork in the area."
The 2.4 acres of greenspace that make up Caddo Common are located in the middle of Shreveport Common, said Vickie Marshall, director of Shreveport Common.
"It's on the western edge of downtown Shreveport and runs up Texas Avenue, peaking at Cotton Street and Texas at Holy Cross Church, right across from Municipal Auditorium," Marshall said. "It is accessible from downtown. Really, from all parts of the community."
Shreveport Common was realized after an arsonist set fire to the offices of the Shreveport Regional Arts Council in 2009.
"We are the city's art partner, and they have always supplied housing for us, so what really burned down was called Princess Park, the city's first recreation center, tenant center, USO entertainment center with theater in it," Atchison said. "It burned the entire building, which had to be bulldozed."
Then-Mayor Cedric Glover realized there was an opportunity to seize on a stronger role for the City of Shreveport and the arts by taking a state-designated cultural district and reforming it.
"He asked us to take control of Central Fire Station, which had been empty for 10 years, raise the money to restore the building and launch Shreveport Common as an uncommon cultural community … a neighborhood, not an arts district," Atchison said. "He asked us to take it from blight to vibrancy."
Caddo Common, named such because of Caddo [Parish] Commission's major financial contribution of $1 million, will make the area even more vibrant.
"A neighborhood has to have a plaza … a common ground … center point," Atchison said. "This will be called Caddo Common because of the Caddo Commission. We now have $1 million – one-third of the project – to get it started."
Yet that starting place was well before May 5, when the commission said "yes."
"The starting place was with all of the landowners who owned the 2.4 acres destined to be Caddo Common," Atchison said. "They all either sold their property at way below market value or they donated their property, so there has already been a huge private sector commitment to the project. Now, we have a public sector commitment with the Caddo Commission and are very excited about moving forward."
...artists were employed with the landscape architect and the engineers to be a part of the actual design, rather than treating the art as icing on the cake. We reversed that process.
–Pam Atchison
Caddo commissioners previously in-vested $350,000 for the design of the $3.2 million project.
"They helped us do a design process that involved artists," Atchison said. "This project is a collaboration among the parish, city, Shreveport Common, as its own 501(c)(3) entity and the Shreveport Regional Arts Council."
SRAC's role is to keep artists in the front and center of the planning and the execution.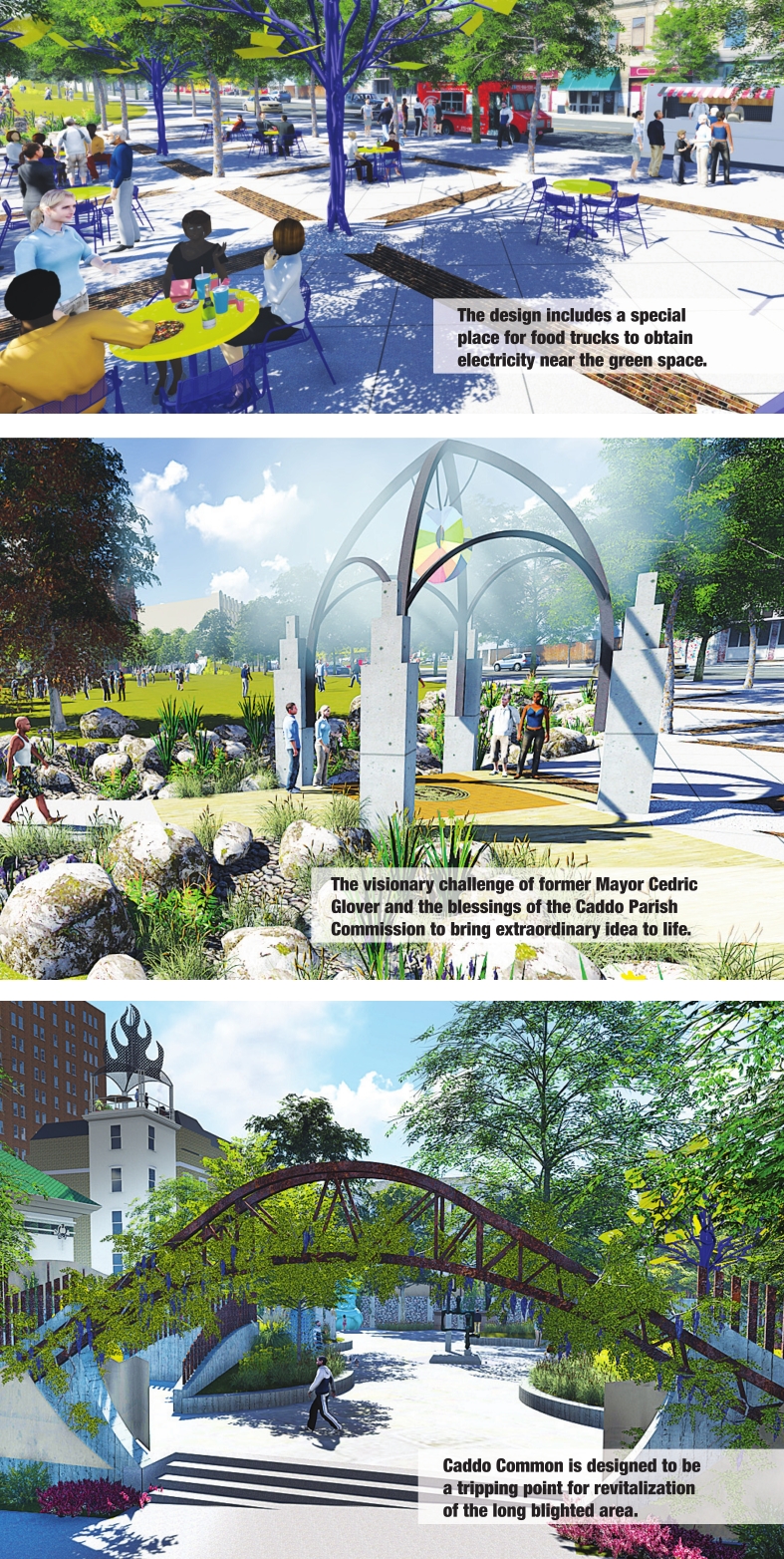 "For Caddo Common, three artists were employed with the landscape architect and the engineers to be a part of the actual design, rather than treating the art as icing on the cake," Atchison said. "We reversed that process."
The parish commission has given Shreveport Common and SRAC one year to raise the matching dollars.
"The minute the matching dollars are all raised, we would need three months to do a call for a contractor," Atchison said. "It's totally designed. It's shovel ready."
Identifying the contractor will take three to four months.
"Our dream is to start construction by September 2017, and by late spring 2018, we will be celebrating the opening of Caddo Common," she continued.
They are approaching fund raising in three ways.
"There will be 'signature elements' in the green space that merit a naming opportunity for families willing to spend significant money to remember and honor a family member," Atchison said.
A second way is an extremely grassroots inclusive, every-man participation.
"Usually, it's called 'every person buys a brick,'" Atchison said. "But our intention is to be uncommon so we intend to work with the artists to create an uncommon element such as an artist-designed or child-designed tile."
A third possibility will appeal to environmentalists.
"There are 126 large trees in the green space," Marshall said. "We know there are 126 donors who would like to celebrate their ancestors by sponsoring a tree."
Caddo Common's design includes a performance pavilion, a fountain that doubles as a small performance space when the water is off, a special place for food trucks to obtain electricity and offer their product and acres of green grass that can accommodate 2,500 people on family outings.
"The expectation is that every week there will be performances at the very beautiful, contemporary performance pavilion that's been designed by Mike McSwain," Atchison said. "The park itself is under the design leadership of landscape architect Jerome Nicholas and his company, Nicholas & Associates."
Part of the dream is that every art organization will want to book their time to be performing in the green space, and touring companies will use the area for their productions.
Shreveport Common's collaboration will include booking and managing the green space. SRAC will oversee dynamic happenings every week, ensuring it is a programmed green space.
It is not the end of Shreveport Common; it is the beginning of a new chapter.
"Shreveport Common is the revitalization of nine blocks on the western edge of downtown Shreveport. Caddo Common is one of the elements … really the tipping point to start to engage the revitalization process in this particular community," Marshall said. "By having this park, we are also infusing the opportunity for developers to come in and start to develop artists' living spaces, studio spaces, within Shreveport Common. So this community will be based on needs of artists or creative individuals. It is our hope that developers will now see that we have a major investment coming into this community that's going to change the face of not only Shreveport Common but downtown and Shreveport."
In the past four years, $38 million has been spent in renovations, as 19 buildings have been purchased in the nine-block area, generating an 18 percent increase in property values.
"Right now, we have an artist and creative survey that is online, and we are getting information from creatives as to what their needs are in live/work spaces," Marshall said. "How many square feet do you need, how many windows, high ceilings, deep sinks?" All of that information will be shared with ArtSpace Projects of Minneapolis.
"They will have a great analysis of the needs of artists and creatives in our community," Marshall said. "Then we can provide a compiled report to developers who are looking to invest in these projects in Shreveport Common, along with Caddo Common Park."
Artists who wish to be part of the analysis should visit www.shreveportcreativespace.org by May 24. Anyone interested in a naming opportunity or legacy gift, call 673-6500 and ask for Vickie or Pam or e-mail Vickie@shreveportcommon.com.