OUTLOOK POSITIVE FOR BOSSIER CITY
Growth in middle-class jobs, population key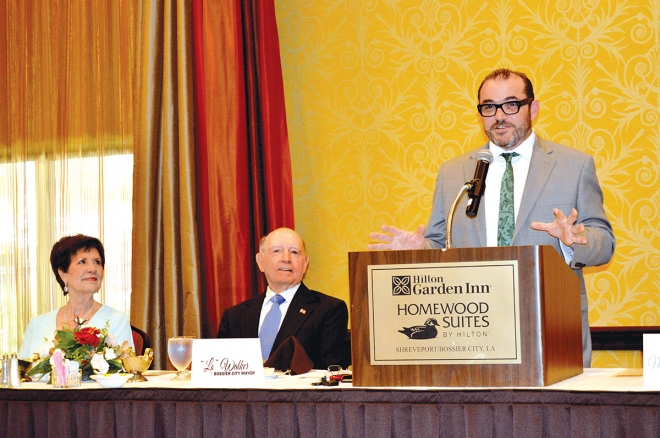 Growth in middle-class jobs, population key
When many communities are stagnant or, worse yet, experiencing a decline in population, Bossier City and Bossier Parish are seeing nothing but a positive outlook of continued growth with good times ahead.
During the recent State of Bossier Address, sponsored by Gibsland Bank & Trust, a sold-out crowd at Hilton Garden Inn heard what would turn out to be an overwhelming theme from three speakers – Dr. Wesley Hinze, instructor of sociology at Bossier Parish Community College; Wanda Bennett, president of the Bossier Parish Police Jury; and Bossier City Mayor Lorenz "Lo" Walker – a theme of growth.
Hinze, as keynote speaker, gave attendees a glimpse of Bossier trends, from population, family data and occupations.
"Most positively, Bossier is ahead of population growth projections already, and that population growth is in younger people," Hinze said, "with more people migrating to Bossier."
Hinze's charts showed natural births have stayed roughly the same since 2001 – with only a slight dip in 2010. His charts also showed the most dramatic migration increase as being domestic.
The top industries are accommodations, retail and health care. And, the growth in jobs in Bossier is in middle-class occupations. Additionally, the education level of families is leaning toward more educated households.
"The share of new mothers who are college-educated continues to rise at 32.4 percent in 2014," he added. Also, on the rise are the number of workers in middleclass operations at 35.2 percent in 2014.
"This is a positive outlook for future conditions," he added.
Bossier Parish Police Jury President Wanda Bennett touted the parish leaders' cooperation and dedication to working together diligently during the recent flooding in 2015 of the Red River and local flooding in 2016. As the parish continues to see consistent growth, challenges are being addressed as well, she noted, particularly in infrastructure. Right now, the parish is finishing up a $55 million wastewater plant as well as conducting a study on prioritizing bridges for repair and replacement.
"Why do we continue to experience such good news in Bossier Parish?" Bennett asked. "I believe a combination of things contribute to the success story that defines our future."
The parish, she said, is a progressive partner with business, industry and the parish education system.
"We help create jobs, we support existing businesses and make opportunities for new companies to grow and expand in our parish," Bennett said. "This helps secure the best quality of life for our people."
Census figures reflect that consistent growth. In April 2010, 116,979 persons called the parish home. By January of this year, that number had grown to 126,345.
With growth comes construction, both commercial and residential. In 2015, building permits were issued for 324 residential and 15 commercial properties. Requests for plats of new subdivisions come before the police jury at almost every meeting.
And, with growth come challenges. The Bossier Parish Police Jury and its hundreds of dedicated employees are meeting these challenges by developing plans which address the infrastructure needs.
Walker also addressed the road improvements and expansions necessary to meet the growing needs of the city and parish.
"I see our top three challenges as traffic congestion, flooding and drainage, and jobs and the economy," he said.
Bossier City Mayor Lo Walker noted the city is in the last phase of its 30-year project to expand Shed Road to four lanes.
"Coming up, Viking Drive will become five lanes, and the Arthur Ray Teague Parkway will continue north, eventually connecting to Benton Road," he said.
Walker also gave a favorable outlook that Bossier could be a site for an Amtrak station, as the railway is looking to connect the current gap in rail service between Marshall, Texas, and Meridian, Miss.
– Bonnie Culverhouse
Letters to the Editor:
Letters to the editor may be sent to: The Forum Attn: Editorial Dept. 1158 Texas Ave., Shreveport, La. 71101 Or email: editor@theforumnews.com