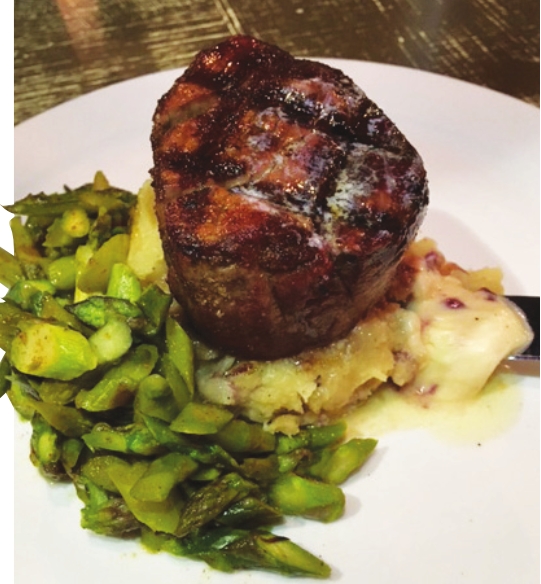 Upscale dining in a Southwestern atmosphere
Where:
What:
Fry Bread: Don't know what that is? I didn't either until we ordered it. Think a fluffy sopapilla, smothered in chorizo, onions and peppers, roasted corn, queso and sour cream. Iceberg Salad: Nearly a half a head of iceberg lettuce, topped with bacon, tomatoes, cucumbers, red onions and creamy buttermilk blue cheese dressing. The perfect opening to anything on the menu.
Fried Avocado and Shrimp Tequila: Half of an avocado, sliced up and fried, served along with shrimp that's topped with a poblano and cotija crema sauce. Who knew fried avocados were so good? Filet mignon, topped with Rojas butter, garlic mashed potatoes and something I'd never seen before, shaved asparagus. One of the most interesting side items I've ever tried. Bourbon Peach Smash cocktail: It's the perfect combination of (my personal favorite) Maker's Mark bourbon, freshly sliced peaches, mint and lemon that comes together for a spectacularly refreshing beverage.
Next Visit:
My next visit will be at lunch so I can try the chicken fried steak: handbattered New York strip served with mashed potatoes and jalapeno cream gravy. I'll definitely need a nap after that.
Popular:
The filet. Once you try it, there's no wonder why it's No. 1.
Vibe:
Casual place to take the whole family, have a date night out or enjoy a happy hour cocktail at the bar and sit in the perfectly mismatched bar stools.
Fun Fact:
Tejas offers a late night happy hour with special drink prices and menu offerings.
Final Word:
Upscale menu offerings in a Southwestern atmosphere, right in the heart of Historic South Highlands
Cost:
Appetizers start at $8 Soups & salads start at $6 Entrées start at $21 – Mark Crawford
855 Pierremont Road, Suite 149 Shreveport, LA 71106 318-629-9292 Web site: tejaskitchen.com Sunday: 11 a.m. to 11 p.m. Tuesday-Thursday: 11 a.m. to 11 p.m. Friday and Saturday: 11 a.m. to midnight