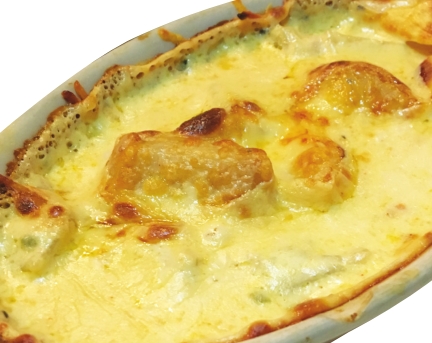 Great barbecue and the best au gratin potatoes are closer than you think
Where:
What:
Texas Toothpicks: Now, I'm not big on onions or jalapeños, but when you fry them and have the delicious dipping sauce, they taste real good. This is a great menu item to share with the table. Au Gratin Potatoes: If you like cheese and you like potatoes (and who doesn't?), you will love these. By far, the best in town. If there's one thing I always get when I dine here, it's this dish.
Mixed Barbecue Platter: The only thing missing from this sampler was the kitchen sink. The entree included Silver Star ribs, smoked turkey breast, pulled pork and smoked sausage. All the meats were flavorful and tasty, and the sauce is superb. Ideal for two or three people to share.
Filet Mignon: I love steak. This steak was flavorful and tender and cooked to medium perfection. When you add the barbecue sauce, that takes your taste buds to a whole new level!
Blackberry Cobbler: I like to think I'm a connoisseur of desserts. I eat something for dessert after every meal.
I have my nanny from when I was growing up to thank for that. This cobbler was delectable. Tasty, flaky crust, freshly picked blackberries topped with creamy vanilla ice cream. The perfect ending to a perfect meal.
Popular:
It's a tie: Au gratin potatoes (they're legendary!) and the ribs. You can't go wrong by ordering both.
Next Visit:
I've never tried one of their sandwiches. Smoked brisket, turkey or sausage, hot link and pulled pork are the options. The hard part on my next visit will be choosing which one to order. The best part about the sandwiches? They come with two sides, and you can turn your two sides into one order of au gratin potatoes, which might just be the best value on the menu.
Vibe:
Casual and fun with friendly staff and a great bar. Don't be surprised if you run into several of your friends there.
Fun Fact:
Shreveporters will finally get their own Silver Star restaurant! Opening next spring, Silver Star Grille will be located in the Camp Forbing Marketplace at Ellerbe Road and Flournoy Lucas Road. I have many friends that live in the Ellerbe area that are rejoicing about this. An additional restaurant that's part of the Silver Star family is Silver Star Steakhouse, also in Bossier. Look for a full review of both locations in a future Sound Bites.
Cost:
Appetizers start at $7.99 Salads start at $4.99 Sandwiches start at $9.99 Entrées start at $13.99 – Mark Crawford
1201 Dixie Overland Road, Bossier City 752-3633 Web site: silverstarsmokehouse.com Sunday: 11 a.m. to 9 p.m.
Monday-Thursday: 11 a.m. to 9 p.m. Friday and Saturday: 11 a.m. to 10 p.m.