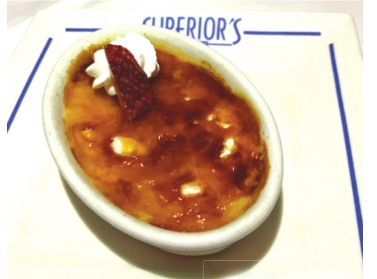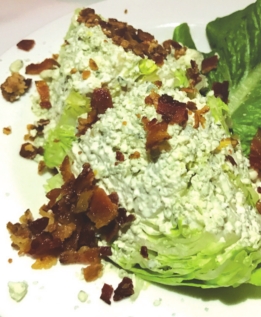 Still a hot spot after more than a decade
Where: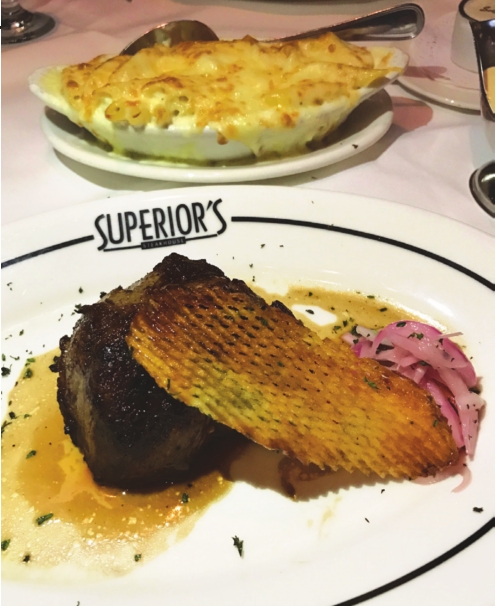 What we tried: Wedge salad: First, this salad starts with a half a head of lettuce. It's almost a meal unto itself. Then it's topped with bacon, blue cheese crumbles and green onions, and in my case, housemade ranch dressing
Maytag Walnut Salad: Topped with sliced green apples, tomatoes, tangy dressing, and of course, walnuts. Filet Mignon: Cooked medium, the way every steak should be cooked, with a side of hollandaise (which I would have no trouble drinking with a straw). Flavorful beef from the Allen Brothers in Chicago.
Grilled Chicken Breast: Served with basil-garlic jus, house-made whipped potatoes and grilled asparagus.
Macaroni & Cheese: No matter what you order off the menu, make sure you also order this cheesy concoction. You'll be glad you did. Créme Brulée: The top was caramelized just right with fresh strawberry on top with a dollop of whipped cream
Popular: The macaroni and cheese. Did I ask the staff what menu item sells the best? No. I just know this is, by far, the best mac and cheese on the planet (believe me, there isn't a dish of mac and cheese I haven't tried when I see it on a menu somewhere), and nothing can top it.
Next Visit: In all my years of dining here, I've never tried the Classic Cobb Salad (I'm a sucker for a good salad), which you can get served with tenderloin, chicken or shrimp. I vote tenderloin. I've also never tired the classic burger, but I've heard nothing but good things. I never met a burger I didn't like.
Vibe: Upscale dining room, with private dining rooms available for any special occasion. Bar is also upscale, but with a "Cheers" feel, where everyone knows your name. Fireside room is the perfect cozy spot on a cold evening.
Fun Fact: The bar has happy hour specials all week long! Ask for Joanna.
Margarita Mondays, 'Tini Tuesdays, Wine Wednesdays, Three-for-one Thursdays and Fusion Fridays.
Cost: Appetizers start at $11.95 Salads start at $9.50 Sides start at $7.50 Entrées start at $14.95 – Mark Crawford
855 Pierremont Road, Suite 120 Shreveport 318.219.4123 superiorssteakhouse.com Créme Brulée Sunday: Closed Monday-Thursday: 11 a.m. to 2:30 p.m., 5:30 to 10 p.m. Friday: 11 a.m. to 2:30 p.m., 5:30 to 11 p.m. Saturday: 5:30 to 11 p.m. Bar Hours: Monday - Saturday: Open at 11 a.m. each day, 'til the party shuts down.