Mischievous couple revived in Stage Center production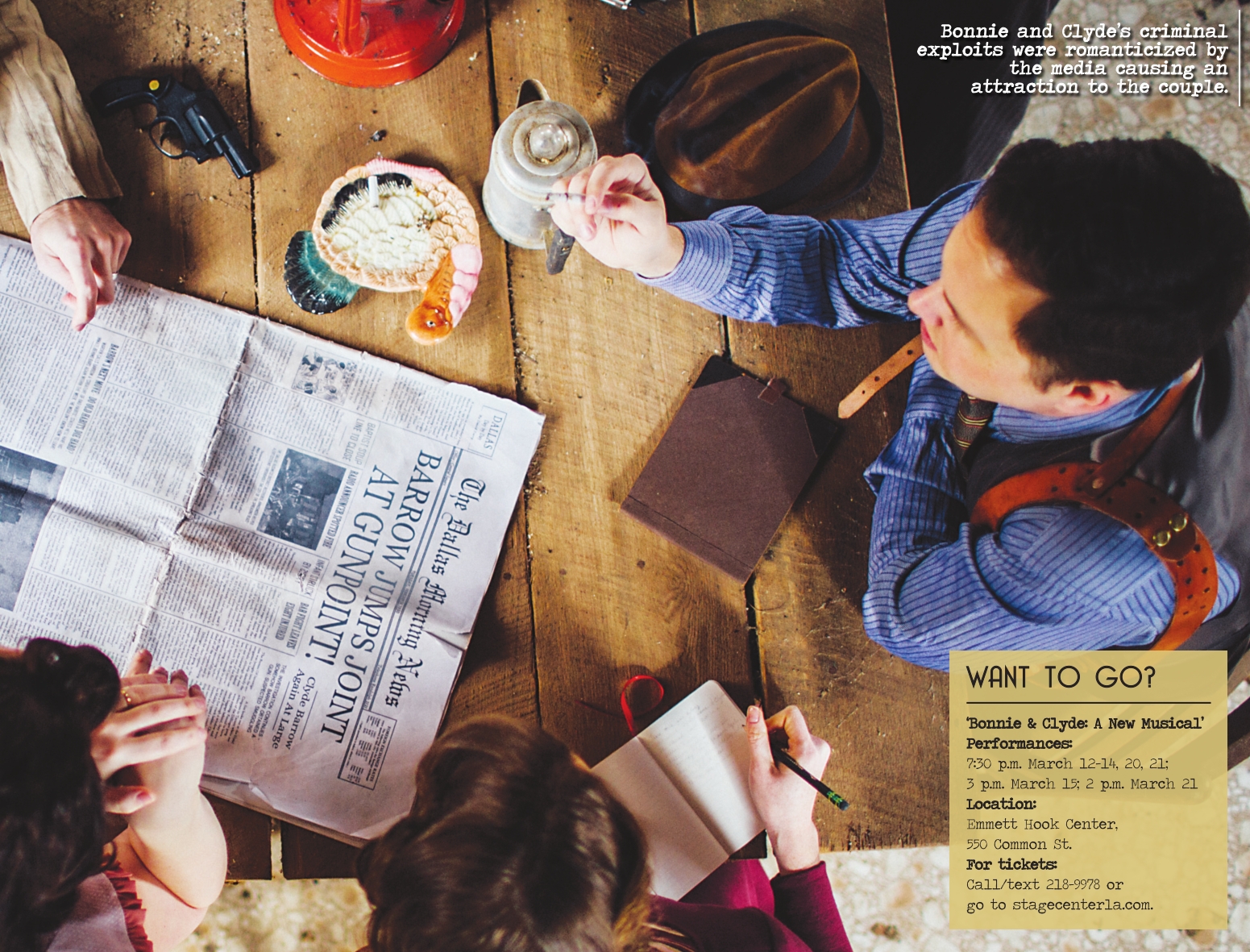 "Everybody has a dream. They had a plan." That's how the Stage Center of Louisiana describes one of the most famous couples in history in its upcoming live performance of "Bonnie & Clyde: A New Musical," which opens March 12 at the Emmett Hook Center.
A deeper discussion with the cast and crew, however, reveals this production is really much more of a love story.
It is difficult to rationalize public obsession with tragic love stories. The brief escapades of Bonnie Parker and Clyde Barrow, which took place at the height of the Great Depression, gripped the attention of the nation then and continues to captivate people to this day. The 1967 Oscar-winning film "Bonnie and Clyde" starring Warren Beatty and Faye Dunaway fanned that popularity as did a mini-series in 2013 with another impressive cast that aired on the History Channel and a Broadway production of "Bonnie & Clyde: The Musical" premiered in 2009. Although each of the productions varies as to whether or not the couple was justified in their spree or who was most responsible for their actions, they all recount the mesmerizing tale of a young couple in love in a tragedy that could only come to one end.
Stage Center's Artistic Director Jared Watson (who also plays Clyde in the production) summed up the allure of the couple.
"They went from two small-town nobodies in West Texas to America's most renowned folk heroes and the Texas law enforcement's worst nightmares," Watson said. "They were fearless, shameless and alluring. Their electrifying story of love, adventure and crime captured the excited attention of an entire country."
Bonnie and Clyde's actual crime spree, which took place from 1932 to 1934, occurred during The Great Depression, when jobs were scarce and people were hungry. The Barrow Gang went from petty thieves to nationally-known celebrities as the press romanticized their criminal exploits. It is believed that the gang was responsible for at least 13 murders, including two policemen, and many bank robberies, as well. The spree ended when the couple, betrayed by a friend, was gunned down by police at a roadblock south of Gibsland in Bienville Parish on May 23, 1934. In the beginning, the public seemed to feel adoration for the gang as modern-day Robin Hoods of sorts, but the tide began to turn after the details of their crimes were documented and made public.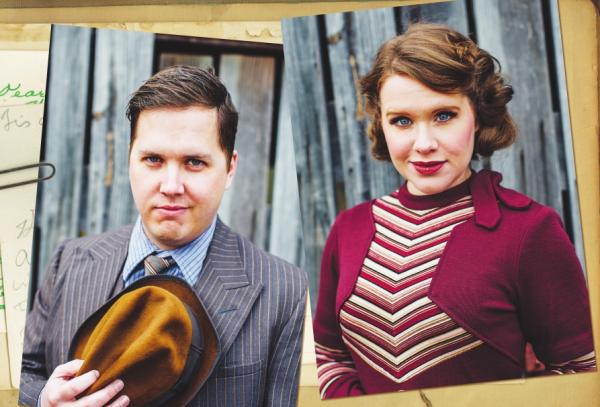 Even after their deaths, however, the fixation remains.
It's easy to find a story in Louisiana of someone whose grandmother or great uncle had an encounter with Bonnie and Clyde, so much so that it is hard to separate the truth from fiction. According to Jeff Guinn's book "Go Down Together," however, people descended upon the crime scene before the gun smoke had even dissipated and attempted to leave with macabre souvenirs from their still-warm bodies slumped over in the front seat.
"One man tried to cut off Clyde's ear with a pocket knife," Guinn said, "and another attempted to sever his trigger finger before the lawmen intervened. One person in the throng did manage to clip locks of Bonnie's hair and swathes of her bloodsoaked dress."
The bullet-riddled car was eventually sold to Charles Stanley, an anti-crime lecturer who toured fairgrounds with the car and the mothers of Barrow and Parker in tow as sideshow attractions. The "death car" is now on display in the lobby of Whiskey Pete's Casino in Primm, Nevada.
There are even "Bonnie and Clyde Trade Days" located in Arcadia, near the scene of the ambush. The outdoor market averages over 200 vendors selling crafts and antiques and continues to draw thousands of shoppers each year.
That public obsession is not the only reason Stage Center chose this play for part of its season. Watson said he and the staff at the Stage Center wanted to perform "Bonnie & Clyde" because of its amazing music and compelling story.
"I've been a fan of composer Frank Wildhorn forever," he said. "I think I was in early high school the first time I heard his 'Jekyll and Hyde.' We thought it was a show that fit our model of bringing musicals to Shreveport that haven't been done much or at all, along with a site-specific story and interest."
Missy Wise is the president of Stage Center's board of directors and plays Blanche Barrow in the production.
"Bonnie & Clyde were gunned down only about an hour from Shreveport," Wise said. "They made their hide-outs all throughout North Louisiana over the course of their four years as outlaws. This show puts a real-life lens on the Barrow gang, on young lovers getting in way over their heads."
Wise said there are many things that make this production special, from the talent to the set to the music.
"There's rock, bluegrass, country, gospel – all the sounds we love in the South. The actors leading this show are insanely talented folks from New York, Chicago and right here in Shreveport. To top all of that off, we have been fortunate enough to get usage of all of the original Broadway sets, props and costumes for our production," she said.
Wise said Stage Center is unique to the North Louisiana area in that one of its chief objectives is reaching a younger demographic.
"The founding members are myself, Seth Taylor, Missy Wise and Emily Kitchens," Watson said. "As we began to think of the mission statement and really ask ourselves if there was room for us in this community, we realized that while theater is abundant in this community, no community seemed focused on our demographic, which is mid-20s to 30s."
"We are now in Season 4," Watson said, "and with 'Bonnie & Clyde,' we've hired our first union-based professional actress from New York City and we have two additional non-union actors coming in from Chicago, so we are proud to be getting our feet wet with Phase II, which is to ultimately become a fully operating professional theater with a musical theater emphasis, though we know this is going to take a lot of time."
There is plenty of competition in the entertainment world but Watson said live theater is a unique and special art form.
"Theater is temporal and spatial," he said.
"It only exists if there is a performer and an audience. Once the moment happens, it is gone. It is live. You have to be there to experience it, and when you do that with 200 other people sitting in the dark with you, there is a palpable excitement and anticipation for what might happen next that you just don't get with a movie. With a movie you are aware that whatever happens in the story has already happened. It was filmed and edited and presented for you."
Hollis Scarborough plays Bonnie in the production. She and Watson met when they attended the Weitzenhoffer School of Musical Theater at the University of Oklahoma. Scarborough lives and works in New York now but couldn't resist the role or working with Watson again. "I loved the show the first time I saw it. It has a fantastic score, the role is amazing, there's great storytelling. It's exactly the kind of thing I want to be doing."
Scarborough, along with the rest of the cast and director, has done her research and they all seem to have self-conflicting feelings about the couple. First and foremost, however, the cast agrees this production is a love story with more than one side to the characters.
"Clyde changed after he spent time at Eastham Pen," Watson said. "It was a nasty place with sadistic guards. Once he was paroled from there he vowed he would never go back to prison again, so that's when the 'him or me' stuff started with the guns. He refused to be taken alive because he had suffered such indignities there. Still unacceptable, but it was the real driving force behind his violence. He didn't hurt anyone that didn't pull a gun on him first. Act two is the first time anybody was killed and it was accidental. It changes the whole trajectory of the show."
Scarborough added, "They weren't psychopaths. At the time, Dallas had a classist system. If you were born poor, you were never going to be anything other than poor. I think part of what makes people romanticize them is that they very much wanted to take destiny into their own hands and make a name for themselves and create a life for themselves – but not a life of crime. They were actually relatively generous. They would take hostages in certain situations, but they would leave them on the side of the road with money and food. They weren't intentionally hurting people."
"It's interesting how emotionally vested you become in them," Watson said, "which is not to say you feel sorry for them. You don't excuse the bad behavior, it just puts a human emotional side to the story. The law enforcement of the time was at the heart of it. People were dirt poor. Clyde was being arrested when he was very young for stupid things."
Scarborough describes her character as a straight "A" student and a spelling bee winner. In fact, Bonnie excelled at writing and verse from an early age. After a botched burglary attempt in 1932, she wrote a collection of 10 odes titled "Poetry from Life's Other Side." "The Story of Suicide Sal," told the story of an innocent country girl lured into a life a crime by her boyfriend.
Two weeks before Parker was gunned down, her mother received "The Trail's End," which ends:
"Some day they'll go down together; And they'll bury them side by side, To a few it'll be grief— To the law a relief— But it's death for Bonnie and Clyde." "She was an intelligent woman, and those poems are used throughout the show," Scarborough said. "The Legend of Bonnie and Clyde – side by side. They knew that the only way they were going to get out was when they were gunned down and that added to the romanticism. They chose this life together and they were going to leave this life together. The letters found from them made it very clear that they were incredibly, desperately in love with one another and at a time when free love was not exactly discussed, they were sexy."
"I think that there came a point when it got harder and harder to hide," Scarborough said. "Their pictures had been released and toward the end of their lives, they had no money. They were living in their car, bathing in creeks. They were robbing banks that didn't have money in them. The laws made it clear that if they were caught they were going to get the chair."
This is director Daniel Salazar's first musical and his first directing job of this scale. "What we're really doing is telling a love story," he said, "but the most special thing about this production is the caliber of the cast. This is my first musical and my first big production to direct. What most directors have to really work for to get, I'm getting very early on. It's an amazing ensemble."
Bonnie and Clyde Trade days:
Held on the Friday, Saturday and Sunday before the third Monday of every month.
March 13-15

20550 Highway 9, Arcadia

263-2437

bonnieandclydetradedays.net