Community news, business happenings
Delish Adds Flavor to Highland Neighborhood
There may not be a single craving that cannot be satisfied at Delish, Shreveport's new one-of-a kind artisan marketplace on Line Avenue near Kings Highway. The open, airy shop is all about flavor, housing a series of island displays, each with a different local brand.
"Every product that we carry gets its own spotlight," said managing partner Allison Shelton. "A product on a shelf can be easily overlooked so we section off every brand. On one wall you'll see our Pop & Cholly's popcorn and chocolate bar, while over here you might browse through our pork rinds or jerky in a variety of flavors by The Jerky Shoppe."
Delish may be the newest retail food shop in the Highland neighborhood, but Shelton is not new to the food industry. "Having been in the wholesale food manufacturing business for 21 years in Oil City, this has always been a dream of mine," she said.
And yes, the Pop & Cholly's Popcorn Bar treats are that good, where 75 flavors are scooped into bags, boxes or tins. The flavored popcorn is also pressed into popcorn pizzas, popcorn cupcakes and larger cakes. Flavors to try include Cinnamon Roll, Pralines & Cream and Wedding Cake. Savory flavors include Jalapeno, White Cheddar and Sea Salt and Vinegar.
"On our popcorn flavors, we've spent a lot of time researching and doing countless trial batches until we felt like our flavors taste exactly the way we say that they do. Our Bananas Foster is a very unique flavor with banana popcorn, caramel corn, rum caramel pecans and drizzled with white chocolate. We also have Beignet as well, and Swamp Mix that is flavored with caramel, Cajun and cheddar."
"With the Pop & Cholly's, we also carry a variety of chocolates and chocolate-dipped products like apples and fresh-made fudge," added Shelton.
"Then we have PopulariTea, our artisan tea and snowball bar," Shelton said. "We serve 12 different types of artisan teas that are made with all-natural ingredients, flavored only with the actual content or essential oils. We have the jar program and the jug program where you can buy the jar one time and bring it back for discounted refills. The artisan snowballs come in traditional flavors as well as really fun flavors such as Pear, Honeydew Melon or Toasted Marshmallow, and you can even stuff them with ice cream."
Delish offers treats for those watching their sugar, too. "Our artisan pork skins are a beloved snack food for those on low-sugar diets," Shelton said. "We have flavors you won't find anywhere else, such as Sour Cream and Onion, Dill Pickle, Ranch and Old Bay. Also from the The Jerky Shoppe, we have buffalo, venison and elk jerky in a dozen varieties such as Ginger Teriyaki, Habanero, Southwest BBQ and Chipotle."
It's the items from area farms, however, that Shelton is excited to bring to Highland. Her own farm, Belle Hembree (named after her and her husband's grandmothers) supplies fresh chickens, bone broths and eggs for the shop. "All our eggs are free-range," she said. "Our quail eggs are really fun and novel for brunches and entertaining. Our duck eggs are good for people who have chicken egg allergies who often find they can eat duck eggs. They are also highly soughtafter by bakers, especially those who do gluten-free baking. They add a lot of volume that you lose when you eliminate wheat flour."
"Our frozen bone broths are made from pork, chicken and beef," said Shelton. "We use grass-fed animals' bones with filtered water and organic vegetables. It's very pure. It contains so much collagen and it's so gelatinous that when thawed, it's like Jello. We also do a Paws and Claws broth for animals that are older and cannot do solid foods anymore."
Delish is the only retail outlet in the Shreveport-Bossier area other than seasonal farmers' markets for Smith Family Farm's meats. They offer ground beef, beef roasts and lamb when it is in season.
Shelton said Delish stocks local whenever possible with 95 percent of what is sold being locally sourced. Some of those products include syrups, jams and jellies, such as Blackberry Habanero, Lemon Habanero, Apple Beer Jelly, Peach Pecan Amaretto, Wicked Hot Jelly and Lemon Bourbon Vanilla Jam, all made in Oil City. The Cajun Candy Company line offers praline-covered nuts, and Granarly Whiskey Granola comes in several varieties, including "Skinny Jeans." Brittles in various flavors such as Jalapeno sit beside Deep Fried Peanuts, which are intended to be eaten shell and all.
Delish also boasts a Gift Concierge Program. "Whether you're a business owner who wants employee or client gifts or a grandmother who wants us to handle all your gifts for your grandchildren for the year – all you have to do is give us dates, and we'll handle the delivery or pickup for shipping for that special day," Shelton said. "We also offer catering with our Candy Bar, Chocolate Bar, Popcorn Bar and Tea Bar for parties. We design bags for weddings and birthday parties with special printing options. Nothing is too big or too small for us on a corporate level or a personal level."
Delish is located on 3240 Line Ave. across from CE Byrd High School. For more information, visit https:// www.facebook.com/Delish-on- Line-629286443933499 or call 681-2490.
– Susan Reeks
"Rocky," "Karate Kid" director John Avildson documentary to be screened at Robinson
Just a few short years ago, Carthage.
Texas, native Derick Wayne Johnson worked in the Shreveport film industry during its "Hollywood South" boom years. With a degree in film and cinematography from Stephen F. Austin College in Nagodoches, Texas, he produced and directed "Broken Blood" and "Scrape" before moving to Los Angeles in 2014.
A project that is near and dear to his heart, "John G. Avildsen: King of the Underdogs," a documentary he completed in Los Angeles, premiered on Feb. 1 at the Santa Barbara International Film Festival in Santa Barbara, Calif. Johnson will screen the film for Shreveport audiences when he presents it at the Robinson Film Center in downtown Shreveport on Tuesday night, Aug. 8, at 7:30 p.m. Johnson will be flying in from L.A. to present the film in person and will do a Q & A directly following the screening.
"The goal of this documentary is to shed light on an underappreciated filmmaker. It's time for the world to discover the legend behind many of their favorite movies," Johnson said.
Though many in the general public may not be familiar with his name, Avildsen was the director on such blockbusters as "Rocky" (for which he won the Oscar for best director), "Rocky V," "The Karate Kid" and its sequels. Among many others, he also directed critically acclaimed dramas like "Save The Tiger" (for which Jack Lemmon received the Best Actor Oscar) and "Lean on Me" starring Morgan Freeman.
"John Avildsen was my filmmaking influence, and 'Rocky' and 'The Karate Kid' are my favorite films of all time. Never would I have imagined that one day I would get to call him friend, be mentored by him and make a film about him," Johnson said.
"John Avildsen fought as hard as the character 'Rocky' himself to deliver his vision against all odds," said actor/director Sylvester Stallone.
Though, regrettably, Avildsen succumbed to pancreatic cancer on June 16, Johnson had the privilege of working with his hero on this project for three years.
The title is derived from the fact that many of Avildsen's film celebrate underdog characters (i.e., "Rocky" and "The Karate Kid").
"I feel I owe a lot of my success to the experiences I had in Shreveport, so I am excited to show this labor of love to Shreveport audiences," Johnson said.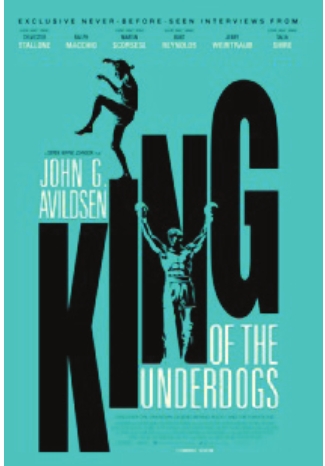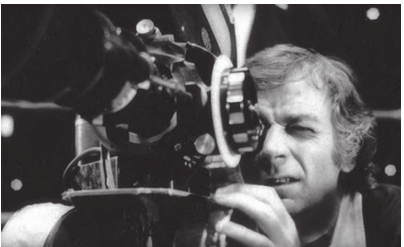 "Staying Alive" Retro Theme For Auction Against Aids
The Philadelphia Center will present its 28th Annual Auction Against AIDS with Stayin' Alive: Stayin' Healthy, Stayin' Strong on Friday, Aug. 18, at Sam's Town Hotel and Casino from 6 to 10 p.m. The disco dance party event promises "bad music from the '70s'" as a backdrop to local art, silent auction items and contests. More importantly, the event brings community awareness and funding to the many programs provided by The Philadelphia Center and its N.W. Louisiana HIV Resource Center.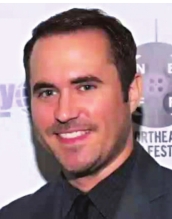 Local drag artists will bring to life Cher, Aretha Franklin, Patti Labelle, The Weather Girls and Donna Summer. "This year's auction is more of a dance party, almost a Studio 54 feel," said Jacquelyn Y. Barber, art director for the event. "We're going to have the ladies of Central Station doing iconic '70s performances. We will even have the Village People!" Auction chair and board president Dr.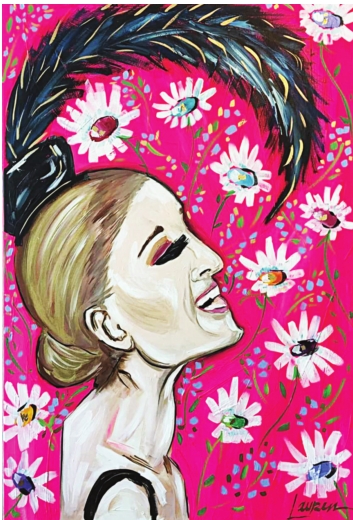 Lonnie McCray said, "I love the theme for this year's auction. When I saw that this year would be the 40th anniversary of the movie 'Saturday Night Fever,' I knew that disco would be our theme. I cannot wait to see the bell bottoms and afros on Friday the 18th. The music is going to be '70s bad. The best part is having so many people contacting me wanting to help this year."
The point of the party, however, is to raise funds for the many services provided by the Philadelphia Center, such as case management. "Clients are able to connect with all of the services they need within the city to maintain healthy, vibrant lives," McCray said. "We have a free HIV clinic available for individuals who have no insurance. The clinic is run by Shayla Chatman, PC employee and Dr. Gerardo Negron, infectious disease specialist. The Philadelphia Center also has a wellness center."
"The most important change with HIV since 1990 is that it is not a death sentence," McCray said. "With new treatments, individuals are able to live strong, healthy lives. In fact, today we have people who at one time were diagnosed as HIV positive, but with the advancement in medications, we now have those same people who have become HIV undetectable, which means their viral load is no longer detectable by modern tests. It does not mean cured, but the possibility of transmission of the virus is extremely low. There is also the new drug, Truvada, which is a pre-exposure prophylaxis and reduces the risk of contracting HIV."
"The one thing that has not changed no matter what modern medicine creates is that practicing safe sex is a must," said McCray. "HIV is a growing problem among 13- to 24-year-olds, impacting young people across all socioeconomic, racial and sexual orientation lines. This age group is far removed from what happened in the '80s and '90s so they are more likely to participate in risky behaviors."
The two biggest challenges for people faced with HIV are money and stigma. "Louisiana ranks third in the nation for its HIV case diagnosis rate," McCray said. "The state and federal governments have cut funding year after year. We barely have a prevention budget, and prevention is key."
The Annual Auction Against Aids raises funds to help with those challenges. 2017 auction items include five $500 gift certificates from Clarke's Jewelers, and a book of Keith Haring subway graffiti art. "The Haring Foundation allowed us to use Haring's images on our materials," McCray said, "and we have some beautiful artwork to sell from local artists."
"I had already decided that I wanted to have a return to having more local art in this year's auction," Barber added. "When I first started going to the auction years ago, it was all art. It was very exclusive to be a featured artist and equally exclusive to have purchased at the auction. We have such a great resource of artists in this town that I decided to make it my mission to organize a return to art."
"I decided to incorporate the artist Keith Haring because he was an artist who was an AIDS activist but also a DJ in the disco clubs of New York," Barber said. "He hung out with Andy Warhol, Basquiat and Madonna. His graffiti-style art seemed perfect for the auction."
Raffles and contests will make sure everyone can have a shot at a fabulous prize, including the "Shake your Booty" barrel of booze contest to the Solid Gold dance contest. "I can't wait to see the '70s wear that is going to show up," Barber said. "It's a celebration of art, disco and fun."
Tickets to Stayin' Alive: Stayin' Healthy, Stayin' Strong are $50 and are available online or at the door. For more information, visit www.philadelphiacenter.org.
– Susan Reeks
Paciugo Gelato Caffè Bringing Italian Flavor to Ellerbe and Flournoy Lucas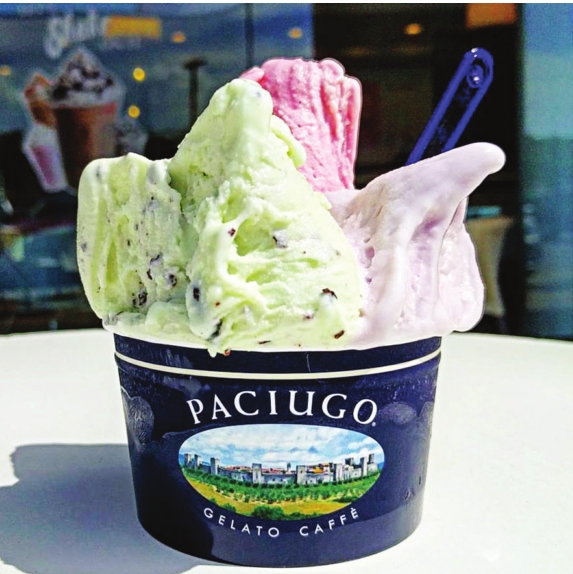 Shreveporters Robin and Wayne Hogue are thrilled to bring the gelateria experience to Northwest Louisiana.
Paciugo Gelato Caffè Shreveport will be open at the new Camp Forbing Marketplace at Ellerbe and Flournoy Lucas early this month. The caffè is family friendly with seating indoors and outdoors on the patio by the lake. Hours are 10 a.m. to 11 p.m. every day of the year. (The Hogues suggest there is nothing better than a trip to the gelateria when family is in town on a holiday.)
Paciugo (pronounced "pah-choo-go") will serve up to 40 flavors made fresh on-site every day. Selections will be rotated from a portfolio of about 300 flavors. A sampling of some of the more popular flavors includes Amarena Black Cherry Swirl, Amaretto Chocolate Chip, Cookies'N Milk, Mediterranean Sea Salt Caramel, Pannacotta (wedding cake), Pistachio and Tiramisu.
The owners promise authentic, all-natural, handmade on-site daily, artisanal Italian gelato.
For the unfamiliar, gelato is a frozen delicacy similar to ice cream but made with whole milk instead of cream; it has about 70 percent less fat, a more silky texture and more intense flavor. Gelato also has less sugar and less air churned into it in the freezing process. Natural ingredients and hand-served at a specific temperature is ideal.
Paciugo Shreveport will also make and serve an assortment of all-natural flavored non-dairy sorbets, a no-sugaradded gelato and a soy-based gelato.
The menu also includes made-to-order premium shakes, sorbet smoothies, gelato paninis (warmed panini with gelato inside), affagatos (gelato with espresso), gelattes (latte made with gelato) and numerous other coffee- and espresso-based drinks. Regular coffee, lattes and cappuccino are also available. A selection of French macaroons and other Italian chocolates and pastries will also be offered along with locally produced goods.
Catering is offered for groups of 20 to 200-plus. Gelato will be brought to and served at weddings, meetings, company or community events and festivals. The business will also offer fundraising opportunities both at the caffè and at your site.
Visit the Paciguo Gelato Caffè Shreveport Facebook page or call 868-3939. Visit the caffè for the full experience of true Italian Gelato.
Paul McCartney Sale Shatters Record
Two-time inductee in the Rock and Roll Hall of Fame, 21-time Grammy Award winner and founding member of the most influential band in music history, Paul Mc- Cartney and his "One on One Tour" have shattered all previous tours to have come to CenturyLink Center. "Paul McCartney's 'One on One Tour' is the biggest show in the arena's history," SMG General Manager Rebecca Bonnevier said.
"This region's overwhelming love for Paul McCartney translated into recordbreaking sales for this once-in-a-lifetime concert, right here in Bossier City," Bonnevier continued. The "One on One Tour" broke the arena's house record previously held by Garth Brooks and his 2016 concert dates at CenturyLink Center last July.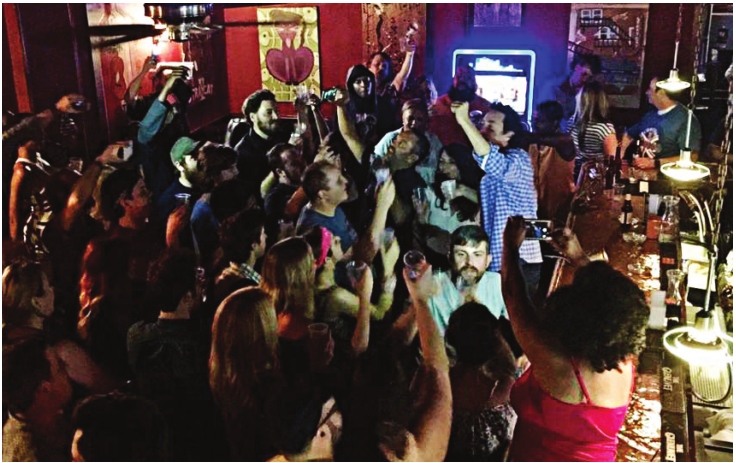 Film Prize Breaks Record and Countdown to Prize Fest Begins
Louisiana Film Prize 2017 closed the registration phase with a record breaking 128 films. Team Film Prize, the local community, and Film Prize filmmakers from all over the country celebrated the achievement July 11. In a celebratory toast, the packed house at Stray Cat Bar raised their glasses and officially marked the end of the 2017 filmmaking phase and the beginning of Prize Fest season.
"I'm speechless," Film Prize Executive Director Gregory Kallenberg said, "I never thought we could break last year's record, but the word is out about the Louisiana Film Prize, and this community continues to shine as a bright beacon for independent filmmakers everywhere."
Filmmakers were given from January to July to shoot and produce a short in Northwest Louisiana for the chance at winning $50,000, the world's largest cash prize for a short film. Twenty finalists will be chosen and announced Aug. 10 at the Robinson Film Center and invited to show their completed film during Prize Fest (Oct. 4-8) to compete for a grand prize.
"Each and every one of these filmmakers has made something special. They've paired the business and logistics of entrepreneurship with creative storytelling to share with our community and the world. These business artisans have all been helped in some way or another by local business owners, government and private citizens to realize their vision," said filmmaker liaison Chris Lyon. "So the entire community is a part of it. This achievement is something we should all celebrate and can all be very proud of."
Prize Fest, which will be where the selected films will screen, is the new name of the week-long festival which includes Louisiana Film Prize, Louisiana Music Prize and Louisiana Food Prize. It features a unique combination of creative and entrepreneurial endeavors spread over five days starting Wednesday, Oct. 4, and running through Sunday, Oct. 8. Since its first year in 2012, Film, Music and Food Prize (now collectively called Prize Fest) has grown from a regional festival to a nationally recognized, award-winning showcase of indie film, cutting-edge music and local chef-inspired cuisine.
Prize Fest tickets are on sale now starting at $30 for Film, $30 for Music and $50 for a Film and Music combo pass. Tickets to Food Prize's Come and Get It dining experience are $200.
Visit prizefest.org to learn more information, see the festival schedule and to purchase your tickets.
Highland Clinic Celebrates 100 Years
Highland Clinic celebrates 100 years by giving back to community schools.
The multi-specialty clinic launched a school supply drive now through Aug. 14 to collect supplies for distribution to Caddo and Bossier Parish Schools Title 1 programs. Highland Clinic employees are leading the charge and asking the community to join in the effort by dropping off "extra" school supplies to the dropbox locations on the main campus of 1455 E. Bert Kouns. Drop-off stations are located on the first and second levels of the complex. Supplies that are needed include boxes of Kleenex, hand sanitizer, No. 2 pencils, pocket folders, three-ring binders, loose-leaf paper, crayons/markers/highlighters, black/blue/red pens, glue or glue sticks, pencil holders, backpacks, lunch boxes and more.
"This community has supported us unconditionally for so many years that we wanted to spend our 100th year celebrating by giving back. It made perfect sense for one of our philanthropic efforts to benefit education, as it is the very foundation of our quality physicians and health care," said Debbie Smith, chief executive officer.
Highland Clinic is a multi-specialty clinic with 18 specialties and over 40 physicians, all having affiliations at each of the local hospitals. The clinic has been a leading force for advanced technologies in health care as well as the accomplisments of physicians and surgeons in advanced surgical procedures. For more information, visit http://www. highlandclinic.com/, call 798-4500 or visit Highland Clinic at 1455 E. Bert Kouns..
Sabre Industries
Earlier in July, Gov. John Bel Edwards and Sabre Industries CEO and President Peter J. Sandore announced the company will make a $1.6 million capital investment at its Sabre Building Systems by CellXion manufacturing location in Bossier City. Sabre Industries will create 50 new jobs with an average salary of $47,000 per year, plus benefits, while retaining 167 existing jobs in Bossier City. Louisiana Economic Development (LED) estimates the project will result in an additional 13 indirect jobs, for a total of more than 60 new jobs in Northwest Louisiana.
"Manufacturing continues to be a mainstay of the Louisiana economy, and we are excited to help one of our key manufacturers better serve its electrical grid and wireless communications customers with a more advanced, efficient process," Gov. Edwards said.
Sabre Industries, based in Alvarado, Texas, was founded in 1977 and produces highly engineered products used for electric transmission and distribution and wireless telecommunications. Sabre manufactures engineered structures for the some of the nation's largest utility and telecommunications firms. In Bossier City, the company's Sabre Building Systems by CellXion division will produce large steel poles and support systems for transmission networks and towers that are currently being manufactured in Texas and Ohio facilities.
The Sabre Building Systems site includes a 250,000-square-foot, state-ofthe-art, modular shelter manufacturing plant. It maintains a fully equipped, 60,000-square-foot steel fabrication facility and an 80,000-square-foot equipment installation facility. Existing work in Bossier City includes the fabrication of concrete, structural steel and ultra-light aluminum shelters, along with concrete cabinets.
The new production line in Bossier City will help Sabre Industries supply customer demand for steel-fabricated poles that are currently replacing aging wood poles in transmission networks. "This expansion in Bossier City will equip Sabre Industries to provide additional laser welding techniques with plasma control and programmable functions that will keep our workforce current with cutting-edge technologies," said Gov. Edwards.
According to Peter Sandore, the staff at the Bossier City facility and support from Louisiana Economic Development led to the decision to invest further in Bossier City. "Our team at the Bossier City facility has many complementary capabilities needed to support this effort, including strong metalfabricating skills and a highly responsive and flexible management team that will be required to support this project," he said. "LED has been extremely supportive of the project, providing a state incentive package that included the Quality Jobs Program, LED FastStart and the Industrial Tax Exemption Program, which were instrumental in our decision."
LED has been working with Sabre Industries on the expansion project since March 2017. The State of Louisiana secured the project by offering Sabre a competitive incentive package that includes the comprehensive workforce solutions of LED FastStart, the state's workforce training program. Sabre Industries is also expected to utilize the state's Quality Jobs and Industrial Tax Exemption programs.
"I congratulate and thank Sabre Industries for making this most significant investment in our local economy," Bossier City Mayor Lorenz Walker said. "It's always exciting to see continued expansion of employment opportunities here in Bossier City. I also applaud Gov. Edwards and LED for their hard work in assisting Sabre Industries with bringing these additional jobs to our city and strengthening Sabre as a leading Bossier City employer."
The Greater Bossier Economic Development Foundation (GBEDF) also worked with LED to secure the project win. "The Greater Bossier Economic Development Foundation (GBEDF) is excited to be a part of the Sabre Industries investment and expansion of manufacturing jobs in Bossier," said GBEDF Board Chairman Tommy Boggs. "We are proud to partner with the city and parish in order to help to share the message that Bossier means business. Our community's progressive leadership has once again helped position Bossier to be competitive in securing new jobs and investment."
"The GBEDF recognizes the important role that manufacturing plays in our local economic landscape, and believes that Bossier City is the best choice for Sabre's expansion," said GBEDF Executive Director and CEO David "Rocky" Rockett Jr. "Bossier provides outstanding workforce capabilities, which are critical to supplying the talent pipeline for one of the nation's fastest-growing industries."
– Susan Reeks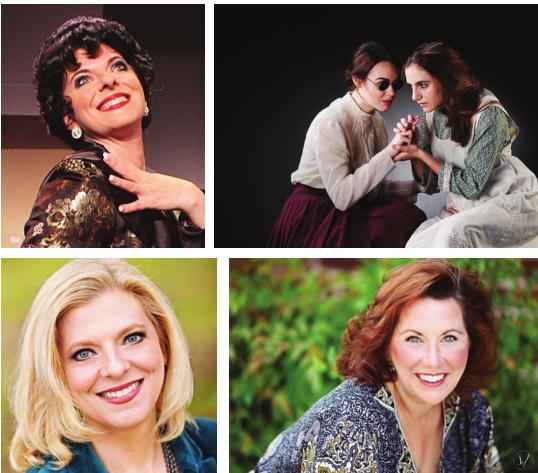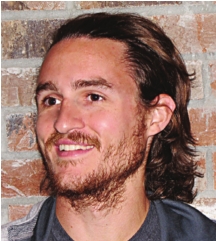 BRAVO! 95th Awards
The Shreveport Little Theatre held its annual BRAVO! Awards recently at Ernest's Orleans Restaurant. The 95th season membership voted on the awards celebrating SLT's actors and other volunteers.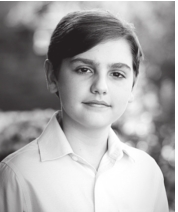 The 95th Season BRAVO! Award winners are:
• Best Mainstage Production: "The Miracle Worker," directed by Mary Joris; • Best Actor in a Leading Role: Patrick Haynes in "Auntie Mame"; • Best Actress in a Leading Role: Lucia Boyd in "The Miracle Worker"; • Best Actor in a Supporting Role: Casey Allen in "The Miracle Worker"; • Best Actress in a Supporting Role:
Heather Peak Hooper in "Auntie Mame."
SLT board president Robert Alford presented the Board of Directors' Award to Patricia Davis (posthumously) and the President's Award to past SLT Guild President Sue Wyche. Robert Darrow, SLT's managing and artistic director, awarded the Director's Award to Anna Maria Sparke.