Our featured property is at 604 Oakhill Drive. Staged by Yarbrough Interiors' Jennifer Owens and Kathleen
Barlow, their beautiful touches and muted palette are complemented with colorful art and rich furnishings – a showstopper.
The property, in the heart of South Highlands, was built by Steve Simon Contruction on a formerly heavily wooded and overgrown corner lot. Embracing the site and nature, the home sits snugly in place as if it has long been there. Pollard-Hodgson architects added flourishes throughout the home as well. Standout features not shown in these images are a beautiful back yard, outdoor kitchen and a spacious upstairs.
A sampling of homes from the many neighborhoods and areas are featured on the following pages. Handy maps on pages 34-35 will allow you to plan your route and visit the ones that most catch your fancy. Enjoy your tour, and we are sure you will find inspiration, new ideas or maybe even just the home you've been looking for.
Join The Forum and the Home Builders Association of Northwest Louisiana on these pages for a peek at what's in store for visitors. Enjoy the tour, and may you find your dream home.
The Home Builders Association of Northwest Louisiana's annual Parade of Homes will take place from 1-6 p.m. June 4-5 and June 11-12 daily. Forty-four fabulous homes with 21st century innovations will be open for touring throughout Shreveport-Bossier City, Benton and Stonewall. The tour will include both new construction and remodeled homes, as well as the latest in outdoor living projects.
Benny Vaughan, co-owner of Ben Vaughan Builders and president of the NWLA Home Builders Association, talked about the current North Louisiana home industry. "The interesting thing always, and especially true this year, is that we get to see some of the newest product innovations available – these custom designs by area architects and draftsmen that have been integrated into custom homes as well those available for purchase."
The masterful kitchen was the vision of Pollard-Hodgson Architects and builder Steve Simon.
A dining corner in the open-concept kitchen and den area is perfect for breakfast, lunch or even catching up on homework in relaxed comfort.
Tour participants will be able to visit both custom homes and speculative homes. "These homes show what innovations and materials are available and what product lines are available in our market place," Vaughan said. "The tour also showcases the work of some of the finest builders working anywhere today, in my opinion."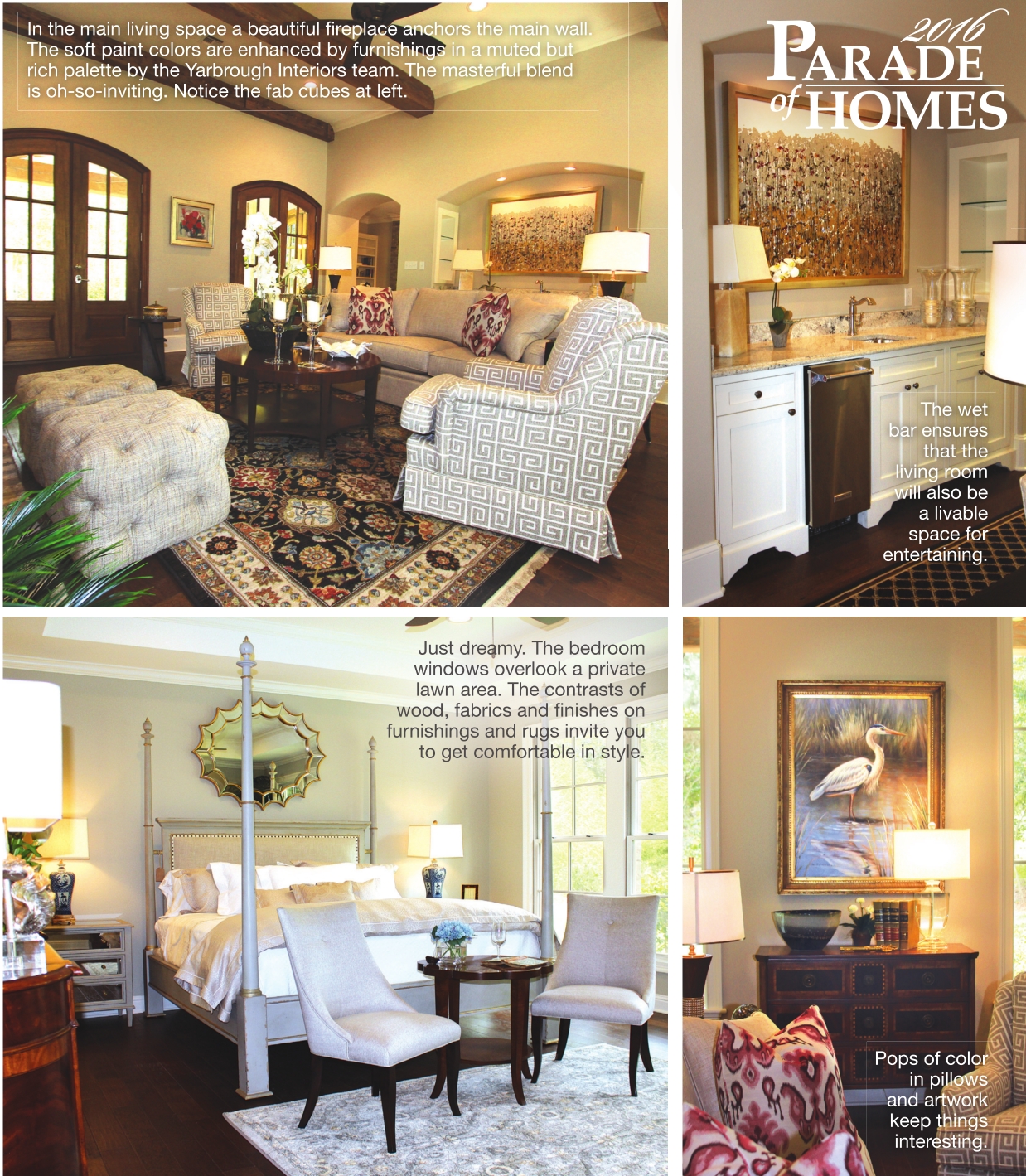 "Because of the talent pool that we have here in the area, including our builders, trades, architects and designers who work together, home-owners end up with their dream homes," Vaughan said. "We are in a place now in our area where professionals are taking architectural concepts from people who take pictures on vacation, like the Palace of Versailles for their study, or maybe they want Old English Country or Empire or French Country. The innovations are now available to make that happen."
One of the most popular recent design trends that just keeps expanding is outdoor living spaces. "We are seeing indoors and outdoors combined together more often," Vaughan said. "We are providing climate-controlled spaces in close proximity to outdoor kitchens or rooms."
Provenance on the Southern Loop will have seven houses on the tour, including Kim and Stuart Oden's custom-built home at 3110 Newberry Lane. The home is inspired by and features Charleston, South Carolina-type architecture including the signature Charleston side-yard overlooked by a balcony. Visitors are greeted by a "false" front door flanked by handmade gas lanterns, which leads them into a lower entry gallery with brick pavers set in a herringbone pattern in the lush side courtyard. The living/dining/kitchen and master bedroom all have views and access to the outdoor space. The Odens' home contains a large, open-concept kitchen and living room separated by cedar beams inlayed in a brick opening. The custom raised-panel cabinetry by Brett McDowell Custom Millworks goes up to the ceiling and incorporates GE Café appliances from Barrett's Appliances. The countertops by Sheppard's Countertops mix granite and petrified wood as an accent on the kitchen bar.
Susannah Hodges with Provenance said the Odens asked for personal touches such as his study, her craft room and an adorable family entry. "They were guided through the design process by our Provenance Realty Group team and Sabatier Architecture," she said. "They considered everything, like a private yard for their dogs, walk-up attic access in the garage and air-conditioned storage on the second floor.
The Odens' Provenance home, like many of the parade homes, features outdoor living spaces that include wood-burning fireplaces and outdoor kitchens with appliances and all the bells and whistles needed for outdoor living and entertaining.
Vaughan offered some suggestions for visitors to consider when looking for ideas for their own living spaces or a new home. "I always suggest that when people go into a home, they envision themselves living in that home," Vaughan said. "Look for things that will accommodate your family that you can build in the future or consider for remodel. Areas like the kitchen can be the center of gravity for most families. What is the layout like? Take a look at the work triangle, the sink, oven and preparation surfaces. Are the bedrooms' closets maximized for clothing and shoes? Do the indoor/outdoor spaces complement each other and provide for family fellowship?" During the Parade of Homes, there will also be a link to "My Parade," where people can customize their parade experience by searching for houses with parameters including square footage, price, city, community pools and other amenities.
"Virtual tours are always neat," Vaughan said, "but there is nothing like the real thing. I am encouraging people to take advantage of these two weekends in June and put their fingerprints on some of these rooms. Virtual tours are the next best way, but the reality tour is really the best way to experience these homes."
"Builders consider it a high compliment when someone comes to visit one of our homes, and we don't take that compliment for granted," Vaughan said. "There are enough homes in enough areas of the greater metro area as well as beautiful homes in DeSoto for a great two-, three- or four-day outing. I hope people decide to make a minivacation out of this tour and enjoy seeing what we have to offer."
Tickets can be purchased at any parade home and at area Brookshire's stores for $5 each, and one ticket gets access to every home on every day of the tour. A complete list of the homes and a map will be available at www.nwlahba.org/parade-of-homes beginning June 1.
---

STAGING
YARBROUGH INTERIORS ADD CLEAN,
SOPHISTICATED STYLE TO FEATURED HOME
Jennifer Owens and Kathleen Barlow are registered interior designers with Yarbrough Interiors in Shreveport, who have staged a home built by Steve Simon Construction for the Parade of Homes.
The house is one of the first newly-built houses in the Pierremont area that is being offered for sale as opposed to a custom-built home.
"The house sits on a beautiful wooded lot on Oakhill Drive," Owens said. "The style is a little bit of South Louisiana but with updated features. The exterior is stucco, and there are wood floors and beams throughout the house. One of the features that interested us was that the floor plan is very well laid out. A couple could live on the first floor and entertain nicely there. The rooms have a nice flow."
"The wood floors are dark, and the baths are wonderful, done in marble," Barlow said. "Steve had already done some really nice work, and he just kind of gave us free rein to stage it how we wanted."

One of the main goals of the design team was to demonstrate how the existing muted background colors could be used as transitional features. "We wanted to show how transitional neutrals are and how strength of color is used today, not in sofas and chairs but in area rugs and artwork," Owens said. "We've taken those lighter colors and combined them with accents that pop some rich color."

"The backdrop of soft, pretty neutrals is contrasted by off-white trim and rich floors," Barlow said. "The soft, neutral textures of sofas and upholstered pieces are balanced by rich-colored area rugs. Then lamps balance the room and address lighting, which is so important."
"We like showing the public how all this clean-cut style mixes well with their traditional pieces, too," Owens said. "The metals add another layer with frames on paintings or finishes on coffee tables and end tables. Golden tones mix well with other metals, like silver or platinum in lamps and table bases with glass tops, which keep rooms looking open. You don't have to be so afraid if the mix is subtle."

Barlow said that most people should look at the homes on the parade route with an eye to furniture layout. "The house kind of dictates the space," she said. "The architecture will indicate whether you need a floating sofa or not. There were so many windows in this house that we had to go with a floating open plan."

Where to put the TV is also a big issue with families now. "A lot of people want the TV, the fireplace and the view," Owens said. "Some people want it over the mantel. But notice that in this home, we're showing several pieces of furniture that can handle a television sitting on top of them instead of having to mount them."

Corralling the TV leaves the walls and mantel area free for artwork. "We tried to show this home with a variety of artwork," Barlow said. "We have shown how rich, colorful paintings even in very soft abstracts can add a great deal to a home and give it an updated look."

Both designers agreed that it is important to consult your designer as early as possible. "If you are building a home, come to the designer before the plan is finalized," Barlow said.

"It's not just about what color you want on your walls," Owens added. "We can help you decide where floor plugs and outlets need to go. There are so many things to consider with lighting, such as color, temperature and intensity. These are all things that a registered designer will know. We often end up saving effort and preventing mistakes if we can get in and plan from the beginning."