Recreating George Rodrigue's Aioli Dinner on the grounds of Frierson Plantation
Recreating George Rodrigue's Aioli Dinner on the grounds of Frierson Plantation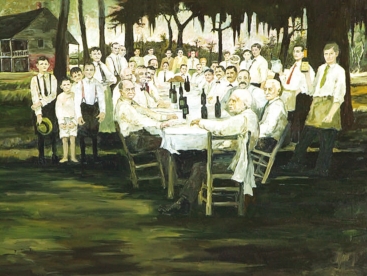 The Aioli Dinner – Shreveport will be presented Saturday, May 7, at 6:30 p.m. under the lush, shrouded oaks of Frierson Plantation and will benefit the George Rodrigue Foundation of the Arts.
Jacques Rodrigue, one of the late George Rodrigue's sons, will be in attendance at the Frierson event. "The setting of oak trees at Frierson Plantation feels very similar to locations of where the original dinners were held," Jacques explained. "The oak trees and landscape were always so essential to that history."
Jacques was referring to dinners produced by the Creole Gourmet Societies that met to dine on plantation home lawns between 1890 and 1920, and the inspiration for George Rodrigue's Aioli Dinner (1971, 32×46 inches). The meals often lasted for hours and included lavish spreads and courses paired with lots of wine.
These days the terms "Creole" and "Cajun" are widely used with many loose interpretations. "Creole" originally referred to descendants of the French or Spanish before the Louisiana Purchase of 1803. When encompassing food, "Creole" refers to Louisiana's French high society cuisine. In fact, the very term "Aioli" refers to a garlic-butter sauce.
Sure, there are wonderful wine pairings with a four-course meal, but it's really a chance for the community to come together and talk about the importance of art and education. It's a great venue to share our mission for Louisiana."
– Jacques Rodrigue
"Dad's paintings were trying to document the history of the Cajun people," Jacques said. "When the Creole Gourmet Society was founded, Cajun wasn't a word that they even used yet, but Cajuns were thought of as poor, uneducated people, living off the land. These gentlemen in the gourmet society were more aristocracy."
George Rodrigue, however, was proud of his culture. "That's why dad started painting in the first place," Jacques said. "He was the first to call himself 'Cajun anything.' He thought that culture needed to be celebrated. Then, there was a sort of renaissance that happened in the 1980s. People such as Paul Prudhomme emerged and really embraced dad's imagery."
"Dad always loved this painting," Jacques said. "It took him six months to develop. His grandfather was in the painting. My wife is an artist, and her great-grandfather is in the painting, as well. It is special to all of us because it has that history, both from the 1920 setting, but also because of the times that dad and I stood with the painting, talking and sharing."
Cuisine for the dinner on the lawn will be provided by Wine Country, Zocolo and Southern Fork Catering, and wine pairings are courtesy of Tracy and Sarah Toups. Red River Brewing Company will be serving a special Blue Dog Brew.
During the cocktail hour, guests will nibble on grown-up grilled cheese sandwiches, fried green tomatoes and grilled ham with fresh mozzarella. Dinner will include Gulf lump crabcake with a warm teardrop tomato salad, grilled grouper over black-eyed peas with picked okra and a spring herb chardonnay reduction sauce, and Mahaffey pork schnitzel with a parsnip and sweet corn relish. The crowning dessert will be puff pastry with Louisiana strawberries and cream paired with Blanc De Bleu champagne.
Live and silent auctions will include works by George Rodrigue. All proceeds will support the George Rodrigue Foundation of the Arts, which advocates the importance of the arts in the development of Louisiana's youth.
Mary Harris is the principal at South Highlands Elementary School and also an A+ Fellow and Chair of the Friends of George Rodrigue Committee. South Highlands Elementary School received a grant from the George Rodrigue Foundation to incorporate art into every classroom. "We've been doing it for about three years now," Harris explained. "Art integration means our core curriculum teachers, such as math, science and reading, actually do all forms of art within their curriculum. We were already a performing arts school so we thought we were doing a good bit of it already. Now we see there is so much more by integrating it into the classroom."
"Our teachers have found a new joy in teaching, and the kids have a new joy in learning," Harris said. "Learning should be about fun. Every child can make it their own, whether they like visual or music, however they learn."
Jacques said he sees that joy every time he visits one of the A+ schools. "I get to visit a lot of schools. Every time I walk into one, I am bombarded with beautiful images and art and music echoing through the hallways. Students are dancing and excited about being in school."
Jacques said the Aioli Dinners are wonderful events but that the focus is always on art integration in the schools. "It's so special to be able to have these intimate settings in which to share the work of the foundation," he said. "Sure, there are wonderful wine pairings with a four-course meal, but it's really a chance for the community to come together and talk about the importance of art and education. It's a great venue to share our mission for Louisiana."
Although the event is not formal, black and white attire is encouraged, as guests will participate in a recreation of Rodrigue's painting "Aioli Dinner." Cost is $250 per person, and seating is limited. Frierson Plantation is located at 10985 Harts Island Road in Shreveport.
- Susan Reeks
LeArn More:
For reservations or more information, visit info@georgerodriguefoundation.org or call (504) 324-9614.