The Krewe of Elders Grand Bal XIX was held at Events on the Red on Jan. 28. Puttin' on the Ritz included a skit where the queen, a.k.a. the Black Widow, came into the speakeasy trying to flirt with one of the men already taken. She started dancing with a new guy when her boyfriend came in and caught them. The guy tried to leave, but was grabbed by the boyfriend. The Black Widow pulled a gun and shot the boyfriend. "Diva Dianne" Harmon, duchess of longevity, sang "It Had To Be You" (along with Doris Day) to husband Jerry Harmon, duke of longevity, who was Salty Sailor Jerry. Ambush provided music. Captain is Randy Mobley, and king and queen are Rick and LaWanda Turner. Krewe of Elders floats will ride in the Highland parade.
– Mary Ann Van Osdell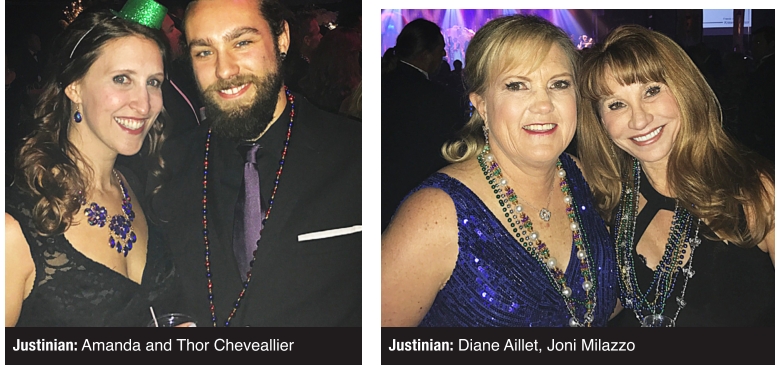 The floor of the CenturyLink Center was filled with nearly 700 business professionals as the Bossier Chamber of Commerce hosted its 69th annual gala on Jan. 31. Multiple awards were handed out, including Business of the Year to Praeses, Small Business of the Year to Lauve's Pediatric, Business Person of the Year to Margaritaville's Barry Regula and Small Business of the Year to Rosewood Home Market. David Specht served as 2016 chairman of the board, and Terry Moore of Merrill Lynch will serve as the 2017 chairman.
– Mark Crawford
On Jan. 27, the Krewe of Justinian hosted their annual bal at Horseshoe's Riverdome. This year's royalty includes Prince Kip Haines and Princess Gabrielle Cox, Dukes Weber Hill and Mark Manno, Duchesses Allie Aiello and Natalie Howell, and Queen XXIII Melanie Bain Johnson and King XXIII Brady D. O'Callaghan. This year's captain is John Bokenfohr. In addition to the royalty presentation, there was a silent auction, which included items like round-trip tickets on GLO Airlines to New Orleans and VIP passes to JazzFest, a Saints football signed by Drew Brees and a cochon de lait party for 30 people.
– Mark Crawford