"Outlier," an exhibit and documentary film series showcasing the journeys of sexual assault survivors, exposing predators and recovering outliers, was back in Shreveport the weekend of Aug. 10. The exhibit, which features photographs and stories of courageous sexual assault victims, is traveling from city to city across the country, and creator Mollie Corbett seeks out other survivors in each community and collaborates to share their stories through photographs and video. Survivors become part of the exhibit and an episodic documentary film series released online at OutlierStories.com.
– Mark Crawford
Outlier

1) Allison Young, Mollie Corbett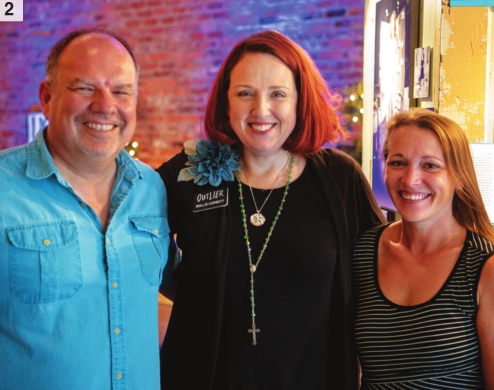 2) Jim Malsch, Mollie Corbett, Wendy Horton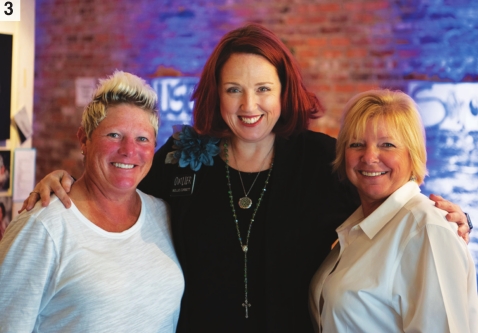 3) Shelley McMillian, Mollie Corbett, Terri Mathews
It looked more like a Fourth of July party on Aug. 24 at the Krewe of Elders coronation at the VFW Post 4588. Along with a buffet dinner, entertainment was provided by the Eric Craig Band. Red, white and blue attire was the dress code, and guests were handed red, white and blue beads with a mask with stars and stripes. Queen and king are Connie and Doug Rivet. – Mary Ann van Osdell
Krewe of Elders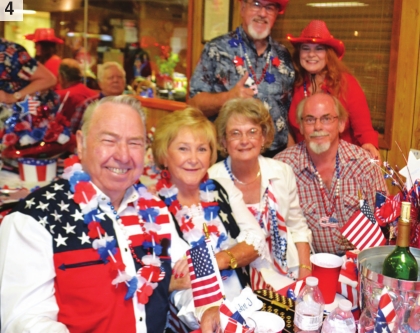 4) John Jernigan, Gail Cascio, Maude James, John Castanes (seated) and Doug McWaters and Pat Stell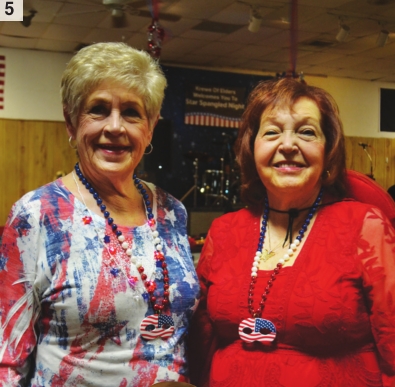 5) Co-captain Julia Collins and Captain Wanda Cunningham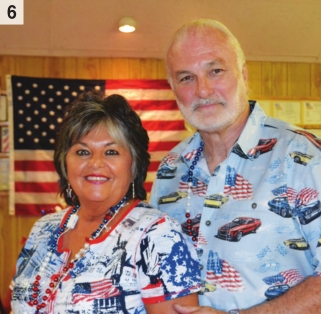 6) Connie and Doug Rivet
An enthusiastic group of ladies gathered at the home of John and Shan Ponthie on Aug. 22 for a kickoff and planning party for the 66th annual Loyola Style Show. Always a huge success, this year's theme will be "Snoopy Goes to Space." The event will be held Nov. 7 at the Shreveport Convention Center.

Loyola Style Show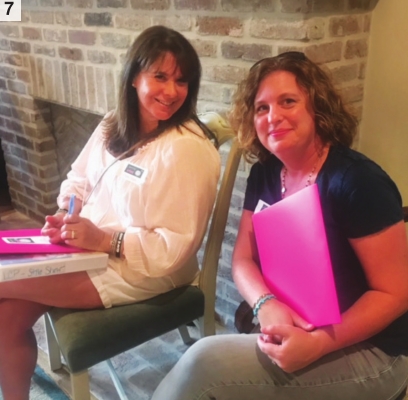 7) Marci Moore and Ashley Elston (2019 style show co-chairs)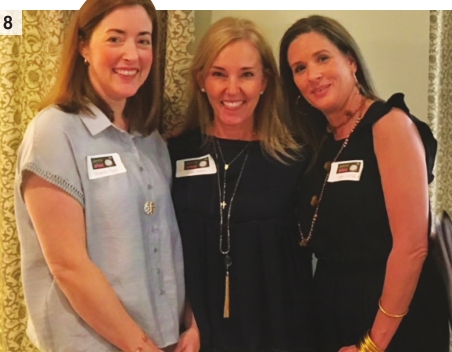 8) Elizabeth Pippin, Shan Ponthie and Sallye Corbell (2018 style show cochairs)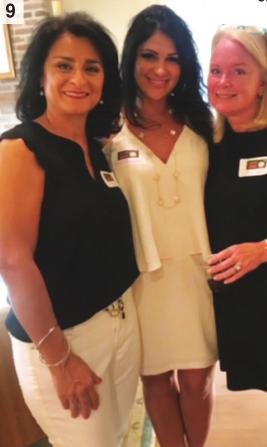 9) Mary Ann Smith, Brandy Thompson, Missie Soignier (parent volunteers)
11 The City Tennis Championships' kick-off event brought out the crowds and was a resounding success for the newly resurrected tournament. So much so that the plans are already in works for the 2019 August games. Dating back to 1923, the competition had been dormant for 10 years. The goal is to promote tennis for all of North Louisiana. Follow the group at https://www.facebook.com/TheCityChampionships/
Tennis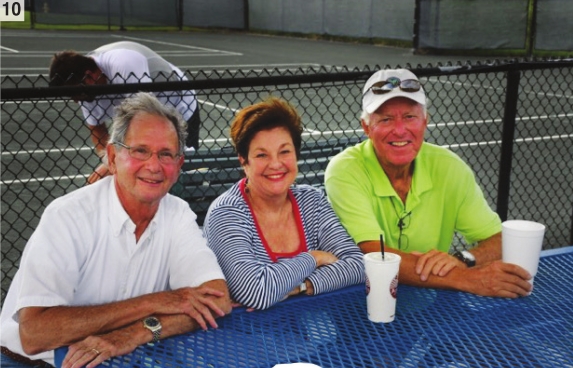 10) Andy Lloyd and Sylvia and Dr. Carl Goodman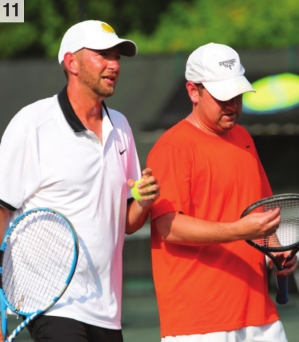 11) Todd Killen and John Gray Pou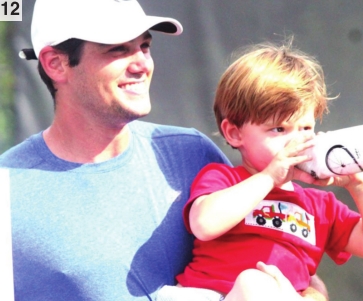 12) Anthony McMaster and son Francis

The Philadelphia Center presented "Legends of Tomorrow" as the theme for its 29th Annual Auction Against AIDS. It was held Aug. 11 at Sam's Town Hotel and Casino. Silent auction bidding was done by texting. Central Station's "Joker's Barrel" of booze contest was among fun activities. Many guests dressed for the "Catwoman Catwalk" contest to strut for charity. Others were superheroes or villains. Bam! – Mary Ann Van Osdell
The Philadelphia Center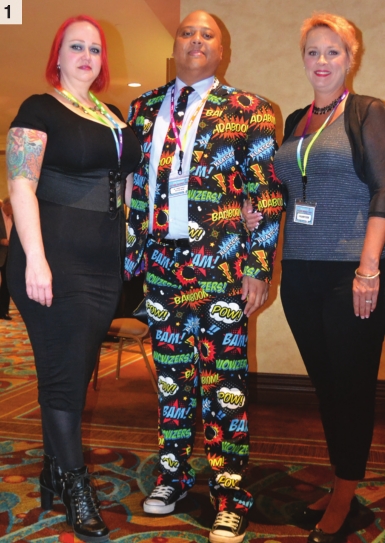 1) Amanda Stinson, Dr. Lonnie McCray, Michelle Cummings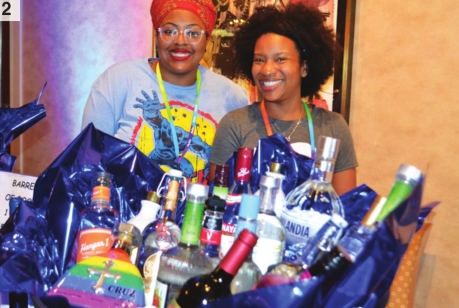 2) Annette Johnson, Zenita Henderson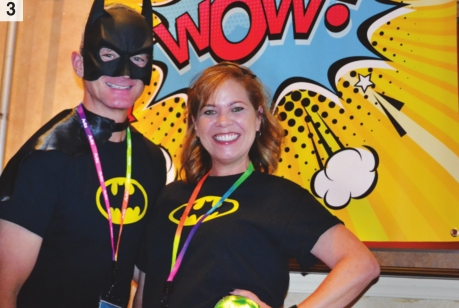 3) Mac and Michele Fuselier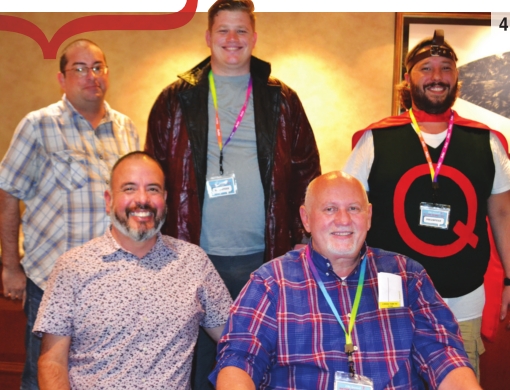 4) James Onofre and Johnny Lancaster (seated) and Joshua Sullivan-Bradley, Michael Meador and David Heard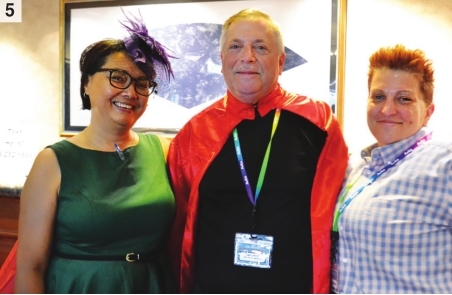 5) Hershey Krippendorf, Chris Miciotto, Kathy Gipa-Reedy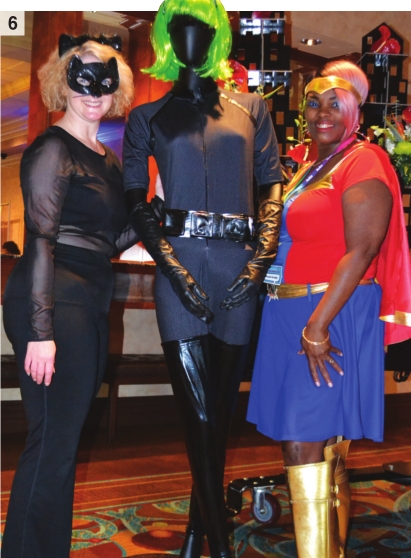 6) Kathy Pate, Julie Craig
Superior's Steakhouse was filled with NSU Demon spirit for the Annual NSU-Walk On's Independence Bowl Kickoff Luncheon on Aug. 23. Coach Brad Laird and athletics director Greg Burke, along with a room full of fans, set the tone for the 2018 season. The annual preseason luncheons began in 1993. Laird stressed the importance of Shreveport-Bossier and surrounding areas not only to the Demon football program, in its first year under his leadership, but to the university. Illustrating that point, faculty and staff from NSU's nursing and allied sciences programs headquartered on Line Avenue were in attendance. The Demons will continue the luncheons on five Thursdays this season, including Sept. 27.
– Mary Ann Van Osdell

Independence Bowl Kickoff Luncheon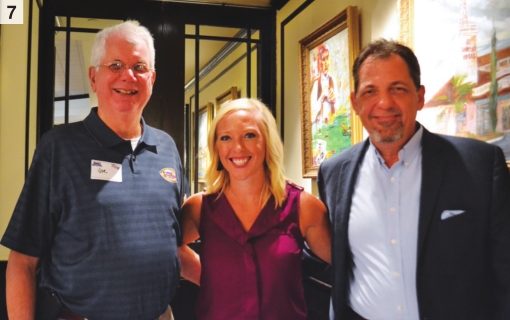 7) Joe Littlejohn, Haley Taitano, Richard Harville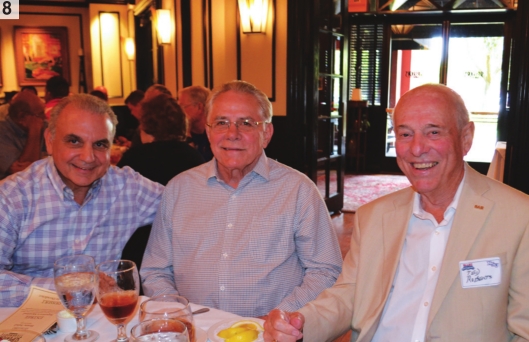 8) Tony Papa, Mike Pool, Ted Roberts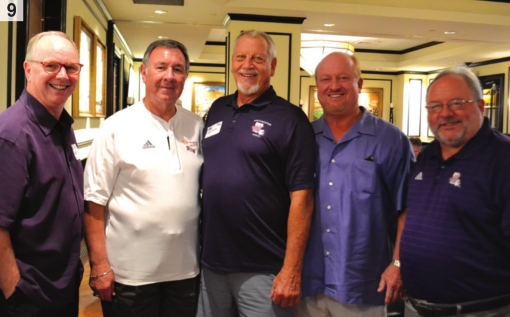 9) Mike Wilburn, Tommy Chester, Layne Miller, Mark Wilburn, Doug Ireland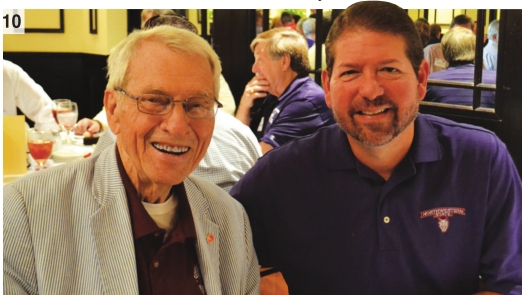 10) Bob Griffin and Tony Taglavore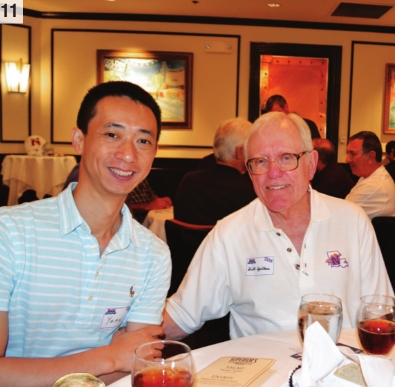 11) Xianyuan Yuan and Bill Spillers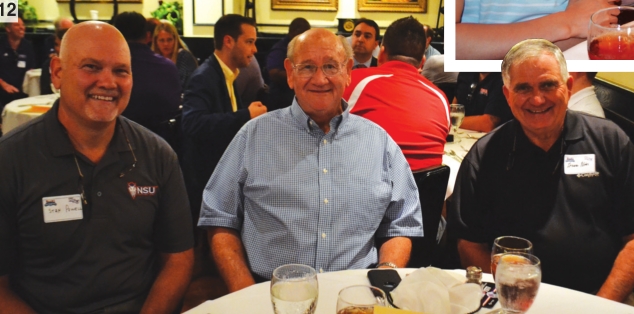 12) Stan Powell, Gordon Boogaerts, Gene Mims
To be included in OTS, e-mail your high-res photos to editor@theforumnews.com. Must include a daytime phone number. Or, contact Mary Ann Van Osdell at mavo@softdisk.com or Mark Crawford at markcrawford1@aol.com for event coverage.