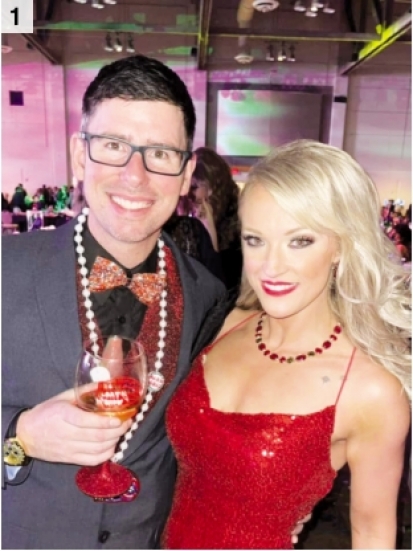 In February, the Krewe of Centaur hosted their 30th Grand Bal at the Shreveport Convention Center in downtown Shreveport. More than 1,350 people attended the largest Mardi Gras Bal in the Ark-La-Tex, where the krewe announced that "American Idol" winner Laine Hardy, born in Baton Rouge, would serve as this year's parade Grand Marshal. Royalty included Captain Ricky Bridges, King Hal Rogers, Queen Tracey James, Duke and Duchess of Food - Steve Mrozek and Margaret Farmer, Duke and Duchess of Fantasy - Fred Lowery and Linda Meservey, Duke and Duchess of Frolic - Jason Howard and Mardi Howard, and Duke and Duchess of Fun - Dustin Powell and Rachel Powell. — Mark Crawford
Krewe of Centaur
1) Kyle and Lacy Turner

2) Tony Pearson and Tiffany Moore

3) Larry Ryan and Diane Aillet

4) Pam Barker and Clarence Babineaux

5) Melissa and Gill McElroy and Linda Sinitiere

6) Emily Pitts and Peyton Franks

7) Mallory Kelly and Nancy Kelly

8) Sharon Festervan and Tina Rose
Shreveport Opera presented "Rigoletto" to an enthused audience at RiverView Theater in Shreveport on March 26. An after-party to meet the cast and creative team was held at The Missing Link. — Special to 318 Forum
Shreveport Opera

1) Adam Cioffari and Heather Bryson

2) Theresa Walton, Michal Mayes (performer) and Megan Mayes

3) David Drees and Mayra Acosta

4) Jodie Glorioso and Jennifer Hill

5) Andrew Liuzza and Alie Sheiell
The Robinson Film Center hosted their annual Oscar-style fundraiser, The Robbys, in the middle of Texas Street in downtown Shreveport on the night before the Oscars, March 26. The event, which is in its eighth year, included a red carpet arrival with paparazzi, a buffet of delicious food from Abby Singer's Bistro, and a silent auction with movie memorabilia and music by DJ Lomax and Windstorm. And something new: a 360-degree camera platform. Money raised at The Robbys directly benefits The Robinson Film Center. — Mark Crawford
The Robinson Film Center

1) Susan Kirton, Jacque and Dan Jovic and Patrick Kirton

2) Felice Williams and Michael Angelo
3) Christopher and Lauren Cannon

4) Katie White and Deniz Gungor

5) Nimzo Longstratt and LeVette Fuller

6) Jada Durden and Brandon Manning

7) Sky Souyoul, Lindsey Pennington, Bailey Palmer and Shannon Young

8) Brian Wheeler, Karen E. Wissing, Belinda Berry and Kimberly Aulds

9) Felicia Bell and Derrick Richard
The R.W. Norton Art Gallery held a private opening reception for the 6th Annual BLOOM! Juried Exhibition. On March 25, guests viewed the exhibition, talked with artists and enjoyed an evening at the Gallery with light hors d'oeuvres and complimentary drinks. — Special to 318 Forum
6th Annual BLOOM!

1) Adam and Eloise Palmer and Katie and James Lowder

2) Jim Bibb and Jennifer Hendry
To be included in OTS, e-mail your high-res photos to editor@318forum.com or mail to Editor at 318 Forum,1158 Texas Ave., Shreveport, LA 71101. Must include a daytime phone number. Or, contact Mary Ann Van Osdell at mavo@softdisk.com or Mark Crawford at markcrawford1@aol.com for coverage.