Wednesday, Sept. 20, 2023

The Cypress pork chop is a stand out served "off the bone" and is full of flavor.
Good food, great service and a hip vibe
I had vaguely heard of (6104 Line Avenue in Shreveport) but didn't remember reading any reviews. Since I didn't want to be swayed by someone else's experience, I purposely did not read any reviews after my friend and I decided to visit for a Saturday night dinner.
We were impressed with the restaurant before we arrived. We received a call at 4:20 – and a text message at 5:17 – confirming our reservation. I'm sure they don't want no-shows, and I surely don't want to show up only to learn they don't have my reservation. The confirmation call was appreciated.
When we turned into the parking lot, we noticed ample parking. That was good because we weren't looking to take a long walk in 102-degree heat.
Within 20 seconds of stepping inside, we were greeted by the hostess, who had a pleasant attitude.
She showed us to our two-top, bar-height table. We looked around and agreed, "This place is nice!" I was struck that Shreveport had a restaurant like this – with its modern décor and "hip" vibe.
Cypress is nice but not big. We estimated table and booth were seating for 60, and another 18 seats at the "L" shaped bar.
There is also a 10-seat private room which you can reserve for a special occasion. By the time we finished dinner, there wasn't an empty bar seat, and most of the tables and booths were occupied.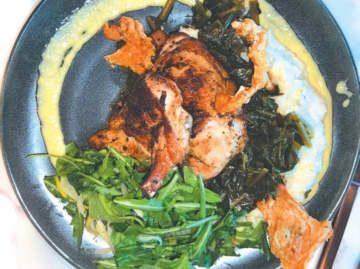 Cypress chicken is served with black pepper grits and collard greens.
Within one minute of being seated, Jaden was standing at our table. He would be our server and immediately filled our tall water glasses, pouring lukewarm water out of a carafe. In fact, Jaden never let our glasses get below half-empty.
I knew Jaden's name because he promptly introduced himself and asked our names.
Jaden wanted to know if we had been to Cypress before. Since we had not, Jaden told us about the sharable Tapas appetizers. From 12 choices, Jaden offered suggestions as to what we might like.
However, we didn't take his recommendation and went with the shrimp tempura ($28), which arrived 10 minutes after we ordered. Simply put, it was fantastic: Four large, gluten-free (almost every menu item is gluten-free), warm, beer-battered shrimp, surrounded by stir-fried vegetables, apple slaw, and topped with garlic chill crunch and cured egg yolk. Around the inner circle of the plate, there was a spicy remouladetype sauce.
We could have ordered two shrimp tempuras and made it a meal. But that wouldn't have been fair to you, would it?
For my entrée', I chose wood-fired chicken ($28). It was half of a chicken, served on the same plate as hearty helpings of thick and tasty black pepper grits, a little-too-tough collard greens, three or pieces of crispy chicken skin, and a fennel and arugula salad. If I'm nit-picking, the chicken was a tad on the dry side, but certainly not worth complaining about.
My friend went with the Cypress Al Pastor ($30) – an achiote marinated Mahaffey pork chop topped with black garlic mole. It was garnished with pineapple gastrique, dry pozole, pineapple kimchi, avocado and Swiss chard.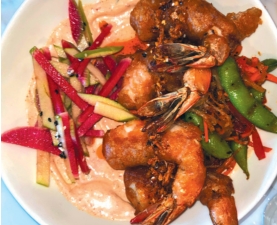 The presentation was beautiful. My friend said the large pork chop had been separated from the bone, making it easier to cut. However, she said the meat lacked flavor. I had a sample and tasted a faint hint of pineapple. She said the pork chop was tender. She did not care for the garnish – at all. She couldn't pinpoint a reason why – she just didn't like the taste.
Both entrees were served hot, which to me is important. Foods that are supposed to be cold, I like cold. Foods that are supposed to be hot, I like hot.
At one point, the restaurant's manager stopped at our table to ensure everything was good. That was a nice touch. It appeared that he genuinely cared if we were pleased. We felt he would have made things right if we were not.
My friend wanted a glass of wine but wasn't sure which kind. Jaden offered to bring her a sample of her first choice. She wasn't sold on the taste, so Jaden recommended a different wine and offered to get a sample. He did, and my friend went with Jaden's suggestion.
The restaurant's wine list is seven – that's right, seven pages. You can buy wine by the glass or by the bottle. The least expensive glass of wine was $12. There are many wines which are only available by the bottle.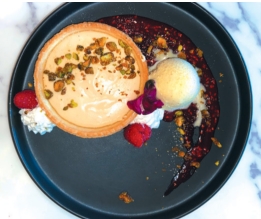 With food still on our plates, we were stuffed, so stuffed that my friend asked for a to-go box, which Jaden prepared away from the table. I asked him to include the grits and greens, which I could not finish.
But once again, thinking of you, the reader, we knew we must find room for dessert.
We weren't given many choices. It was either a slice of mango cheesecake, a double chocolate chip ice cream sandwich or a caramel tarte. We love cheesecake but felt it would be too heavy on top of a heavy meal. So, we went with the caramel tarte ($14), served with raspberry puree and a wafer crumble. I asked Jaden if adding a scoop of ice cream was possible. There was a very small yet very tasty scoop of ice cream when dessert arrived.
The total cost of our meal, excluding the wine – with tax but before the tip – was $112.34. Cypress by the Revenir is not inexpensive. However, you get what you pay for, and we were pleased with what we got – including the service and atmosphere.
Without hesitation, we agreed Cypress by the Revenir deserved four forks. We will definitely return and would go out of our way to do so.