Growing Where you're Planted
One couple's greenhouse journey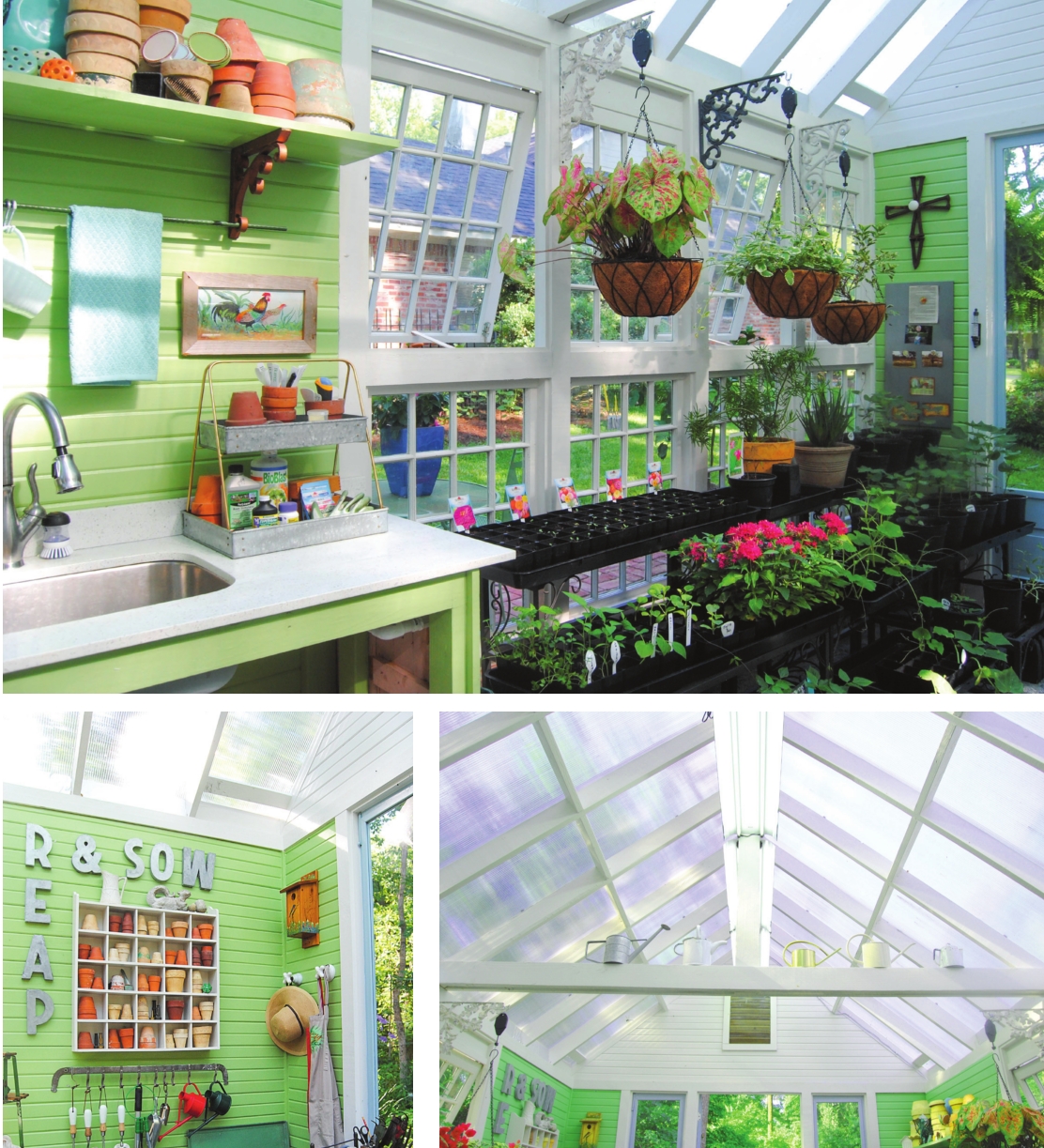 Greenhouses are a valuable addition to any garden, saving time and money, providing a stable, warm environment and opportunities to extend the growing season and experiment with a wider variety of plants. Much like the garden itself, a greenhouse gives back in spades for the many hours of hard work it takes to build it.
There are ways to incorporate greenhouse gardening in almost any price range, from lean-tos to greenhouse kits. Patty and David Leeth of Shreveport created the best of both worlds by constructing a new greenhouse out of carefully curated salvage building materials.
"I've wanted a greenhouse forever," said Patty, a florist by trade who is winding down a bit on the business side of things so she can enjoy their lush garden at home. "I knew I wanted it girly, bright and cheerful."
Of course, it helps that David is a residential construction/remodeler and a master carpenter. The result is a striking structure that is the perfect complement to the couple's home, garden and the abundant woods surrounding their lot.
The Leeths' design started with elements salvaged from Patty's grandmother's dairy farm in Pelican, La. "After my grandmother died, we took the brick and her closet doors among other things from her old farmhouse," Patty said. "She would have loved it because she was such a gardener."
The other defining element of the Leeths' greenhouse design was a set of vintage windows that Patty had saved for years and refinished over an entire year, knowing all along she would use them for a garden structure. The windows were indeed worth it, as they provide vintage charm along with much-needed ventilation.
"The sticking point was those windows," Patty said. "We got them at an auction house. They gave me two Home Depot buckets filled with all of the glass panes. Turns out, the panes were all different sizes, so I had to sit down and figure out which ones would fit into which slots. But they were old and cheap."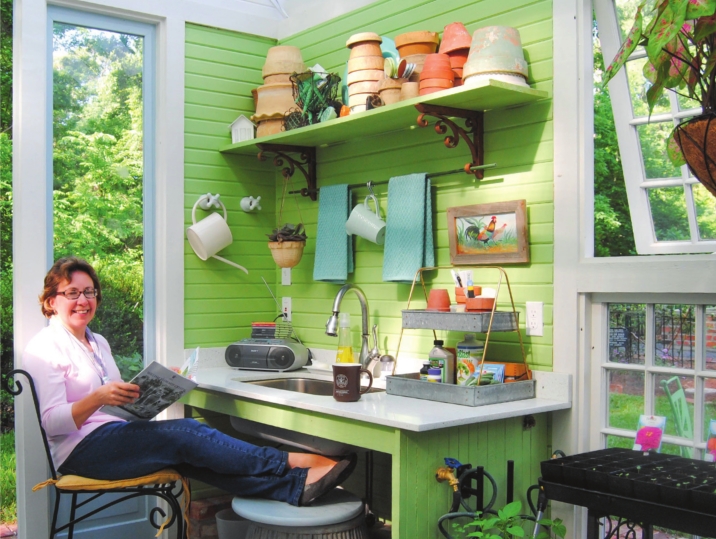 Patty came up with the initial idea for the greenhouse, and she built a model out of cardboard to help David visualize what she wanted. After that, David headed to the drafting table and produced the plans. "You don't design something and then find a reclaimed something to fit it," he said. "You find what you want to use and then you have to design around it. We proportioned everything off of these old windows. Then we used post and beam framing, not two-byfours. These are four-by-four posts joined together. It's not something you see as much, and it really makes clean lines."
The scale of the greenhouse unquestionably contributes to its charm, and it harmonizes well with their house. "I matched the pitch on the roof of the greenhouse to the pitch on the house," David said. "It's reasonably high but not extremely high."
David used his own recipe and leveling method for the floor of the greenhouse. "I used two inches of crushed granite on top of two inches of SB2 (rock) on top of one inch of masonry sand," he said. "I compacted it so that whenever we water, we don't have to worry about drainage. It all just goes into the soil."
Another repurposed element used early on in the greenhouse design was the tall doors used on the ends. Patty chose a soft periwinkle blue for them because she found it to be soothing against the white structure. "I used to rent out these doors for weddings," Patty said. "They were screen doors from an old plantation, but we replaced the screen with glass."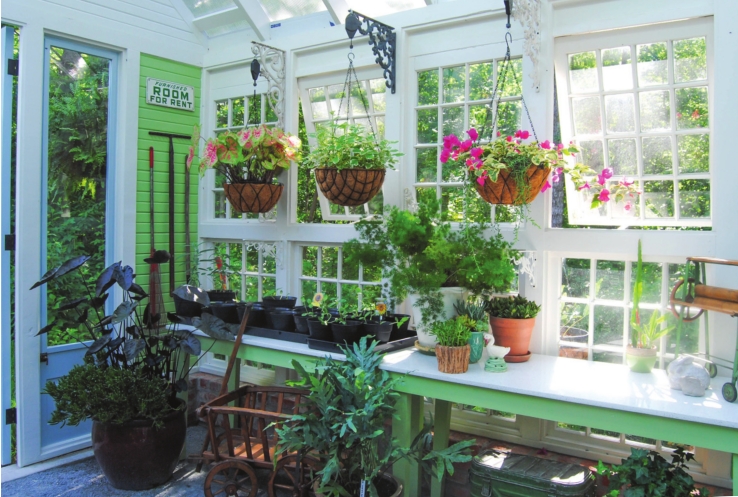 Inside the greenhouse, a closet door in its original green paint from Patty's grandmother's farmhouse was used to make a cabinet. "You can see where we left the latch on it," Patty said. "We also used the tongue and groove (paneling) from her house. You can see where the hinges were."
The Leeths have incorporated other vintage items that are both functional and decorative, such as containers from old hardware stores and metal tubs that Patty used for weddings as a florist. Hanging on one wall is a birdhouse painted by Patty's cousin. "That trellis came from an old antique store," she said. "The owner told me it had been used in a movie about a serial killer, hanging behind his sofa on the wall. I never saw the movie, but I thought, 'Oh, a trellis,' so I painted it blue."
One of Patty's favorite decorative accents, miniature hand-made flower pots, came from Common Ground in Cedar Grove, where she had worked as a volunteer. "Common Ground has a real old-time greenhouse from the 1940s, and all these little pots have been lying out there for years," she said. "So I took one of every different kind and shape and displayed them on this shelf."
When you get right down to it, however, the greenhouse had to be functional. The Leeths incorporated grow lights and other elements to make the most of the space. Electricity and water plus a good-sized potting sink were must-haves.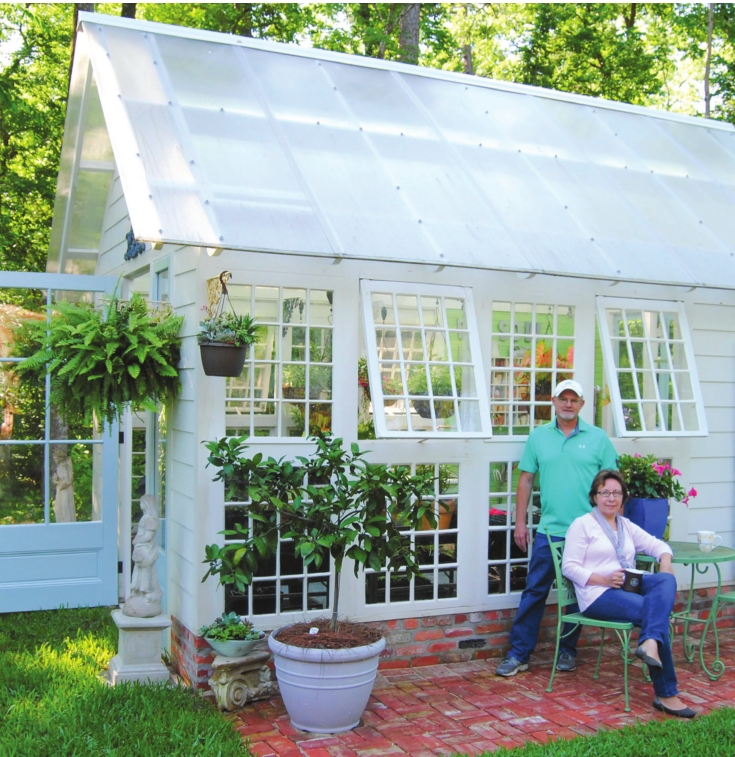 Work surfaces had to handle a lot of wear. "David made my counter pretty fancy, but with a quartz easyto-clean surface, Patty said. "Any sort of table would work, but I got these tables that nest from Plow & Hearth."
Patty has the three sets of scrolled black metal nesting tables lined up like steps, in rows lining one wall of the greenhouse. They hold heavy plastic trays containing a variety of seedlings and plants. "I was trying to think of something sturdy that I wouldn't have to replace," she said. "I didn't want wood because of the water. The trays on top are good quality from Greenhouse Supply."
Other collected items used for form and function are the vintage scrolled iron shelf brackets that Patty used in assorted pairs to hang containers of flowers and ferns overhead. Her grandmother's St. Francis statue stands guard at one of the doors, and a weathered stone corbel is turned on its side as a useful relic to hold a pot of ivy.
So after all that prep, what do Patty and David grow? The greenhouse is already filled with flora and fauna, including caladiums and seedlings just beginning to show. "I like to cook, so herbs are a big deal to me," David said. "We will probably do winter herbs and tomatoes in here come winter."
"I like the idea of having fresh vegetables and fruits," Patty said, "but I love flowers, like my zinnias. A lot of what's planted on the fence line was started here. I put it all over the yard."
"Zinnias and sunflowers are easy," Patty said. "Succulents are, too – and this birdhouse gourd, which I've got planted in a couple of places. It stays green for such a long time, and it just sort of winds across the fence. And I use hyacinth year after year."
"My latest thing is ornamental cotton," Patty said. "My friend, Mary, had done a crop of it. The difference is the outside covering of the bowl, which is purples and pinks. I mean, it's gorgeous."
"These are some snail flowers from Thomas Jefferson's Monticello," David said. "The flowers are curly, and they draw your eye to them when they're blooming.
They're beautiful and fragrant."
When asked to share advice on how to get started on a new greenhouse, David emphatically said, "Hire a professional. I'm a master carpenter and a general contractor, and I've been doing this all my life. It was an intellectual challenge to go from standard construction to post and beam layout, to get everything just right so that it matched Patty's vision. But people should tell the contractor their vision and get a detailed set of plans."
"Between our two skill sets, I think we could just envision it because this is what we do for a living," Patty said, "but we couldn't have done it without David's skills. You just have to know what you want to do. You don't have to do something this big. It can be smaller. Just make it about whatever you love to do. I have my radio, and I come in here and put my tunes on, and it's a peaceful getaway. The birds come in occasionally, and I have to chase them out. There are bugs in here and bumble bees sometimes, but it's a greenhouse! I don't mind. It's just a delight how it came together. It's everything I asked for."
The one unfinished spot is a dirt bed between the back of the greenhouse and the surrounding overgrown woods. "We'll just call that the nursery," David said. "That can be for plants we don't know what to do with yet."
"But wouldn't that be cool to have a deck there?" Patty asked. "Just another space where we can sit outside on it? In a rocking chair?" "I think it's a nursery," David said. Patty just laughed and said, "I never stop."
Call-out: Greenhouse Must-Haves: • Maximum light, at least six hours of direct sunlight per day. Grow lights can also be added.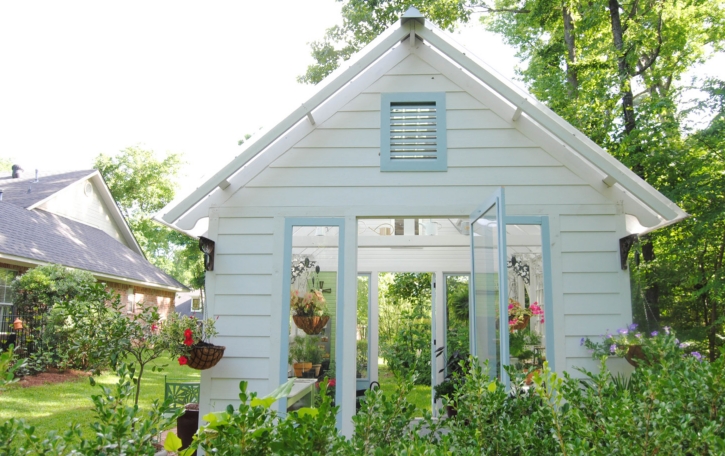 • Glazing, the covering that lets in light, such as glass, plastic sheeting or polycarbonate.
• Access to electricity and water. A hose that reaches, a sink and a misting system.
• Heating for cold months, such as electric or solar heaters, or even rocks to absorb the sun's heat during the day.
• Ventilation for good air flow and temperature control in hot months, and to ensure a more comfortable work-space.
• Level area with adequate drainages, such as a landscape cloth covered with gravel.
• Plenty of headroom. Room to work but also is good for hanging plants.
• Workspace established at the right level.
A table, counter or racks, so you don't have to stoop when caring for seeds and plants.
• Nursery trays and containers for starting seeds and corralling plants.
• Seeds and plants. Seeds are more economical but supplement with plants from local sources. Bartering with other gardeners will also increase your yield.
• Accessories! This is the fun part.
Whether you fit out your greenhouse on a budget or go absolutely crazy, accessories provide function as well as form. From trellises, seating, antique garden statuary and pots to fans, tool racks and custom potting benches, it's easy to personalize your own space. Like the Leeths, you can keep adding to your greenhouse over time from antique shops, auction houses and garage sales.
–Susan Reeks