Chamber of Commerce honors professionals and companies
Chamber of Commerce honors professionals and companies
More than 700 business professionals filled the CenturyLink Center as the Bossier Chamber of Commerce hosted its 68th annual gala Jan. 28.
Coveted awards such as Business Person of the Year, Small Business of the Year and Business of the Year were given to a group of leaders who excelled in areas of leadership, growth and involvement throughout 2015.
Architect Mike McSwain was named 2015 Business Person of the Year for his design development of Bossier City's new landmark projects – downtown Bossier City and the CSRA Company facility in the National Cyber Research Park.
Gumbeaux Event Productions was named the 2015 Small Business of the Year for its business growth and willingness to partner with other businesses and in the community.
Valveworks USA was named the 2015 Business of the Year for its expanding global presence while staying involved in the community and making an impact on the local economy.

Mike McSwain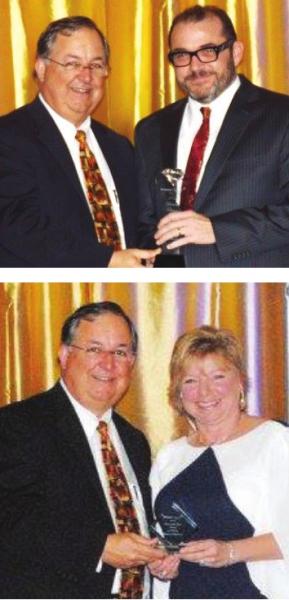 With over 20 years of experience in the practice of architecture, McSwain founded his own architecture firm in 2005. McSwain is a principal of Mike McSwain Architect, LLC, in charge of overall project management and project delivery. McSwain has worked on projects of all types regionally around Texas and Louisiana, as well as internationally in China, Taiwan, Bali, Indonesia, Japan, Mexico and Croatia.
Gumbeaux Event Productions

Mathews, owner and operator Gumbeaux Event Productions, said the business is honored to receive this award.
"We owe our success to relationships with our customers, with our partners, and among our dedicated staff. To be able to live out our passion in a community we love is a privilege each day," she said.
Established 10 years ago by Mathews, Gumbeaux began as a two-person business handling sound and trade show services for small events and has now grown into a full-service event production business.

Valveworks USA

"As a locally-owned, global corporation founded and headquartered in Bossier City, it is a great honor to be named 2015 Business of the Year by the Bossier Chamber of Commerce. It is truly gratifying to have Valveworks USA's success and economic impact recognized and shared by the local community," Rick Roberts, founder and president of Valveworks, said.
Valveworks USA is a global manufacturer of API 6A gate valves and wellhead systems. Since founded in 1994 by Roberts, Valveworks USA has grown to have one of the largest, most comprehensive product line of API 6A gate valves and wellhead systems of any independent company in the world with an industry-leading quality management system assuring the highest level of quality in its products.
–Staff reports
OTHER AWARDS:
• You Made it Happen: Margaritaville Casino & Resort

• Community Partner of the Year: Bossier Parish School System

• Military Supporter of the Year: Kathy French

• Public Policy Partner of the Year: Tim Wilhite

• TRC Appreciation Award: Woody Schick

• Diplomat of the Year: Jared Stevenson

To round out the evening, 2015 Chairman of the Board Emile Cordaro highlighted the chamber's many accomplishments in 2015 and passed on the reigns to the 2016 Chairman David Specht Jr., president of Specht Newspapers Inc.