Garden Event Center offers something special
Garden Event Center offers something special
Unless you have already enjoyed a very recent happening at the Garden Event Center at the Hilton Garden Inn Bossier City, you haven't likely seen what is a first-ofits-kind vertical salad bar, a special new feature for events and banquets at the venue. Immersing guests into a summer garden experience is the goal of the Center's culinary team, who hit the mark with this new delight. Staffed by a "gardener" who hand picks a variety of fresh lettuce to put in guests' bowls, it offers something special and engaging for banquet experiences.
Another standout experience for groups, guests at a recent invitation-only event were also dazzled by a 24-foot long, build-your-own Bloody Mary bar that offered everything from celery sticks to meat balls, grilled shrimp and mini-grilled cheese sandwiches.
Executive Chef Karl Doernte featured his talents at the event with a summer soup shooter station featuring cucumber mint, mango cream, and gazpacho. Traditional favorite menu items such as beef tenderloin was served alongside more innovative dishes such as crab cake benedict and champagnepoached salmon at buffet stations.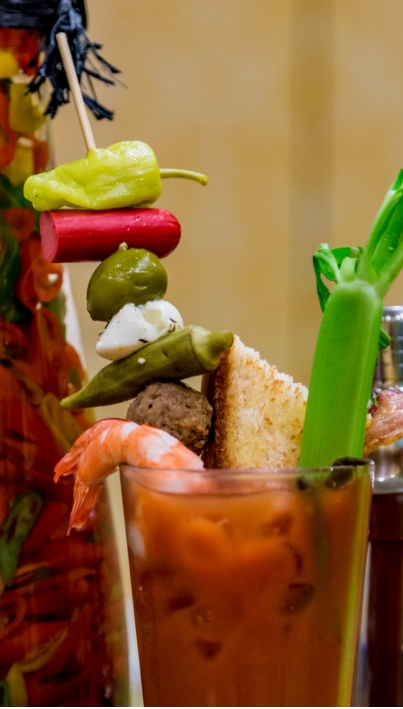 After dining in an interior garden-like setting complete with the sounds of birds chirping and bees buzzing, guests were invited to step outside into the outdoor garden setting that featured a custom dessert crepe station.
"We realize that Northwest Louisiana is becoming a destination for foodies and that there is demand for culinary experiences that showcase our culture and traditions" said Director of Sales Sandra Haynes. "Also, supporting local businesses was very important to us."
About the Garden event Center:
The Garden Event Center is the meeting and events venue located at Hilton Garden Inn, 2015 Old Minden Rd., Bossier City. More info: ShreveportBossierCity. HGI.com, Facebook.com/ gardeneventcenter. 759-1950.