CELEBRATE THE ART IN EVERYONE!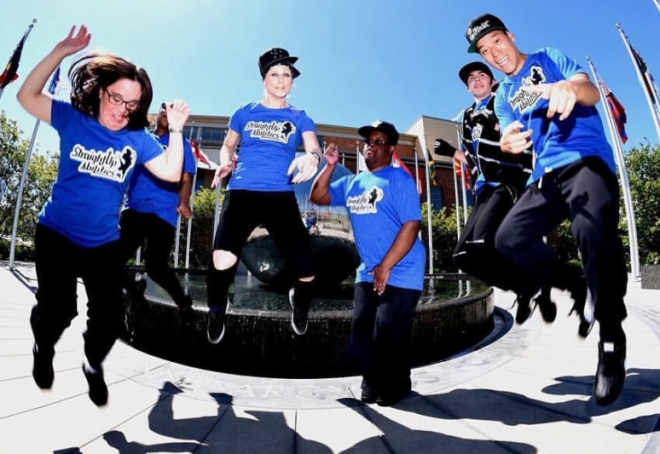 No other art event celebrates the achievements of ALL Caddo Parish Students better than ArtBreak and it's Very Special Arts Festival (VSAF). Where some see challenges, ArtBreak and VSAF see Artists with exceptionalities who exemplify possibility, excellence and unimaginable talent. This year ArtBreak and the Caddo Schools Department of Exceptional Children with Dr. Sheila Lockett, Director, take that celebration to a new level by bringing the nationally acclaimed Los Angeles performance and education group Straight Up Abilities to ArtBreak to perform dance presentations Friday evening and Saturday, April 27 and 28 at the Shreveport Convention Center and to do outreach to several Caddo Parish schools throughout the week.
Straight Up Abilities showcases and encourages the talents of children and adults with intellectual or physical disabilities. The group's mission is to spread a message of inclusion among everyone, challenge perspectives, break stereotypes and create a higher quality of life for some of the most deserving individuals. John Tucker from the Emmy nominated A&E reality series, "Born This Way," is the principal player in Straight Up Abilities. DJ Hymm, the Straight Up Abilities Dance Crew, and Straight Up Abilities Director and Educator Robin Olive will join John at ArtBreak.
"I founded Straight Up Abilities in 2016 with the mission of giving the differentlyabled community a voice that is often not heard," says Robin Olive. "John Tucker has been my student for almost eight years. I've always believed in his talent-- he is a true star. I can't wait for the people of Caddo Parish to experience him in person. Other performers with Straight Up Abilities, DJ Hymn and John, aka MC Down, create awesome music together, so get ready to 'Shake Your Booty'. And my boys from Mixed Motionz Crew are exceptional break dancers and also do a lot to spread positive messages throughout communities," added Olive.
The Very Special Arts Festival, started by the Kennedy Family almost 35 years ago, is now celebrated in cities all across the country including Los Angeles, Fairbanks, Knoxville and Shreveport. For many years the festival was exclusively for kids with special needs, but in the early nineties was expanded to be more inclusive.
This year's ArtBreak is a weekendlong celebration of art and discovery for students with various physical, behavioral, sensory, learning and communication challenges together with their peers. The Very Special Arts Festival has been a featured part of ArtBreak for 26 years, encouraging artistic expression in people of all backgrounds and abilities while highlighting the transformative power of the arts. VSAF showcases the power of inclusive opportunities that allow individuals to show what they are able to do and illustrates that "everyone is an Artist." Together, ArtBreak and VSAF nurture and recognize the vital role of arts education for students with disabilities, from pre-K through the 12th grade and beyond, to sustain achievement academically, socially and as engaged citizens of the twenty-first century. ArtBreak and VSAF help ALL students know that whether they are writing their first literary piece or painting a self-portrait, they are artists first!