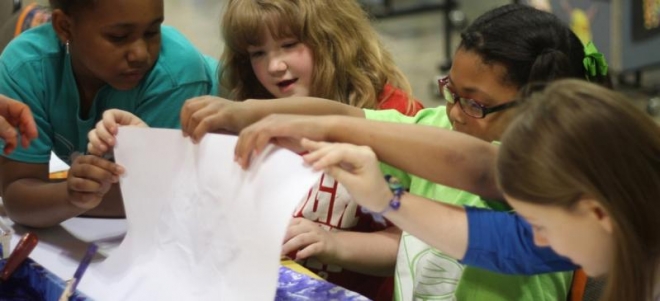 As far back as the Renaissance, scientists who were artists (or vice versa) have been changing the world with their voracious curiosity and their collaborative thinking. Leonardo Da Vinci understood that science and innovation needed Art to visualize concepts. It was pianist (not scientist or inventor) Alexander Graham Bell who first realized that chords he struck on his piano were transmitted through the air and vibrated at exactly the same pitch that they moved. This discovery led to his invention of the telephone. And Steve Jobs blended art and technology to convert his first dull beige iMac into a computer that looked futuristic and "sexy" and saved Apple for today's world that could not imagine life without the iMac, iPod, iPad or iPhone. The 2018 ArtBreak 34 Family Fun Weekend opens April 27-29, with more than two dozen hands-on activities planned to integrate Art with Science, Technology, Engineering and Math to take learning "Full S.T.E.A.M. Ahead!"
The Alta and John Franks Foundation has once again given a special initiative grant to the Shreveport Regional Arts Council to keep the "S.T.E.A.M." rising throughout the seven days of ArtBreak 2018. It's going to be a week full of learning and fun as 2nd and 3rd graders, and then entire families, channel their inner Frank Lloyd Wright to shape pool noodles into structures and sculptures with "Noodle Caboodle" and then trace, cut and quilt berets to see how fractions relate to a whole with "Beret Brigade." These are just two of the more than two dozen take-home activities that professional Northwest Louisiana artists will help students and their families create during the 34th annual ArtBreak Festival.
S.T.E.M. education gained attention over the concern that education wasn't providing what was necessary for students to achieve success in an increasingly technical world. But a growing number of educators believe that S.T.E.M. is missing the piece that encourages innovation and creative thinking—the liberal arts which includes language, social studies, physical art, fine art, music and design. The goal with S.T.E.M. is to give today's young people the technical, critical thinking, communication and problem solving skills they need to compete and succeed. With "A" added to S.T.E.M., young people can explore new and imaginative opportunities to communicate and express themselves. They can design and build prototypes and can better communicate their ideas and findings. All things said, they can pick up the S.T.E.A.M.
Research has shown that almost every Nobel laureate in the Sciences is known to be engaged in the Arts in adulthood. These scientific geniuses are 25 times more likely than average scientists to participate in activities such as singing, music, theater, dancing, crafts, poetry, and photography. The most successful scientists also appear to be Artists.
One of they key motivations behind the creation of ArtBreak in 1984 was to promote the importance of arts education as a key component of the total curriculum. And today, 34 years later, the S.T.E.A.M. activities make up the largest component of ArtBreak and the one 2nd and 3rd graders and families seem to enjoy the most. More than two dozen activities teach Archimedes Principle, illustrate symmetry and asymmetry, and explain the work of wind turbines, to name a few of the many S.T.E.A.M. lessons.
Phalanges Fun combines engineering and the science of anatomy into one fun art project. Students use colorful plastic straws, yarn and construction paper to create an artful replica of some skeletal parts of the hand that actually articulate. It's a fun way to learn the phalanges, carpals and metacarpals. Loom It To Me helps students learn about circumference to create a loom out of popsicle sticks, tape, and a piece of PVC pipe that they use to weave a beautiful bracelet or necklace. Ahoy Matey is a popular S.T.E.A.M. project that introduces 2nd and 3rd grade students to the Archimedes Principle and maritime messaging with the creation of river-worthy paper boats and nautical flags.