THE STUDENT FILMMAKER COMPETITION RETURNS TO ARTBREAK
If Louisiana Film Prize is an event unlike any other, FILM PRIZE JR. is its high energy little brother. Unlike its older sibling, which was started by Gregory Kallenberg to incentivize independent filmmakers to make films in the Shreveport-Bossier area, FILM PRIZE JR. was invented by a driven and pretty brainy Caddo Magnet High School student Tobias Kallenberg, Gregory Kallenberg's son, who wanted to see students get the chance to show their creativity and entrepreneurial spirit by making films and, possibly, earning cash to celebrate their cinematic achievements. Two years later and almost one hundred Louisiana student scripts, films and cash prizes totaling $7,000 under their belt, ARTBREAK is shouting, Viva LA Film Prize Jr.!
As the 2017-18 school year began, students ages 14-18 from across Louisiana were invited to find a story, a teacher/ sponsor and a team to make a 3-10 minute film and to submit their script for the competition no later than January 19, 2018 to filmprizejr.com. Thirty-nine scripts were submitted from 20 Louisiana schools including Shreveport- Bossier, Natchitoches and Baton Rouge. Film Prize Jr. will host the FREE screenings of 20 to 25 completed student film entries during ARTBREAK on Friday and Saturday, April 27 and 28 on the second floor of The Shreveport Convention Center.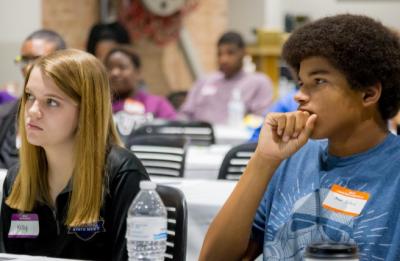 Cash prizes are awarded for the winning films totaling $7,000. The prizes include a $5,000 media grant to the winning students' school, $1,000 to the sponsor and another $1,000 to the school to celebrate their cinematic achievements. Three Northwest Louisiana high schools have started film programs as a result of the work of Film Prize Junior: Bossier Parish School for Technology and Innovative Learning, Green Oaks High Performing Arts Academy, and Loyola College Prep, and Caddo Magnet High School plans to begin a Film Prize Juniorfocused film program in the 2018-19 school year.
"I for Isolation" directed by Brandon Armstrong of Green Oaks Performing Arts Academy won the inaugural Film Prize Jr. GRAND PRIZE in 2017, and Green Oaks was awarded the $5,000 DIGITAL MEDIA GRANT. The winning film was decided by a combination of ARTBREAK Festival audience votes and a jury panel of local Film Prize finalist filmmakers. An additional $1,000 in cash was awarded to Green Oaks for hosting a celebration for the students who worked on the film and the remaining $1,000 went to the teacher who mentored the winning filmmakers, Stephen Scarlato.
Over 800 people attended the inaugural Film Prize Junior in 2017 during ARTBREAK 33, exceeding all expectations. The high school filmmakers were treated to packed theaters and their own VIP experience. For these young filmmakers, Film Prize Jr. was a chance to see audience reactions to their creations—to see people laugh when you hoped they would laugh. It was a chance to have a public audience and to get feedback from someone other than teachers or friends. As a group, they unanimously declare, "Viva La Film Prize, Jr.!"
Pam Atchison, Director of the Shreveport Regional Arts Council (SRAC), which has hosted the ARTBREAK Festival for 34 years, says, "It is our mission with the ArtBreak Festival to celebrate and showcase the creative talent of the thousands of students throughout Northwest Louisiana who paint, draw, write, perform and now who also make films. We are so incredibly excited to have Film Prize Jr. as a part of this gigantic celebration of student talent. I, too, say, 'Viva La Film Prize!'."
FILM SCREENINGS
FRIDAY, APRIL 27 5:00 p.m. – 9:00 p.m.
SATURDAY, APRIL 28 10:30 a.m. – 9:00 p.m.
FILM PRIZE JR. FINALISTS
BENTON HIGH SCHOOL Picture Perfect Spotlights
BOOKER T WASHINGTON HIGH SCHOOL DayDreaming
BOSSIER HIGH SCHOOL Juvenile Evanescent
BOSSIER PARISH SCHOOL FOR TECHNOLOGY AND INNOVATIVE LEARNING Deception Learning Wish
C E BYRD HIGH SCHOOL Facade
CADDO MAGNET HIGH SCHOOL If Only You Knew Part II There's Something Wrong with Henry This Does Not Define You
CAPTAIN SHREVE HIGH SCHOOL Baller's Life Foreign Exchange Nick Gets Nailed Bulle
COLLABORATIVE LABORATORY Honey, I'm Home
GREEN OAKS PERFORMING ARTS ACADEMY 4th Quarter
LOYOLA COLLEGE PREP Broken Hearts Club Good Days, Bad Days How You Get By
NORTHWOOD HIGH SCHOOL Junk
NSU - ADVANCE PROGRAM Parasite