KTAL-6 ArtBreak's Got Talent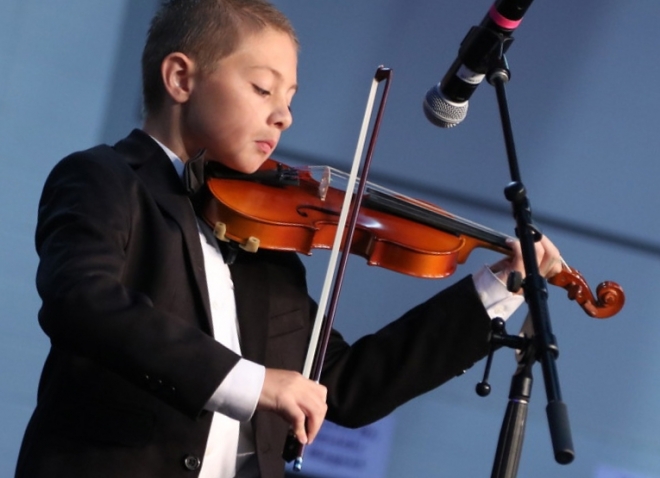 "The KTAL-6 ArtBreak's Got Talent Show was an amazing experience for our family," said winner Landon Kay's mom. "I was astonished at the level of talent we have in the Shreveport/Bossier area. Even if your child doesn't win, you will be witness to one of the best live musical shows of the year. And what a wonderful way to expose your child to the performance arts when sports so dominate our world! It is proof you can be successful in other areas of life and enjoy doing it," added Mrs. Kay.
America's got talent and so do Caddo Schools. Twenty contestants have auditioned and been selected to compete for the $500 Best of Show prize as well as $200 prizes each for Elementary Best, Middle School Best and High School Best. The audience also gets to vote with their applause and a $200 cash prize is awarded to the People's Choice talent. Come out and see the student who could just be the next million-dollar winner of the popular NBC show, "America's Got Talent."
WATCH IT FRIDAY, APRIL 27 - 6:30 - 9:00 P.M.
HIGH SCHOOL FINALISTS

Avery Covington, Zeke Toups,
and Reece Carpenter
CALVARY BAPTIST ACADEMY
Piper Miller
BYRD HIGH SCHOOL
Eleni Fotakos
CADDO MAGNET HIGH SCHOOL
Randon Ladner, Johnum Palado,
and Will Wright
CADDO MAGNET HIGH SCHOOL
Joshua Flippo
EVANGEL CHRISTIAN ACADEMY
Caroline Ray
EVANGEL CHRISTIAN ACADEMY
Destiny Graham
HUNTINGTON HIGH SCHOOL
Angel Peace and Nick Jones
NORTH CADDO HIGH SCHOOL
Madison Ferguson
and Jada Hawkins
NORTHWOOD HIGH SCHOOL
Khatajiah Alexander
SOUTHWOOD HIGH SCHOOL
MIDDLE SCHOOL FINALISTS

ShayAnna Beatty
CADDO MIDDLE MAGNET
Kamaira Lyons
Adelynn Horan
YOUREE DRIVE MIDDLE
Sachiri Henderson
YOUREE DRIVE MIDDLE
ELEMENTARY FINALISTS

Kennedy Haviland
EVANGEL CHRISTIAN ACADEMY
Emma Clair McCarter
FIRST BAPTIST CHURCH SCHOOL
Rachel Malloy
FOREST HILL ELEMENTARY
Abigail Hood
ST. MARK'S CATHEDRAL SCHOOL
Landon Kay
SOUTH HIGHLANDS MAGNET
Webber Black
SOUTH HIGHLANDS MAGNET