Sci-Port honors dynamic duos at New Year's Eve celebration
SCI-PORT HONORS DYNAMIC DUOS AT NEW YEAR'S EVE CELEBRATION
There's no better way to celebrate New Year's Eve than a celebration of some of the community's best and brightest science supporters at Toast – A Night of Dynamic Duos at Sci-Port: Louisiana's Science Center. From 8:30 p.m. to 12:30 a.m. Dec. 31, corks will pop at Sci- Port to raise funds for a second museum addition and to honor some very special pairs.
Sci-Port is a nonprofit whose mission is to provide a fun, educational environment for people of all ages to explore and actively engage in the world of science, technology, engineering and mathematics. The 92,000-squarefoot center, located on the downtown Shreveport riverfront, features over 290 science, space science, technology and math exhibits and daily changing programs. It houses an IMAX Dome Theatre and a laser Space Dome Planetarium.
POP!
Jennifer McMenamin, vice president of community involvement at Sci-Port, said plans are to use funds raised at Toast to "take science by storm" upon completion of the new POP: The Children's Museum at Sci-Port. Toast will fill in for the spring Mad Scientist Ball because of construction scheduled to start on site in early 2016.
"POP will offer families and students even more educational and entertaining STEAM opportunities by adding a second museum to our existing facility," McMenamin said. "This fundraiser will also be a fun opportunity to toast our future and the educational impact we'll have on our littlest visitors, ages 0-8."
BAM!
"Dynamic duos" is an oft-borrowed term in pop culture, generally meaning a mutuallyreinforcing relationship between two persons, each with special abilities. Brothers Craig and Greg Andrews are just one of the dynamic duos to be honored at Toast.
"Sci-Port is not like other museums where you stand on the outside and observe. Everyone gets to participate in the activity. It is a captivating way to learn," Craig said.
Craig is an emergency room doctor, while Greg is the planetarium manager at Sci-Port. "My role is to promote astronomy to the general public, or in other words, I persuade people to join the 'darkside.'" "I see situations that occur at Sci-Port daily that make me glad that I work here," Greg said. "We work closely with educators from Caddo and Bossier parish. We have an Outreach Program that brings Sci-Port to you if you cannot come here. But one time, I was doing a presentation for an audience in the Space Dome Planetarium and a teenager wondered in and stood right next to me while I was presenting. I thought he was looking for someone, so I stopped presenting and asked him how I could help him. He didn't answer. I repeated my question, and he uttered a strange noise. When I turned up the lights, I recognized he was a special needs teenager. I thanked him for coming to the program, walked him to his seat and made sure he was comfortable before resuming my presentation. At the end of the program, a lady walked up to me and with tears in her eyes said, 'Thank you for doing that.' She handed me a note and walked away. Her kind words still resonate with me and make me think, 'How can I help the next person that comes here?'" Drs. Anil and Neera Chhabra are another dynamic duo being toasted who said they are looking forward to the event.
"We are involved in Sci-Port because we support its educational mission and always enjoy spending time in the space," Neera said. "We look for opportunities to bring events to Sci-Port because they are inevitably unique and because people love the experience. We also try to bring out-oftown guests, both adults and children, to Sci- Port each time they visit."
Neera said when she was younger, they didn't have a facility like Sci-Port.
"We are thrilled that we have one here in Shreveport today because as students of science we know that its hands-on exhibits spark interest in science among children at a young age."
Matt and Lauren Wallace are another dynamic duo, and they both work in scientific fields. Matt is a structural engineer, and Lauren is a pediatric dentist.
"From a young age we have both been interested in science," Matt said. "And now we see every day how important science is to the welfare of the community at large. If you look at all the cities and areas around the country that are doing well economically such as the golden triangle in North Carolina, Silicon Valley in California and even Huntsville, Ala., these places are being driven by science and technology. Science education must be a priority if Northwest Louisiana is going to be able to compete for the jobs of the 21st century."
"Supporting Sci-Port is an investment in the future of our community," Lauren added. "Many people recognize the importance of art and music, but science and technology enable us to build a better quality of life so we can enjoy music and art. Science is the foundational element."
Lauren said Sci-Port makes science fun for children.
"Science can be a very abstract thing for many people, but Sci- Port's hands-on exhibits can ignite a young person's mind in a much more exciting way than learning concepts from a textbook. How cool is it to make instant ice cream using liquid nitrogen?" Lauren said. "There just aren't that many places a young person can be a part experience like that."
Jeff and Nicole Spikes, another dynamic duo being honored, agreed.
"We are longtime Sci-Port familymembership-holders and never miss an opportunity to have our oldest attend summer camps," Jeff said. "We feel that Sci-Port is a valuable asset to our community that, without continual support, can't continue the numerous programs and education, which we feel are vital to our children's academic success."
"Having previously worked under the mentorship of the original architect of the building in the formidable years of my career, I take pride in the museum's venerable stature within our community," Jeff said. "In helping to provide design guidance and inspiration for some of the most popular exhibits, I am forever connected and vested in the success and growth of the Sci-Port mission.
Another of Toast's dynamic duos is Brad and Steve Everson, veterinarians by day, and Sci-Port donors involved in the creation of POP Children's Museum.
"When we found out that we could be part of this project, we realized that we could reach and help others in a way not available in our everyday lives," Brad said. "One of our goals as veterinarians is to show others care and compassion through the treatment of their animals. Caring for animals and respect for nature usually extends to caring for and respecting people as well. In order to practice any kind of medicine, one must have a solid foundation in science. At Sci- Port, children can begin to build this foundation and relate it to everyday life while having fun at the same time."
POW!
Other win-win duos at Toast will include Cutting Edge Dueling Pianos (think Pat O'Brien's in New Orleans), Southern Fork Catering teaming up with Wine Country for food and drink pairings and dancing in full view of a bubbly champagne tower. The grand finale will be a magnificent balloondrop as the perfect setting for midnight kisses and a toast to 2016.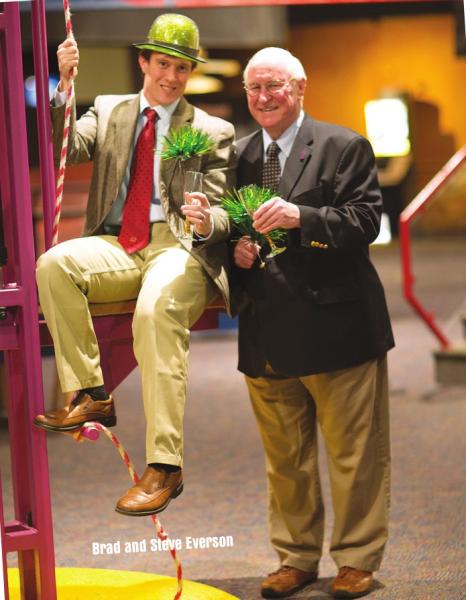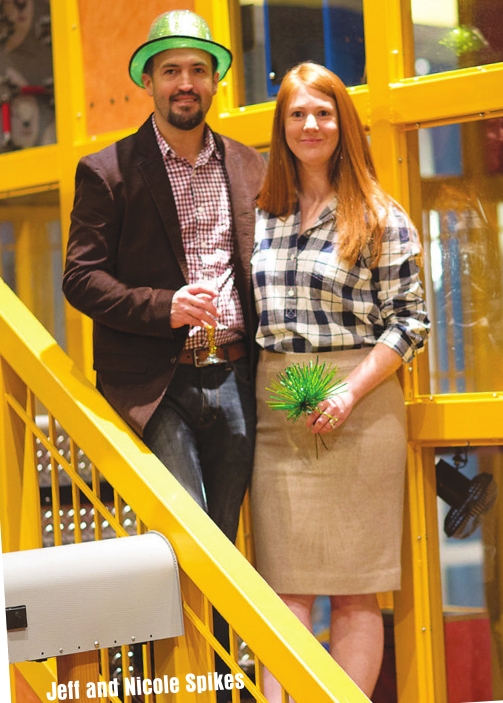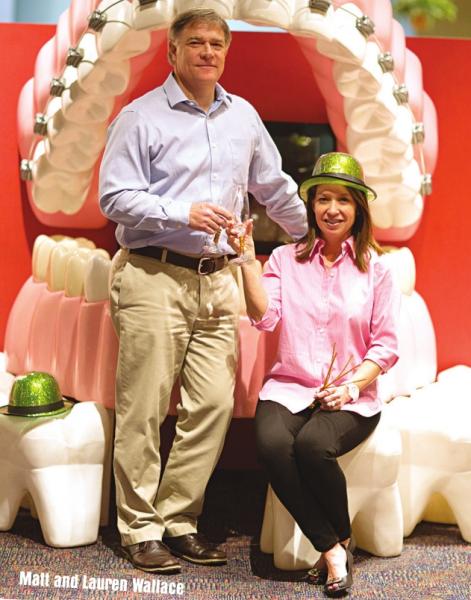 Want to go?
Toast is black-tie optional, and tickets are $100 each or $250 for a Dynamic Duo Package for two. For more information, go to www.sciport.org/toast or call 424-8698.